Rep. Chip Roy Calls Fellow Republicans Who Voted for Women in Military Draft 'Cowardly'
Rep. Chip Roy of Texas tweeted out the names of the Republican senators who unsuccessfully voted against a proposal that would make women eligible for a military draft on Monday. He also included the names of Republicans who voted "yes" or "not present" on the proposal, which was part of the larger annual defense bill approved by the Senate Armed Services Committee on July 21.
After the defense bill—including the provision that would require women to register for Selective Service alongside men—passed last week, the Republican criticized members of his own party. He tweeted: "The idea that these cowardly Republicans in the Senate voted for this tells you everything you need to know about the GOP."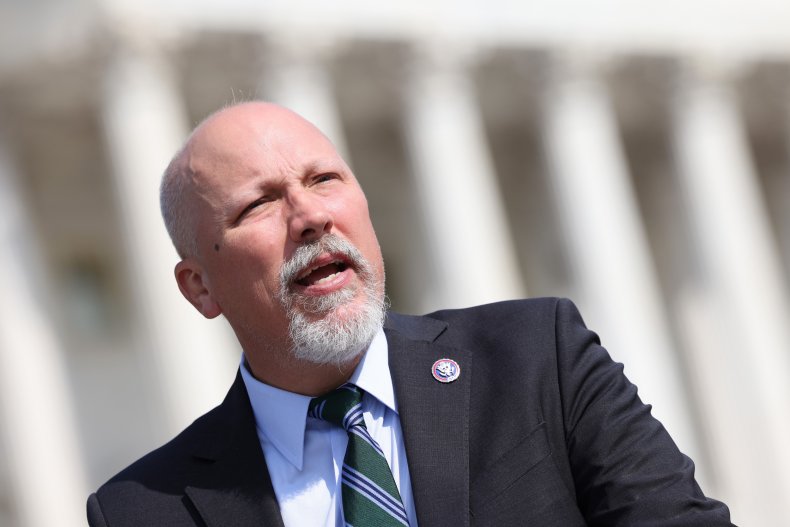 Today, Roy publicly called out the Republicans by name who supported—or didn't actively participate in opposing it—on Twitter.
The legislation is part of a the defense policy known as the National Defense Authorization Act [NDAA], which allocates funding for the military, among other things. The new measure regarding the draft was authored by Senate Armed Services Committee Chairman Sen. Jack Reed, a Democrat from Rhode Island, and it removes the word "male" from the current law.
Committee member Sen. Josh Hawley, a Republican from Missouri, has been a vocal opponent of the new change. In announcing his dissenting vote on Twitter, he wrote, "American women have heroically served in and alongside our fighting forces since our nation's founding—It's one thing to allow American women to choose this service, but it's quite another to force it upon our daughters, sisters, and wives."
Sen. Tom Cotton of Arkansas joined Hawley in publicly announcing his vote with a message. "Our military has welcomed women for decades and are stronger for it. But America's daughters shouldn't be drafted against their will. I opposed this amendment in committee, and I'll work to remove it before the defense bill passes," tweeted the Republican.
Joining the Republicans in voting against the bill was Massachusetts Democrat Sen. Elizabeth Warren. Her vote was not seen as having anything to do with the draft provision, but rather because she regularly votes against the annual NDAA.
Conservative commentator Jesse Kelly also tweeted about the measure. He wrote, "Women shouldn't be part of the draft. They shouldn't be part of any combat unit. They shouldn't be on Naval vessels. I don't have to prove to you why they shouldn't. It's the military. It's life or death. YOU have to prove to ME why a country with 150 million men needs women."
One female veteran, Gretchen Smith, disagreed with Kelly. She responded on Twitter: "I served. I disagree. Best decision I ever made. If I can do it, any woman can do it. If women want equal rights, this is it. No complaints."
The requirement for women to register for the draft still must clear some major hurdles. The bill would have to pass the Senate and the House, and then be signed into law by President Joe Biden.
When he was running for office, Biden said in September 2020 at a Military Officers Association of America candidate forum: "The United States does not need a larger military, and we don't need a draft at this time...I would, however, ensure that women are also eligible to register for the Selective Service System so that men and women are treated equally in the event of future conflicts."
Women have been serving in all levels of the U.S. military since the Department of Defense lifted the ban on women serving in combat in 2013. The last time there was a U.S. military draft, also known as conscription, was 1973 during the Vietnam War.