Rep. Chip Roy Says GOP's 'Job' is to Slow Infrastructure Bill Down Until December 2022
GOP Rep. Chip Roy of Texas believes that it is the "job" of Republicans to obstruct President Joe Biden and Democrats in Congress until December 2022.
Roy expressed hopes that Republicans will be able to block the compromise to President Joe Biden's infrastructure plan at least until after the midterm elections take place next year. The congressman made the remarks in a freshly surfaced video that was recorded late last month during an event hosted by Patriot Voices, a conservative group founded by former Republican Senator Rick Santorum of Pennsylvania.
"Honestly, right now, for the next 18 months, our job is to do everything we can to slow all of that down to get to December of 2022," Roy said in a clip shared to Twitter. "And then get in here and lead."
Democrats and Republicans have reached a roughly $1.2 trillion compromise on Biden's infrastructure plan, which had an estimated price tag of around $2 trillion. The Problem Solvers Caucus, a bipartisan group of U.S. representatives, endorsed the plan on Tuesday. Roy noted that there was no movement on the compromise in the House at the time of his remarks, insisting that Democratic House Speaker Nancy Pelosi of California was "just tacking hard to the left, to AOC and company."
Roy also criticized Republicans in the Senate who were willing to back a bipartisan deal for not being "conservative warriors." He said that Pelosi was attempting to pressure the Senate to insert "liberal garbage" into the bill using the budget reconciliation process before admitting that he was happy no version of the bill had been passed because he believes that "18 more months of chaos" is in the best interest of Republicans.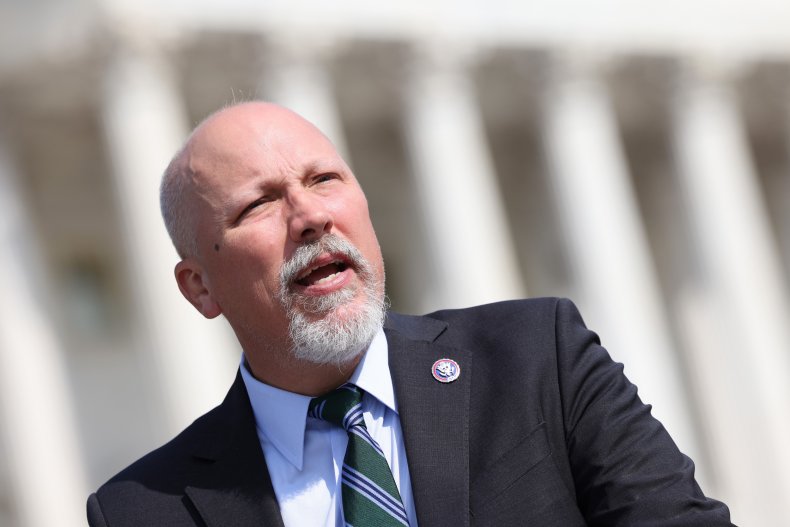 "The people who were working to cut the deal, by the way, were not your conservative warriors in the Senate," Roy said. "They're cutting a deal. But then Biden, who came out and said, 'We have a deal,' allowed Pelosi to basically kind of step in and go, 'Whoop, no you don't! You're only gonna get that deal if you have reconciliation with all this liberal garbage.'"
"Then Biden said, 'Ok, yeah.' And they kind of backed away from the deal," he added. "Then he kind of came back away from the veto threat, so nobody knows what anybody's gonna do right now. That's the thing, this is the problem. I actually say, 'thank the Lord, 18 more months of chaos and the inability to get stuff done.' That's what we want."
In May, Republican Senate Majority Leader Mitch McConnell of Kentucky said that "100 percent" of the GOP's focus was on "stopping" the Biden administration, expressing concerns that Democrats could "turn America into a socialist country." Before the 2010 midterms, McConnell said that "the most important" thing for Republicans to achieve was to make former President Barack Obama "a one-term president."
Newsweek reached out to the White House for comment.