Rep. Cori Bush Calls Manchin's Refusal to Back Spending Bill 'Anti-Black, Anti-Woman'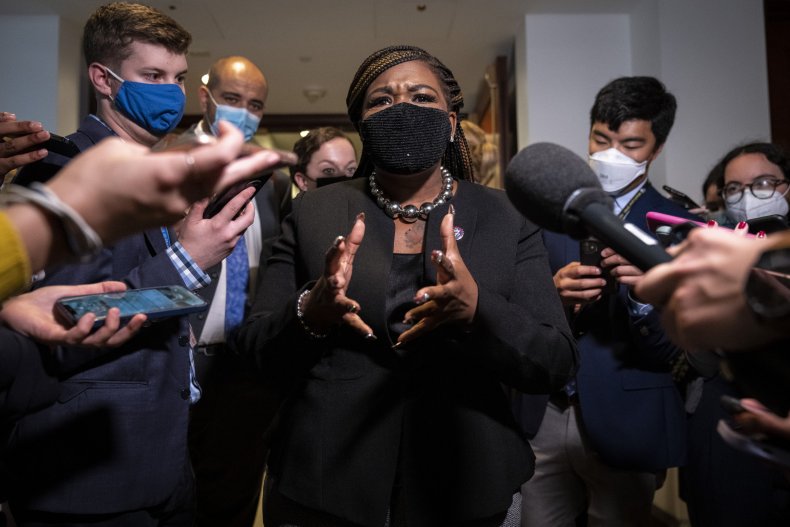 Representative Cori Bush (D-Mo.) has accused Senator Joe Manchin (D-W.Va.) of being opposed to women, Black people, immigrants and children for refusing to support President Joe Biden's Build Back Better Act.
Manchin accused his Democratic colleagues of playing a "shell game" and demanded more negotiating time before backing Biden's social spending proposal on Monday, dashing hopes of quickly passing what had already been a $1.75 trillion compromise on a bill with an original price tag of $3.5 trillion.
Bush, a progressive who took office in January as one of the newest members of "the Squad," fired back on moderate Manchin and insisted that he alone did not have the right to "dictate the future of our country."
"Joe Manchin does not get to dictate the future of our country," Bush said in a statement. "I do not trust his assessment of what our communities need the most ... Joe Manchin's opposition to the Build Back Better Act is anti-Black, anti-child, anti-woman, and anti-immigrant."
"When we talk about transformative change, we are talking about a bill that will benefit Black, brown and Indigenous communities," she added. "We cannot leave anyone behind. Senator Manchin must support the Build Back Better Act."
Earlier on Monday, Manchin insisted that Democrats "quit playing games" and instead pass the "critical" $1.2 trillion bipartisan infrastructure bill immediately. Democratic leaders hope to pass the bill this week alongside the Build Back Better Act. Bush said that racial and ethnic minorities would be "overwhelmingly excluded from the bipartisan infrastructure bill."
Manchin demanded further "clarity" on the social spending bill, saying that he would not support "a bill that is this consequential without thoroughly understanding the impact it will have on our national debt, our economy and most importantly all of our American people."
The spending bill has no Republican support and would require Democratic unity for it to pass in the Senate using the budget reconciliation process. Progressive House Democrats had previously threatened to block the passage of the infrastructure bill if the social spending bill was not passed alongside it.
Manchin said that progressives holding the infrastructure bill "hostage" would not "work in getting my support for the reconciliation bill." Congressional Progressive Caucus Chair Rep. Pramila Jayapal (D-Wash.) appeared to abandon the tactic soon after, telling CNN that the House was ready to pass both bills based on Biden's assurances "that he would get 51 votes in the Senate."
If both bills do pass through the House this week, the fate of the Build Back Better Act in the Senate is far from certain, since neither Manchin nor his fellow moderate Sen. Kyrsten Sinema (D-Ariz.) have publicly committed to supporting or opposing the bill.
Newsweek reached out to Manchin's office for comment.