Rep. Cori Bush Says 'Birthing People' in 'Maternal Health Crisis' Testimony, and Twitter Goes Nuts
Democratic Missouri Representative Cori Bush used the gender-inclusive term "birthing people" on Thursday while testifying before the Democratic Oversight Committee about America's Black maternal health crisis. After she tweeted out a video of her testimony, the term "birthing people" immediately became the center of an embittered Twitter war over whether the gender-neutral term was justified.
"Every day, Black birthing people and our babies die because our doctors don't believe our pain. My children almost became a statistic. I almost became a statistic," read her initial tweet. "I testified about my experience @OversightDems today. Hear us. Believe us. Because for so long, nobody has."
Her tweet was accompanied by a short video of her personal testimony about her own near-losses and mistreatment in her experiences of carrying and birthing her two (now grown) children.
But despite the exigency of her story in the context of a House Oversight and Reform Committee hearing on "Birthing While Black: Examining America's Black Maternal Health Crisis," the term "birthing people" was the only thing that seemed to gain real traction on Twitter, where the term began to trend, likely because of its polarizing controversy.
Responses varied widely. Quin Hillyer, for instance, a self-described veteran conservative columnist for The Washington Examiner replied to Bush's tweet saying, "Not 'birthing people.' MOTHERS. Jeesh. Stop with the moronically woke linguistics."
On the other end of the spectrum, Twitter user, Joseph Hill Friedman replied to the thread saying, "Imagine being more mad at trans-inclusive language that at doctors letting black people and their babies die in childbirth".
User, @JTlol commented, "I'm sorry, but I will not deny biological reality to spare your feelings. If you give birth to a baby but still don't feel like a woman, I really don't see how that's my problem. #BirthingPeople"
And NARAL, a pro-choice foundation replied to Bush's tweet saying: "When we talk about birthing people, we're being inclusive. It's that simple. We use gender-neutral language when talking about pregnancy, because it's not just cis-gender women that can get pregnant and give birth. Reproductive freedom is for *every* body."
Rep. Cori Bush was not the only government official to use the gender-inclusive terminology "birthing person" on Twitter or in official documents on Thursday. Democratic Massachusetts Representative Ayanna Pressley used the term in her tweet Thursday announcing that she and Democratic Senator Cory Booker of New Jersey "re-introduced the MOMMIES Act to expand Medicaid coverage for birthing people & promote community-based, holistic approaches to maternity care."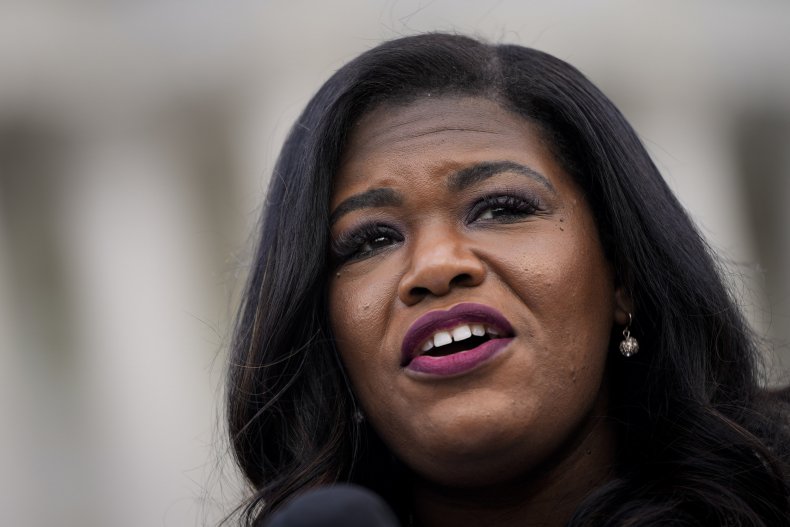 The message that Rep. Bush delivered in her three and a half minute testimony video may have been lost to some in the shuffle of the Twitter war, but the content of her story added fuel to the fire for the argument for why 'The Healthy Mommies Act,' could be important to the American healthcare landscape in 2021.
"Every day, Black women are subjected to harsh and racist treatment during pregnancy and childbirth," Rep. Bush said in her testimony Thursday. "Every day Black women die because the system denies our humanity."
In the same hearing where Rep. Bush gave testimony, House Democrats were given notes with the following statistic: "Across the United States, Black birthing people are at disproportionate risk of death and adverse health outcomes before, during, and after pregnancy. Black birthing people are three to four times more likely to experience pregnancy-related death than their white counterparts, and they experience higher rates of pregnancy complications, infant loss, and miscarriage across the board."