Rep. Devin Nunes' Libel Case Against Hearst Thrown Out by Trump Appointee
Iowa Federal Judge C.J. Williams dismissed a libel lawsuit brought against Hearst Magazine Media and journalist Ryan Lizza by California Representative Devin Nunes on Tuesday.
Nunes alleged that a story published in September 2018 by Esquire magazine entitled "Devin Nunes's Family Farm is Hiding a Politically Explosive Secret," was defamatory in nature. The article alleged that Nunes' family farm, which Nunes has claimed is in California, is actually in Iowa. Lizza also alleged that the farm used undocumented immigrants as part of its labor force. Nunes asked for $77.5 million in the lawsuit against Hearst and Lizza.
Judge Williams said in his ruling that Nunes' suit failed to clearly define which statements in the article were defamatory, making it difficult to prove malicious intent on the part of Lizza.
"Even if a reasonable reader could find the challenged portions or implications of the Article to be false and defamatory," Williams wrote in his ruling, "the plaintiff still fails to state a claim because plaintiff has not plausibly alleged defendants acted with actual malice." In his conclusion, Judge Williams declared the case "dismissed with prejudice," meaning Nunes cannot refile the suit.
Judge Williams was nominated to the court by President Donald Trump in 2018. Williams was confirmed by the Senate that same year.
Newsweek reached out to Representative Nunes' office for comment.
In the original 2019 defamation lawsuit, Nunes referred to Lizza's article as a "hit piece" and "a legion of lies." Nunes alleged that the article "ascribes and imputes to [Nunes] conduct, characteristics and conditions, including dishonesty, deception, lying, conspiracy, corruption, bias, lack of integrity and ethics, that would adversely affect his fitness to be a United States Congressman and/or businessperson." The lawsuit emphasized 16 statements from Lizza's story as defamatory.
Williams found that "no reasonable person could find the challenged statements factually accuses [Nunes] of anything defamatory in nature."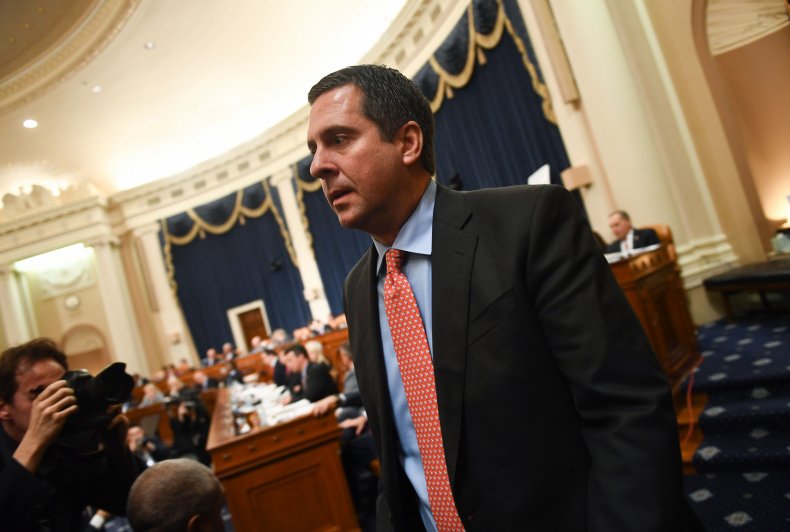 Nunes has gained a reputation for litigiousness after filing a number of defamation lawsuits against individuals or entities.
In June, Nunes filed a $250 million lawsuit against messaging platform Twitter and the creators of two parody accounts known as "Devin Nunes' Cow" and "Devin Nunes' Mom." Nunes claimed the accounts were spreading misinformation about him, harming his chances at reelection.
Virginia Judge John Marshall prohibited Nunes from suing Twitter, ruling that they could not be held responsible for the postings of individuals. Marshall wrote in his June ruling that Nunes "seeks to have the court treat Twitter as the publisher or speaker of the content provided by others based on its allowing or not allowing certain content to be on its internet platform. The court refuses to do so."
In December, Nunes filed a libel suit against CNN for over $435 million. Nunes claimed the news network made false claims linking Nunes with figures connected with Ukraine during impeachment proceedings against President Donald Trump.
"CNN's goal was to inflict maximum damage to [Nunes'] reputation Worldwide and to cause him to be removed from the impeachment inquiry," read the complaint.
Initially filed in Virginia, U.S. District Judge Robert Payne moved the proceedings to New York where CNN's headquarters are located. "The Eastern District of Virginia is not Nunes's home forum," Payne wrote in his May ruling, "and there is no logical connection between the events in this case and this district." No hearing date has been announced.