Rep. Greene District Adds Majority-Black Areas, but She's Still Lock to Win
If a challenge to her reelection candidacy is unsuccessful, GOP Representative Marjorie Taylor Greene will be running in a district that now includes two predominantly Black communities added in Georgia's newly drawn maps.
Yet polling data shows that the addition of voters in the two communities, Powder Springs and Austell, is not likely to prevent Greene from winning office in November if she is permitted to stay on the ballot.
Greene, who has been the subject of controversies since she first ran for and was elected to the House of Representatives, is one of the most far-right Republicans in Congress and a prominent supporter of former President Donald Trump. Her policies, sometimes inflammatory remarks and reiteration of some QAnon-linked conspiracy theories may be a stark contrast to voter sentiment in Powder Springs and Austell. Both are located in a county that elected President Joe Biden in 2020 by 14 percentage points, official Cobb County results show.
Greene, who represents Georgia's 14th Congressional District, is facing a lawsuit that seeks to prevent her from seeking reelection under a Civil War-era provision in the 14th Amendment aimed at those who "engaged in insurrection or rebellion." The voters group behind the suit wants her barred from running because of her alleged involvement in the U.S. Capitol riot on January 6, 2021. But if she is able to run again, polling numbers show she is likely to come out on top because of her district's overwhelming tendency to vote Republican.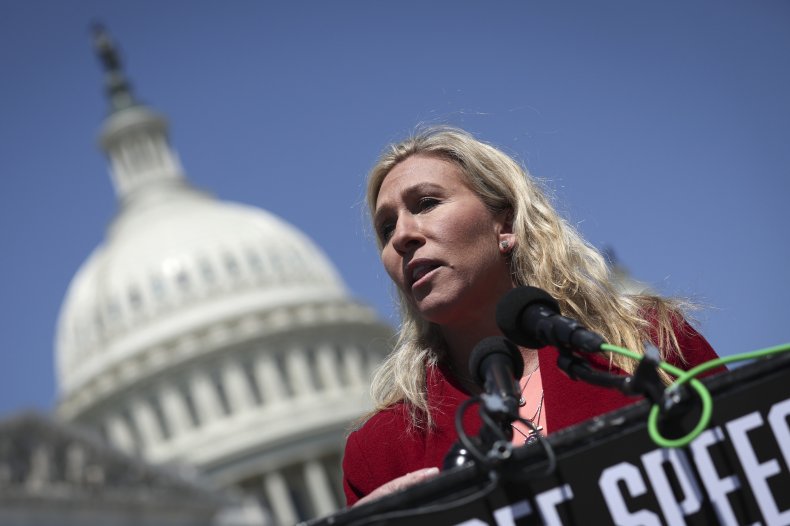 A survey conducted in January by TargetPoint showed that 86 percent of 14th District voters said they planned to vote in the Republican primary, versus 7 percent saying they would vote in the Democratic primary.
Of the poll's respondents, 60 percent said that they would vote for Greene in the GOP primary if the election was being held that day. Jennifer Strahan, Greene's top challenger in the Republican primary, received 30 percent of the prospective vote. Greene received a favorability rating of 60 percent in the survey and was rated as unfavorable by 28 percent.
If Greene receives the Republican nomination, as the poll's results project, she would likely beat out her Democratic challenger in the general election, since 81 percent of respondents said they typically vote mostly Republican or straight Republican. By contrast, just 7 percent of respondents said they typically vote either mostly Democratic or straight Democratic, according to the poll.
Maps show that Powder Springs and Austell are currently located in the 13th District, which is represented by a Democratic congressman, David Scott. But the redrawn districts will add them into Greene's 14th District by voting time because a judge ruled that Georgia's new maps will be used in the 2022 elections, Georgia Public Broadcasting reported.
Powder Springs' population was projected by the World Population Review to be about 17,000 in 2022, while Austell's population was projected to be about 7,500.
The roughly 24,500 voters from the two areas, even if they all voted for a Democratic challenger against Greene, would likely not exercise significant voting power in a district that had a population of about 732,000 as of 2019, according to Data USA.
Newsweek reached out to Greene, Scott and the Cobb County Democratic Party for comment.