Rep. Ilhan Omar: U.S. 'Under Threat' By 'Administration that Would Rather Cage Children' Than Reform Immigration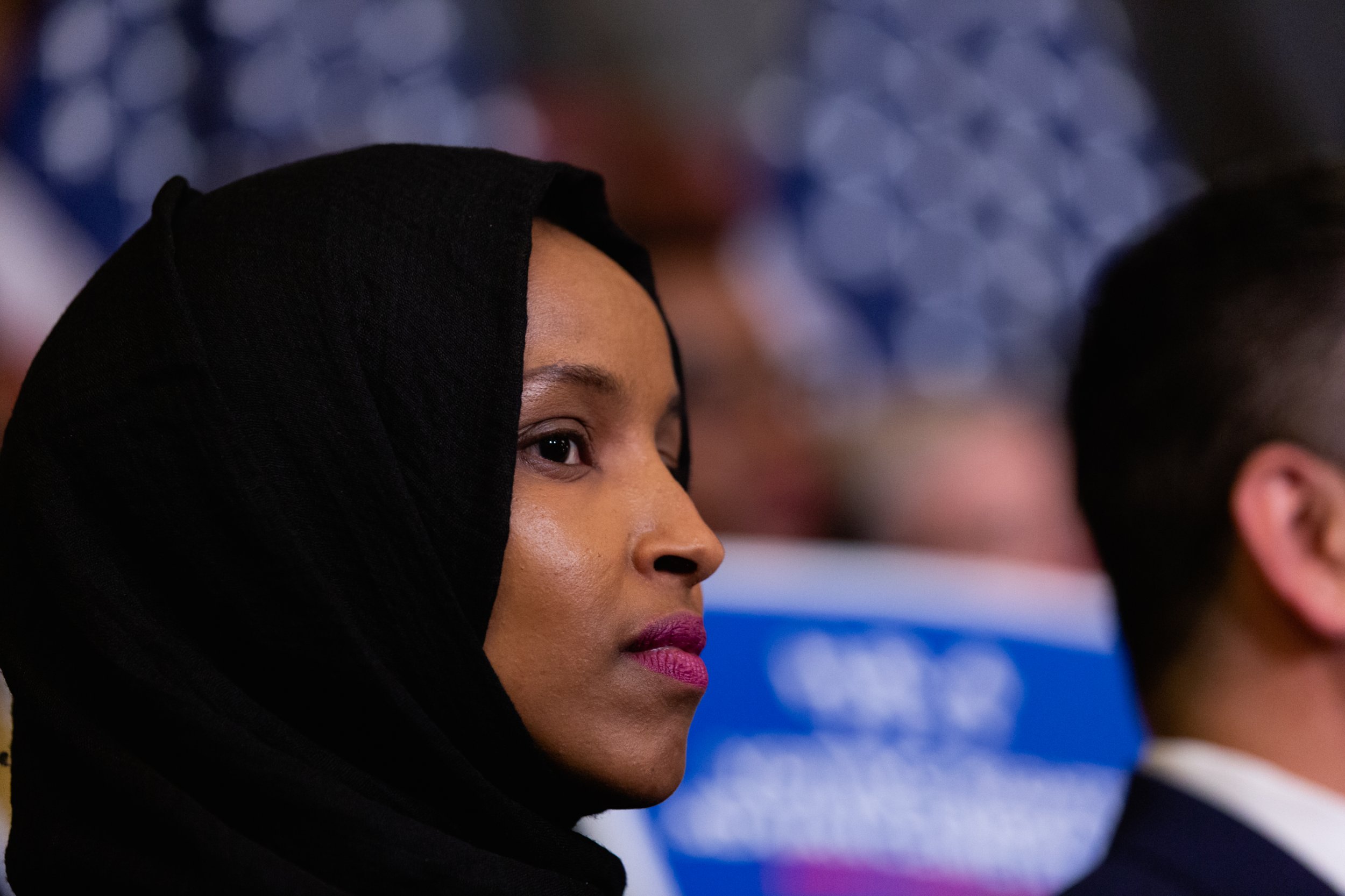 Congresswoman Ilhan Omar spoke out Saturday after days of being a target of derision from President Trump and others, and one week after the arrest of a New York man accused of threatening to kill the representative from Minnesota.
Trump and other conservative critics made repeated criticisms of Omar this week, after remarks the congresswoman made at a recent event were used to portray her as being insensitive to the September 11, 2001 terrorist attacks that killed thousands of Americans.
The video — posted by Trump and others — shows Omar speaking in March to the Council on American-Islamic Relations (CAIR).
"CAIR was founded after 9/11 because they recognized that some people did something and that all of us were starting to lose access to our civil liberties," is the full quote from Omar (CAIR was in fact founded in 1994, but grew in size following the 2001 attacks), though Trump and others focused solely on the "some people did something" portion, arguing that it downplays the massacre and does not acknowledge that the terrorists involved were radical Muslims.
In a series of tweets published Saturday afternoon, Omar did not directly respond to these critiques. Instead, the 37-year-old immigrant lawmaker criticized Trump administration's priorities.
"This country was founded on the ideas of justice, of liberty, of the pursuit of happiness. But these core beliefs are under threat. Each and every day. We are under threat by an administration that would rather cage children than pass comprehensive immigration reform," she began.
Omar continued, calling the Trump White House, "An administration that would rather give billionaires tax breaks than provide a little cushion for working people. An administration that would rather attack fellow Americans who are transgender and wear our country's uniform than fight for equality and opportunity for all."
Without naming names, Omar also addressed those who wish she would be less outspoken.
"I did not run for Congress to be silent. I did not run for Congress to sit on the sidelines," tweeted Omar, whose family fled her native Somalia when she was a child. "I ran because I believed it was time to restore moral clarity and courage to Congress. To fight and to defend our democracy."
In an apparent remark directed specifically at Trump, Omar concluded: :No one person – no matter how corrupt, inept, or vicious – can threaten my unwavering love for America. I stand undeterred to continue fighting for equal opportunity in our pursuit of happiness for all Americans."
On Friday — and then again Saturday — President Trump shared a clip of Omar's comments at the CAIR event, intercut with footage of the September 11 devastation and the caption, "WE WILL NEVER FORGET!"
Almost immediately, several Democratic leaders and political candidates lambasted Trump, with some accusing the president of inciting violence against Omar.
Senator and 2020 Democratic hopeful Elizabeth Warren tweeted that "The President is inciting violence against a sitting Congresswoman — and an entire group of Americans based on their religion. It's disgusting. It's shameful. And any elected leader who refuses to condemn it shares responsibility for it."
Omar's fellow first-term Congresswoman Alexandria Ocasio-Cortez said on Friday that she believed Omar's "life is in danger. For our colleagues to be silent is to be complicit in the outright, dangerous targeting of a member of Congress. We must speak out."
Appearing on CNN Saturday, Trump campaign board member Steve Rogers attempted to put distance between what the president says or tweets and any violence that may subsequently occur.
"We certainly will never, ever endorse anyone committing an act of violence against anyone," Rogers told host Victor Blackwell. "Look, we say things and we express our freedom of speech. We're not responsible, Victor, for the actions of other people."
However, Blackwell pointed out that Trump, during the 2016 presidential campaign, had made statements at rallies that many viewers saw as encouraging supporters to physically attack others.
"We've seen the president say that with the good old days that people would be taken out in stretchers at his rallies during the 2016 campaign," said the CNN host. "We've him say that what he'd like to do is punch somebody in the face. We've seen him promise to pay for legal bills if they were to attack a protestor at one of his rallies so what you're saying there just simply is not true."