Rep. Jaime Herrera Beutler Says GOP's Failure to Censure Marjorie Taylor Greene Was a 'Missed Opportunity'
One week after House members removed Marjorie Taylor Greene from her previously assigned committee roles, Representative Jaime Herrera Beutler suggested that her Republican colleagues' failure to censure the freshman congresswoman was a "missed opportunity."
Discussing on PBS the recent floor vote to determine Greene's future on House committees, as well as talk of forcing her departure from Congress altogether, Beutler explained why her positions on each issue diverge.
Beutler, a Washington state representative, is set to appear on Friday's episode of Firing Line, a PBS series hosted by political commentator Margaret Hoover. The talk show released preview clips from its upcoming interview segment with Beutler ahead of the episode's airdate.
"I really believe that the way we look at this needs to be: What moves us forward? So I'm not going to pick apart members of the Republican leadership based on what I think they should do," Beutler told Hoover in the most recent clip from Friday's episode, released on Twitter Wednesday.
The GOP congresswoman said that while she would have taken a different approach to Greene's committee assignments, compared with most House members supported during last week's vote, she believes the Georgia Republican's past actions warrant a push for dismissal.
"I think Republicans should censure her," Beutler continued, noting that she has communicated this position to others within the GOP caucus. "I think it's a missed opportunity to demonstrate we're rejecting QAnon. Time will tell whether the Republican leadership agrees with me or not."
Greene was not formally censured for her previous alignment with the QAnon conspiracy theory, her apparent endorsement of violence against leading Democratic lawmakers, or her possible role in inciting the Capitol riot on January 6. However, the House stripped her of her positions on its Education and Budget committees after reports indicated Greene's support for false conspiracies about some of the deadliest mass shootings in U.S. history, which took place at Sandy Hook Elementary and Marjory Stoneman Douglas High School. The motion to remove Greene from the committees noted that her place on the education panel was inappropriate in light of her remarks about both school shootings.
"I honestly think it would be better for her to stay on the committee," Beutler suggested during her appearance on Firing Line. "And again, if I was strategizing for the Democrats, I would have said, 'You have to stay on the Education Committee. And, you know what, we're going to do a series of hearings on school shootings. And we're going to bring folks in from all sides to talk about it. And you have to sit there and listen to what they have to say, and you can defend your own ideas."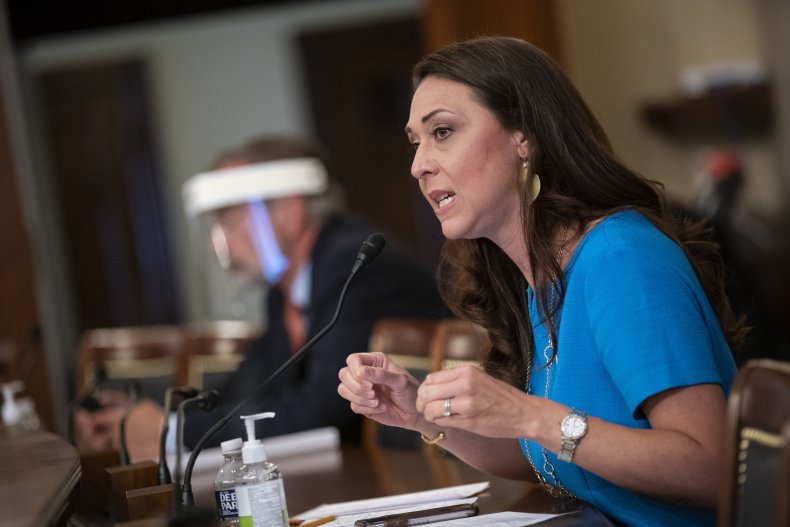 Beutler, one of just 10 Republican House members who voted to impeach Donald Trump in the aftermath of January 6's Capitol attack, also discussed her expectations for the former president's impeachment trial in the Senate.
"Will we get to 17? I don't know," she said, referring to the 17 Republicans who must vote across party lines in order to secure Trump's conviction. Earlier, Beutler noted that "there were times" over the past few weeks "when [she] would have said yes." At the time of her interview with Hoover, the congresswoman was less certain.
Newsweek reached out to Greene's office for comment and was told she is traveling and not available today.