Rep. Jerry Nadler Requests Emergency Hearings on Election Security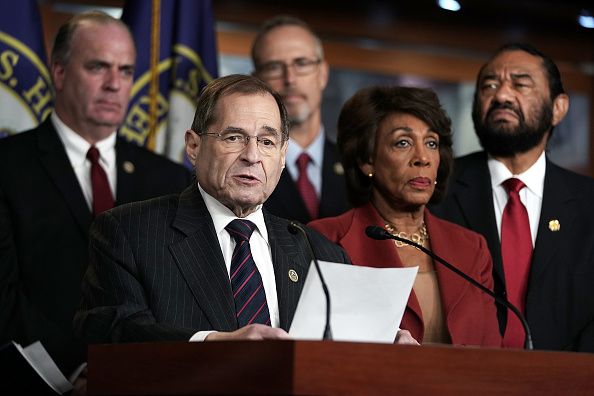 U.S. Representative Jerrold Nadler (D-N.Y.), a senior member of the House Judiciary Committee, pushed for emergency hearings to look into the vulnerabilities of the U.S. election infrastructure, calling the threat of Russia's meddling into voter polls "very real."
"This is as much an attack on the US as if they were bombs and bullets. It's an attack on our essential governing structure," Nadler told CNN's Chris Cuomo on Monday.
Last week, Nadler sent a letter to Chairman Bob Goodlatte (R-Va.) requesting the emergency hearings on election security and an examination of posed threats. The letter requested information on "what steps the Trump Administration may or may not be taking to ensure the integrity of our state and federal elections." So far, no emergency hearing has been set.
Nadler told CNN that he hasn't seen any action from the administration or President Donald Trump, who "seems determined not to do anything that might offend the Russians." The representative added that Trump doesn't want to take steps to protect the U.S. from a Russian attack that he "won't admit occurred and is occurring, despite the fact that all the people around him assert it."
Amid mounting concerns that Republicans could hinder former FBI Director Robert Mueller's investigation into Russia's interference in U.S. elections, Democrats elected Nadler last month as a ranking member of the House Judiciary Committee to ensure the investigation ran smoothly.
Nadler recently led the rebuttal of the highly controversial Nunes Memo, which alleged abuses and biases by the FBI and the Justice Department against the Trump campaign. Democrats have argued that the release of the Nunes memo was an attempt by Republicans to derail Mueller's investigation.
Nadler called the GOP memo "profoundly misleading" and said that it "does not provide a single shred of evidence" towards the unverified Trump-Russia dossier, which unearthed an alleged years-long scheme between Trump and the Kremlin.
Trump has called the Mueller investigation a "witch hunt" and denied any collusion between Russia, he has continued to dismiss the probe. The Justice Department has called the investigation "entirely lawful" after Trump's former campaign manager Paul Manafort filed a lawsuit against Mueller.
Manafort and his deputy Rick Gates were indicted last October and both pled not guilty. They were the first public charges connecting Trump's campaign to Russian collusion in the 2016 election.
Last week, Jeanette Manfra, the head of cybersecurity at the Department of Homeland Security, said Russians targeted the voter registration rolls of 21 states where "an exceptionally small number of them were actually successfully penetrated."
On Monday, Manfra refuted the NBC report and said "we have no evidence–old or new–that any votes in the 2016 elections were manipulated by Russian hackers."
States will put into place secure voting processes, while DHS will implement preventative strategies, Manfra said..
"We're going to continue to support with risk and vulnerability assessments, offer cyber hygiene scans, provide real-time threat intel feeds, issue security clearances to state officials, partner on incident response planning, and deliver cybersecurity training," Manfra said.
Meanwhile, Secretary of State Rex Tillerson has charged that Moscow is already looking ahead at the 2018 midterm elections.
"The point is, if it's their intention to interfere, they are going to find ways to do that. We can take steps we can take but this is something that, once they decide they are going to do it, it's very difficult to preempt it," Tillerson told Fox News.
Update | This story has been updated to include a response from the U.S. Department of Homeland Security.