Rep. Lauren Boebert Says No Amount of Gun Laws Would've Stopped Capitol Attack
GOP Colorado Congresswoman Lauren Boebert said that gun laws wouldn't have made the difference in preventing Friday's attack at the U.S. Capitol building that killed one Capitol police officer and injured another.
"No amount of gun laws would've stopped today's attack on our Capitol, which involved a car and a knife," Boebert said in a tweet Friday afternoon. "Will Democrats take note of that, please?"
Boebert's post came after Noah Green allegedly rammed a vehicle through a barricade at the Capitol on Friday. According to acting U.S. Capitol Police Chief Yogananda Pittman, the suspect "lunged" with a knife at the police officers, who shot and killed him. Pittman announced Friday afternoon that one of the officers was killed.
The Colorado congresswoman argued in her post that gun laws wouldn't have prevented the man's attack from happening, but some advocates argued that Washington D.C.'s strict gun laws are a main reason why the situation hadn't been more dangerous.
"The fact that that guns are restricted both in DC and the Capitol may be why he only had a knife," Shannon Watts, founder of the Moms Demand Action, an organization that advocates for gun control, tweeted in response to Boebert. "You can't actually be this obtuse?"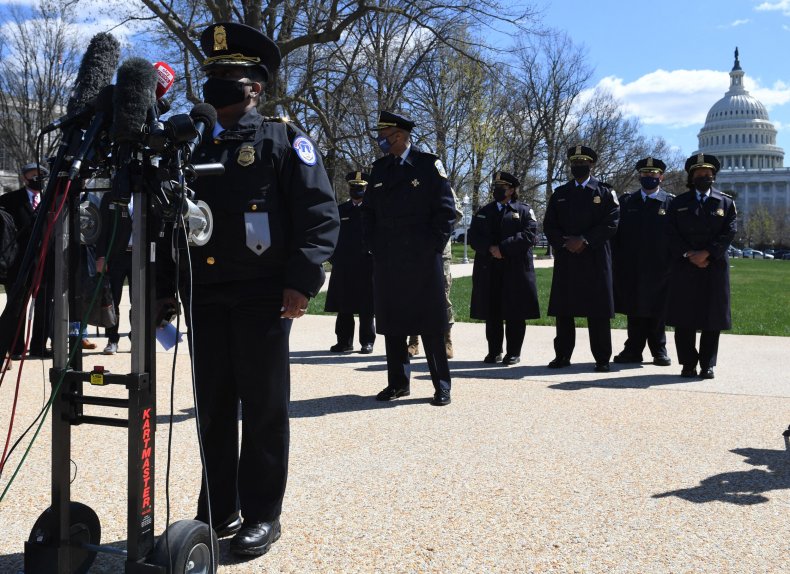 Washington D.C., has some of the nation's strictest gun laws. Open carry of handguns, rifles or shotguns, as well as the possession of ammunition, is prohibited, and the mandatory minimum sentence for illegal possession of a firearm is one year.
If such high consequences weren't put in place, Watts argued in her post, the suspect may have brandished a much deadlier weapon.
Gun control has been on the nation's conscious after a series of mass shootings this year, two of which occurred just days apart in the Atlanta area and in Boebert's home state of Colorado.
President Joe Biden has been vocal about his agenda on gun laws, including increased background checks, and requiring the for all gun sales as well as a ban on assault-style weapons. Democratic lawmakers have echoed Biden's urgency to reform the country's gun laws despite opposition from pro-gun GOP members like Boebert, who argue such laws would threaten constitutional Second Amendment rights.
Boebert made an identical statement reaction to the mass shooting in Boulder, Colorado last month, when the suspect, Ahmad Al Aliwi Alissa, 21, opened fired with an assault-style weapon and killed 10 people at a supermarket.
"There are no gun laws that wouldn't stopped Ahmad Al-Issa from killing 10 Americans in cold blood," Boebert wrote in a Twitter post on March 23.
While Watts credited gun laws for preventing a more violent situation on Friday, Boebert blamed Democrats in another tweet for being "too busy doing woke training" to anticipate and eliminate the threat Green apparently posed.
Green had actively posted on social media prior to the attack about his devotion to the Nation of Islam, a hate group designated by the Southern Poverty Law Center.
"Gun laws just don't work—it's unfortunate," Boebert told Newsmax last month. "We need good people to neutralize threats and defend themselves, and the people around them to protect them."
Newsweek reached out to Boebert and Moms Demand Action for additional comment, but did not receive a reply by publication time.