Rep. Lauren Boebert, Who Promised to Carry Gun to Congress, Granted Concealed Carry Permit
Rep. Lauren Boebert (R-Colo.) has been granted a concealed weapon permit in Washington, D.C., police confirmed on Thursday.
Boebert was elected to represent a conservative Colorado district last November following a campaign that heavily promoted her pro-gun stance and ardent support of former President Donald Trump. In a video that went viral last month, Boebert can be seen vowing that she will remain armed while serving at the U.S. Capitol. Metropolitan Police Department Chief Robert Contee revealed that Boebert had received a permit to carry a concealed gun during a Thursday press conference.
"A concealed carry permit was issued in that case," Contee said after being asked about Boebert. "There was a permit application that had been in the works with the Metropolitan Police Department. And as we do with all permits, if citizens are allowed to carry, then we grant them a permit. In this case, she was allowed to carry and she was granted a permit."
Contee said that he did not know if additional members of Congress had concealed weapons permits but was "certain there are probably others." In a statement obtained by Newsweek, Boebert Communications Director Benjamin Stout confirmed that the congresswoman "has received her D.C. concealed carry permit," while adding "as a Co-Chair of the Second Amendment Caucus, she has proudly helped some of her colleagues receive this permit as well."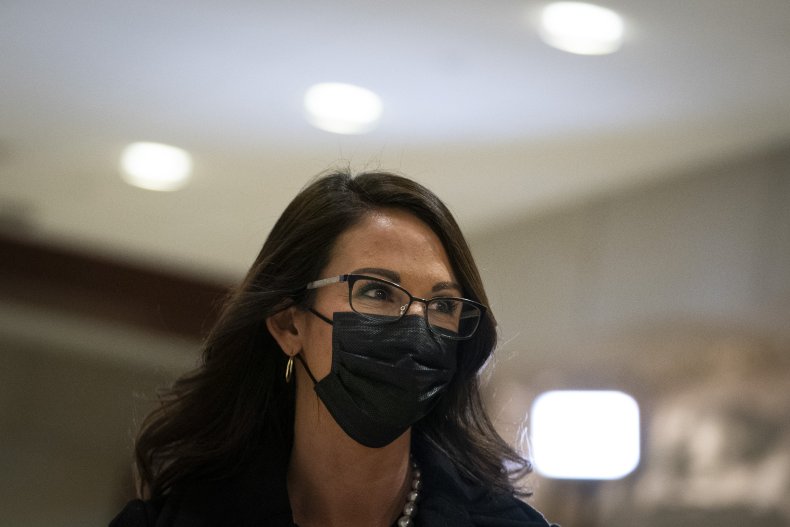 The police chief also said that he had "reached out" to Boebert's office following the viral video that touted her carrying a gun at the Capitol. Contee had promised to contact Boebert to make sure she was "aware of" gun laws in the city not long after she released the video on January 3, the same day that she was sworn into Congress for the first time.
"I will carry my firearm, in D.C. and in Congress," Boebert said in the video while walking down a street near the Capitol building. "This caused outrage from Democrats and the media."
Contee expressed skepticism over whether Boebert was actually carrying a gun throughout the video. He noted that the beginning of the video shows her with a gun while standing in front of a studio green screen, while the gun is not visible in the rest of the video showing her walking outside.
"The majority of that video, it was filmed on the Capitol grounds, where members of Congress are obviously allowed to carry," said Contee. "It also appeared to be highly produced... I think there was an inference that the person in the video was armed, but you never actually saw the person armed with a gun."
Members of Congress are allowed to keep guns inside their offices and can transport them on Capitol grounds provided they are "unloaded and securely wrapped." Despite Boebert's pledge to carry a gun "in Congress," her new permit is unlikely to exempt her from a rule that forbids members from carrying firearms inside the House chamber itself.
Boebert was one of several Republicans who protested or attempted to circumvent a metal detector that was installed outside the House chamber following the deadly January 6 breach of the Capitol. Rep. Andy Harris (R-Md.) was stopped from entering the chamber after setting off the metal detector due to a concealed gun, according to The Associated Press.
Any new attempts to ignore the rules and bring firearms to the House floor could prove costly. The House recently voted to approve a rule change that mandates members who attempt to carry a gun inside the chamber be given a fine of $5,000 for the first offense and $10,000 for each additional offense.
"Just days after the assault, many House Republicans began disrespecting our heroes by refusing to adhere to basic precautions keeping members of our Congressional community safe – including by dodging metal detectors, physically pushing past police, and even attempting to bring firearms into the chamber," Speaker of the House Nancy Pelosi (D-Calif.) said in a statement on Tuesday.
"It is beyond comprehension why any Member would refuse to adhere to these simple, commonsense steps to keep this body safe," she added. "It is sad that we have been forced to move forward with a rule change imposing fines on those who refuse to abide by these protections, but the People's House must and will be safe, so that we can honor our responsibility to do the People's work."
Newsweek reached out to the office of acting House Sergeant at Arms Timothy Blodgett for comment.