Rep. Levin's 'Two-State Solution Act' is A Progressive Fantasy | Opinion
After the U.S. House of Representatives approved funding for Israel's Iron Dome missile defense system, you may have forgotten how detached mainstream American progressives are from Middle Eastern realities. Enter Democratic representative Andy Levin, who, by introducing his "Two-State Solution Act" on Thursday, reminded us of the progressive movement's misguided approach to the Israeli-Palestinian conflict.
Flanked by Americans for Peace Now's Hadar Susskind and J Street president Jeremy Ben-Ami, Levin announced the bill, which he hopes will "preserve conditions for, and improve the likelihood of, a two-state solution that secures Israel's future as a democratic state and a national home for the Jewish people, [and] a viable, democratic Palestinian state."
Well, those intentions are fine and dandy, but the bill's practicality is anything but. Its failure to seriously address Palestinian extremism and rejectionism renders it worthless.
The bill proposes outlawing U.S. aid for Israeli projects over the Green Line; labeling the West Bank, Gaza Strip and East Jerusalem "occupied territories"; and reopening the U.S. consulate in East Jerusalem—used to handle Palestinian affairs until its 2019 closure by the Trump administration. Astonishingly, it also calls on Congress to revoke the 1987 Anti-Terrorism Act, which designates the Palestine Liberation Organization and its affiliates as a terrorist organization.
While the bill does acknowledge problematic Palestinian Authority policies such as its "pay-for-slay" initiative, it ultimately absolves Palestinians of moral accountability. It is, as aptly described by the Democratic Majority for Israel, "counterproductive, one-sided, and bad policy." Any meaningful move toward peace must begin with a clear message to Palestinian leadership that Washington won't tolerate even one step out of line. This bill fails miserably in that regard.
Voicing his support for the bill—in a breathtaking display of neocolonialism mixed with ignorance and hubris—Democratic representative Alan Lowenthal explained, "We're speaking for the American public. The American public wants a two-state solution." Mr. Lowenthal, it appears, has forgotten a rather important fact: the conflict is between Israelis and Palestinians, not New Yorkers and Californians.
If Levin and Lowenthal wish to bring Israelis and Palestinians closer to peace, they'd do well to listen to the millions living through the conflict, not well-meaning Americans. But most importantly, they should pay attention to the rhetoric in Ramallah that emerges when Palestinian leaders think no one is listening.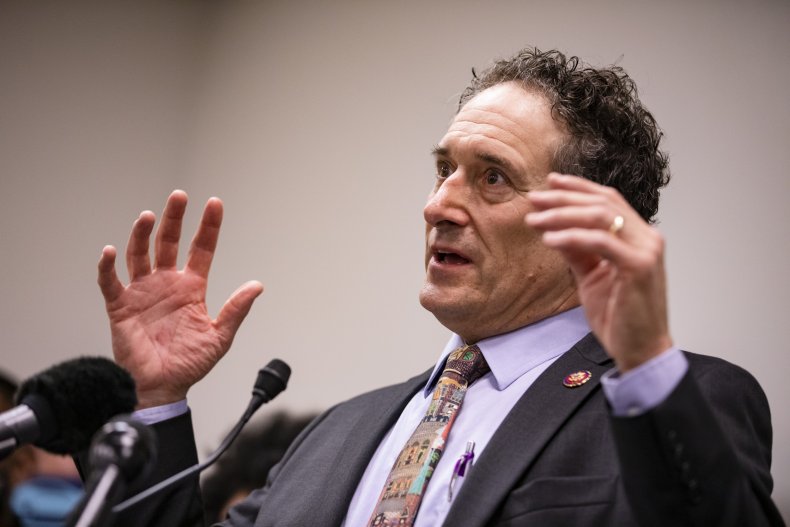 Those experienced in the Israeli-Palestinian arena are well versed in the vitriol spread under Palestinian Authority president Mahmoud Abbas' guidance, be it praise for Adolf Hitler on PA television, the PA's commendation of the notorious antisemitic Russian forgery The Protocols of the Elders of Zion as an "important book" or the encouragement on PA TV to carry out terror attacks. And yet, despite such abject extremism emanating from Ramallah, Levin and his backers seem to believe giving the PA a moral exemption would somehow be conducive to peace.
This bill sits in stark contrast to the previous administration's policy. For all of President Trump's flaws, his handling of Palestinian affairs injected a long-overdue dose of pragmatism into the United States' approach to the conflict. It was motivated, in large part, by the understanding that bad behavior should not go unpunished.
Levin's bill, on the other hand, sends a clear message that Washington will continue ignoring Palestinian extremism and demanding Israeli concessions. Despite Abbas' assertions to the contrary, the PA has never displayed any interest in toning down its wildly inflammatory rhetoric. Ignoring such fanaticism only pushes peace further away. Never mind that the bill offers no viable plan for the Gaza Strip, which since 2007 has been run by the genocidally antisemitic Hamas.
To Levin's credit, the bill is right to take issue with Israeli settlements in the West Bank. The proliferation of settlements, most notably those situated well beyond the Green Line, as well as "wildcat" settlements (considered illegal even under Israeli law), pose a very real obstacle to the creation of a future Palestinian state.
But settlements are not, and never have been, anything beyond a practical consideration for many Israelis—the majority of whom would gladly support territorial withdrawals should they feel a real chance for peace exists. Palestinian leaders calling for the murder of Jews while the West remains silent, however, will not garner Israeli support for such concessions.
Time and again, American presidents have tried and failed to bring about a negotiated solution to the conflict. And while Washington's foreign policy elites twiddle their thumbs and wonder aloud about what could possibly guide Israelis and Palestinians toward a peaceful solution, purportedly "moderate" Palestinian leaders spout anti-peace and antisemitic bile from their perch in Ramallah, without provoking so much as a raised eyebrow in Washington.
As long as Palestinian leaders continue receiving moral exemptions from the West, they will never negotiate with Israel in good faith, nor will they renounce Palestinian extremism beyond the confines of discussions with Western audiences. This is a tragic reality that, more than anything else, perpetuates Palestinians' suffering, and that Levin's fallacious bill will do nothing to change.
Josh Feldman is an Australian writer who focuses primarily on Israeli, American and Jewish issues. Twitter: @joshrfeldman
The views expressed in this article are the writer's own.