Representative Sean Maloney strongly criticized Republicans who have attempted to undermine the credibility of Lieutenant Colonel Alexander Vindman, saying "to question patriotism is disgusting."
Some conservatives have suggested that Vindman, who is testifying publicly in the impeachment inquiry against President Donald Trump on Tuesday, can't be trusted, and that he may have long been working to remove the president. There is no evidence to back those claims, and Vindman is a decorated veteran of the Iraq War, who was appointed to the White House National Security Council as a top Ukraine expert in 2018.
"Here's a pro-tip, if you find yourself lying about a war hero, you should probably question your choices in life," Maloney, a Democrat from New York, said during a Tuesday morning interview with CNN ahead of Vindman's testimony. He then took aim at Republican Senator Ron Johnson of Wisconsin, who wrote a letter to GOP House members on Monday questioning Vindman's motives.
"My advice to Ron Johnson is to walk around the block and think about it," Maloney said. "I don't know what he was doing when Lieutenant Colonel Vindman earned the Purple Heart in Iraq, in an IED attack, but to question Lieutenant Colonel Vindman's patriotism is disgusting."
In Johnson's letter to House Republicans, he suggested, without evidence, that Vindman could have long been working to remove Trump from the White House.
"A significant number of bureaucrats and staff members within the executive branch have never accepted President Trump as legitimate and resent his unorthodox style and his intrusion onto their 'turf,'" the GOP senator wrote, according to Politico. "They react by leaking to the press and participating in the ongoing effort to sabotage his policies and, if possible, remove him from office. It is entirely possible that Vindman fits this profile."
Several right-wing Fox News hosts even questioned Vindman's loyalty to the U.S. following his closed-door testimony to congressional investigators last month. They suggested that, because he had immigrated from the Soviet Union as a young child with his family and spoke Ukrainian and Russian, his motives should be questioned. A guest on Fox News host Laura Ingraham's show even suggested Vindman was engaging in "espionage" on behalf of Ukraine. In reality, all evidence has pointed to the decorated war hero being an upstanding and patriotic American, who has served his country with integrity.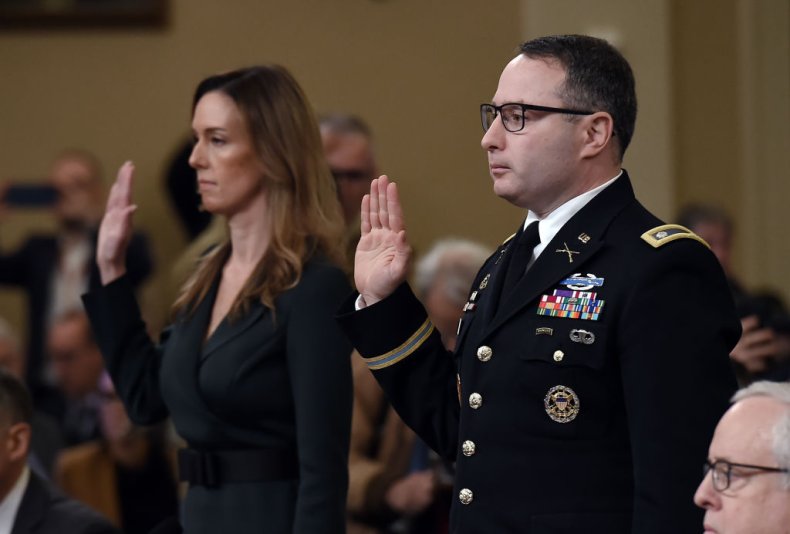 Some Republicans also pushed back against the effort to discredit Vindman, however. GOP Representative Liz Cheney of Wyoming strongly criticized the attacks against the lieutenant colonel in late October.
"I think that we need to show we are better than that as a nation," Cheney told reporters during a press conference. "Their patriotism, their love of country—we're talking about dedicated veterans who have put their lives on the line, and it is shameful to question their patriotism, their love of this nation, and we should not be involved in that process."
During Vindman's closed-door testimony last month, he revealed that the summary transcript of a July 25 call between Trump and Ukraine's President Volodymyr Zelenskiy had left out multiple details. He also warned that the administration's efforts to pressure Ukrainian leaders to investigate Trump's political rivals could "undermine U.S. national security."