Rep. Markwayne Mullin Says Gun Background Checks Criminalize 'Law Abiding Citizens'
Watch the full interview on ASP.

While advocating against universal background checks, GOP Representative Markwayne Mullin argued that such laws criminalizes "law-abiding citizens."
"We don't need to make criminals out of law abiding citizens, and H.R. 8 would exactly do that," Mullin said in a new conversation produced by civic engagement organization A Starting Point (ASP).
H.R. 8 is a bill set before the 117th Congress that establishes new background check requirements for firearm transfers between private parties. The prohibition would not apply to certain exchanges, such as a gift between spouses.
"[The constitution] says the right to keep and bear arms—the right of people to keep and bear arms—should not be infringed on. Period. Full Stop," Mullin told Democratic Representative Jake Auchincloss during the discussion. "We can talk about… H.R. 8 and say it's not the intention of it to create criminals, but it's exactly what it does."
"Criminals are still going to be criminals. They're going to break the law—If they chose to use a hammer or they choose to use a gun," he said.
Auchincloss disagreed with his Republican colleague, arguing that Mullin's interpretation of the Constitution is narrow in scope and that universal background checks would fit into the rights provided to Americans under the Second Amendment.
"The only time the word regulation appears in those 4,500 words [of the Constitution] is to describe gun ownership. It says 'a well-regulated militia.' Gun ownership in this country is actually not vested in the individual. It's vested in the collective and its vested in well-regulated militia," Auchincloss countered.
"We do not need to have individuals access…handguns and assault weapons out of some misguided recreation of frontier mentality from the late 18th century," he continued. "What we do need is to implement a suite of reforms that have worked in other countries."
Auchincloss, who represents Massachusetts' 4th Congressional District, also fired back at Mullin for claiming that criminals will find any weapon, gun or otherwise, to carry out their crimes.
"It's just simply not true that all weapons are created equally," the Democrat said. "When a gun is involved—an assault weapon, rather, is involved in a mass shooting, six times as many people are killed as in the counter case."
"Guns kill people. Assault weapons, in particular, are designed to kill humans that range in its scale, and they have no place in civilian arms," he added.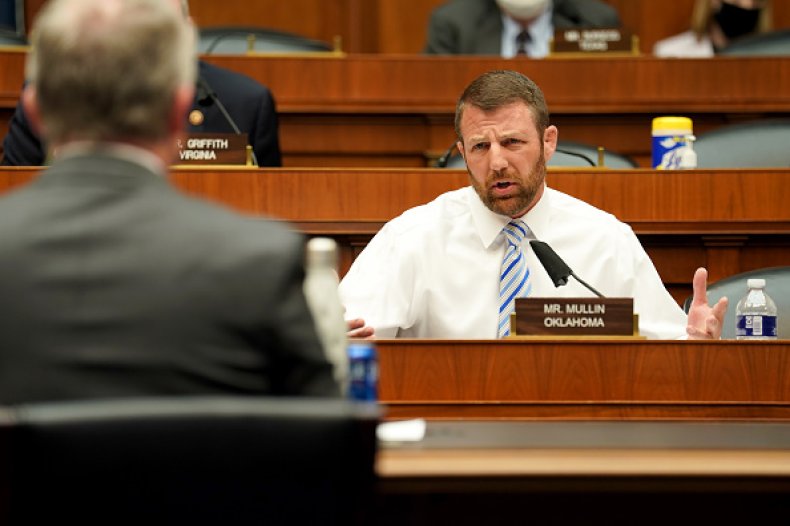 Mullin, who represents Oklahoma's 2nd Congressional District, called out Auchincloss for describing his take as "frontier mentality," saying, "It's not a frontier-style mentality. It's a self-protection mentality."
The Republican congressman emphasized that assault weapons already require federal background checks. He said that prohibiting temporary transfers, on the other hand, would prevent him from lending a friend or family member one of his firearms for hunting purposes, for example.
But Auchincloss says those aren't the people these prohibitions would target.
"The goal is to prevent dangerous people from having access to weapons to do harm to themselves or to others," the Democrat said. "I would remind folks that two-thirds of all gun deaths in this country are suicides. And while we do have a patchwork of background checks in the country, we've also got glaring loopholes."
Mullin, who says he lives a 30-minute drive from the nearest sheriff's office, shared a story about how a friend of his once asked the congressman to take away his gun because he was suicidal. Mullin argued that he wouldn't have been able to save his friend's life if temporary transfers were blocked.
"I can't take that from him unless I get a background check?" he asked.
Auchincloss affirmed that H.R. 8 would not allow for that kind of unlicensed transfer but countered that it is those friends in need who the bill aims to help.
"We need the ability to implement extreme risk protection orders so that if we know people who are struggling and who might be of harm to themselves or others, we can ask a judge to take those weapons away and we can also call the suicide hotline and stay with those friends while they're working through it," Auchincloss said.