Rep. Markwayne Mullin Says He Helped American Family Escape Afghanistan Monday Morning
Oklahoma Congressman Markwayne Mullin said an American family he was helping evacuate from Afghanistan was able to successfully leave the country on Monday morning.
Mullin, a Republican, Tweeted Monday that he left for Afghanistan two weeks ago to help rescue a young woman and her three children after they became trapped in Kabul during the Taliban's rapid takeover of the country last month.
"A little over three weeks ago, I received an email from a friend asking if there was anything we could do to help a young lady named Mariam and her 3 small children (all American citizens) get out of Afghanistan," Mullin said, adding that Mariam had gone to visit her parents in Kabul when the family became trapped in the city.
"We left two weeks ago today to get her, the children, and others out," Mullin said. "We worked around the clock. But despite the many frustrating setbacks, the team I have been blessed to work with never gave up. Mariam and the kids have been through so much, literally looking death in the face multiple times, including again today, but they never gave up either," he continued.
"This morning at 05:32EDT they got out of Afghanistan. Praise the Lord!"
The Oklahoma Republican embarked on the semi-secret rescue mission despite criticisms and concerns from Democratic House Speaker Nancy Pelosi and other U.S. officials.
Mullin attempted to enter Afghanistan via Georgia and Tajikistan with enough cash to get through Taliban checkpoints in order to rent a helicopter to rescue the American citizens, according to a report last week by The Washington Post. However, the attempt failed when the U.S. ambassador to Tajikistan declined to assist him in skirting laws regarding the amount of money people can bring into the country.
Mullin was also reported to have traveled to Greece at the end of August and asked the Department of Defense for permission to visit Kabul, but was denied the request by the Pentagon. Nonetheless, The Post reported that Mullin's whereabouts at the time were unknown, and his communications director, Meredith Blanford, confirmed only that he was safe.
"Congressman Mullin has been and is currently completely safe," Blanford tweeted last week. "He and the Office of Oklahoma's Second District will continue to do anything in our power to bring home all Americans from the war zone that President Biden abandoned. The safety and security of the American people will always be his top priority."
During a press briefing last week, the U.S. State Department declined to comment whether or not Mullin actually made it into Afghanistan.
"The State Department does not routinely comment on the travel of private citizens, or members of Congress, for that matter. But, we have made it abundantly clear that travel to Afghanistan is not safe," State Department Spokesperson Ned Price said, according to WTVY-TV.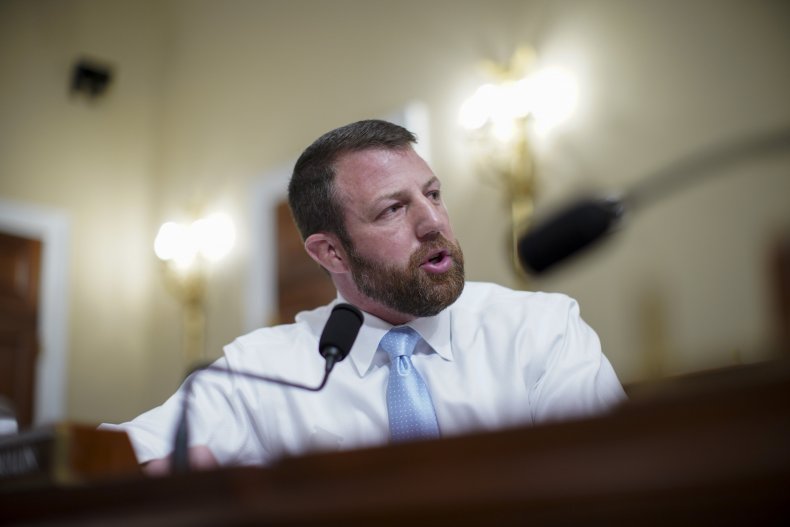 Mullin's rescue efforts also came after fellow congressmen Seth Moulton and Peter Meijer were heavily criticized for flying to Kabul in August to witness U.S. evacuations of citizens and allies. In response, House Speaker Nancy Pelosi issued a statement requesting that representatives do not visit the country while the military operation was taking place.
"Ensuring the safe and timely evacuation of individuals at risk requires the full focus and attention of the U.S. military and diplomatic teams on the ground in Afghanistan," Pelosi said. "Members traveling to Afghanistan and the surrounding countries would unnecessarily divert needed resources from the priority mission of safely and expeditiously evacuating America and Afghans at risk from Afghanistan."
Still, Mullin defended his private mission by stating that he was "trying to do a job that President Biden wouldn't do." Mullin also accused President Joe Biden of lying to the public by asserting that any American who wanted to leave Afghanistan would be given the opportunity to do so after the U.S. withdrew troops.
"That's a bold-face, 100 percent lie. Because we're working with these individuals," he told Fox News' Bret Baier on Friday.
After American troops were pulled from Afghanistan on August 31, Biden said that 90 percent of Americans in the country who wanted to leave were able to. The Democratic president added that the U.S. evacuated over 120,000 U.S. citizens, allies and vulnerable Afghans in just two weeks.
White House chief of staff Ron Klain estimated Sunday that there are about 100 U.S. citizens still left in Afghanistan.
"We are going to find ways to get them—the ones that want to leave—to get them out of Afghanistan. We know many of them have family members, many of them want to stay, but the ones that want to leave, we're going to get them out," Klain told CNN.
Newsweek contacted the White House for additional comment, but did not hear back in time for publication.