Rep. Mary Gay Scanlon Pushes for 'Common Sense' Gun Laws After Being Carjacked at Gunpoint
Pennsylvania Representative Mary Gay Scanlon called for "common sense" gun laws to be passed after she was carjacked at gunpoint on Wednesday.
During a press conference on Thursday afternoon, Scanlon spoke about her experience and said that "no one should have to experience this lawlessness and I'm going to continue to push for resources and policies that help reduce violence in our communities all across the country."
She continued, "whether its common sense gun safety measures or additional resources for community policing and mental health services."
During the press conference, Scanlon spoke about a discussion she had with President Joe Biden following the incident, where she expressed frustration over not being able to get Republicans to pass "common sense gun safety measures like background checks, like doing away with ghost guns."
The comments by Scanlon come just a day after she was threatened at gunpoint by two individuals near Philadelphia's FDR Park. According to the Delaware State Police, while walking back to her car, Scanlon was approached by two armed men who demanded that she hand over her keys and stole her vehicle.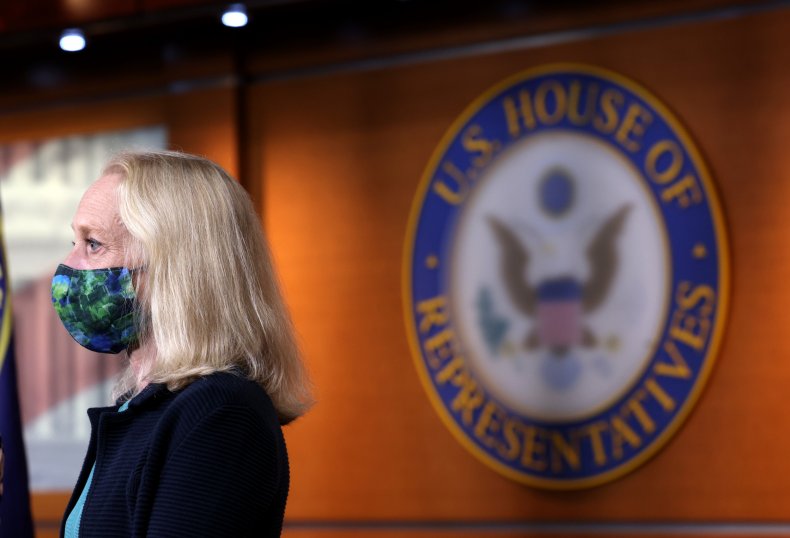 In a statement posted on Twitter, Scanlon said that she was not harmed during the incident and thanked the Philadelphia Police Department for their "swift response."
The Delaware State Police said in an update on Thursday afternoon that officers discovered Scanlon's vehicle Wednesday night in a parking lot in Newark, Delaware.
"The investigation determined Philadelphia Police Department investigated the armed carjacking of Pennsylvania Mary Gay Scanlon earlier during the day where her 2017 Acura MDX was stolen," the department said.
Police said they have arrested five suspects in connection to the armed robbery, all of whom were identified as juveniles: Josiah Brown, 19, a 14-year-old female, and three males ages 13, 15, and 16.
Three of the suspects were charged with receiving stolen property over $1,500, according to police. The 15-year-old was also charged with receiving stolen property over $1,500 as well as resisting arrest and two counts of criminal mischief.
"The investigation determined Josiah Brown was involved in the armed carjacking in Philadelphia. He was turned over to the custody of the Federal Bureau of Investigation for formal charging," police said.
In response to the incident, Philadelphia Mayor Jim Kenney said that he was "appalled" by the crime: "It's disheartening, and quite frankly infuriating, that criminals feel emboldened to commit such a reckless crime in the middle of the day in what should be a place of tranquility and peace—one of Philadelphia's beautiful parks.
During a press conference in November, Kenney made similar comments about gun control laws in the city, stating that Philadelphia sued the state "for the right to regulate guns in our city—to protect the lives of Philadelphians." Kenny also called on the state's General Assembly "to enact reasonable controls on guns in our city."
In a statement sent to Newsweek, a spokesperson for Philadelphia District Attorney Larry Krasner said that he has "long urged passage of commonsense gun restrictions at the state and federal level," and criticized the state's General Assembly for prohibiting municipalities in the state from enacting their own gun laws.
"Rather than support measures that would save lives—such as universal background checks, shutting down ghost gun sales, red flag laws, and safe storage requirements—the legislature instead only makes it easier for anyone to own or carry a gun wherever they please," the statement said.