Rep. Nancy Mace Thinks Capitol Riot Happened Because 'Millions' Were Misled by Trump, GOP
Representative Nancy Mace, a Republican sworn in just days before Wednesday's riot in the U.S. Capitol, argued that President Donald Trump and his conservative allies in Congress are partly to blame for the violence.
"What happened yesterday is because millions of people across the country were misled by Republicans and by the administration that members of Congress could overturn and usurp the Electoral College in a single vote to object yesterday, and that's simply not true," Mace told CNN on Thursday morning.
She added, "The expectations were set very high for these folks. They were lied to and it's dishonest."
Thousands of Trump supporters gathered in Washington, D.C., on Wednesday to protest the outcome of the presidential election. The demonstration coincided with a joint session of the House and Senate to affirm President-elect Joe Biden's victory after the Electoral College voted 306-232 last month in Biden's favor.
Trump addressed the rally's crowd for more than an hour before the assault on the Capitol erupted. The president continued to make unsubstantiated allegations of widespread voter fraud, telling his supporters: "We will never give up, we will never concede. You don't concede when there's theft involved."
Not too long after his speech, groups of protesters began to storm the Capitol. The area was forced into lockdown as people clashed with federal police and breached the building. National Guard troops from the District of Columbia and neighboring states were sent to help quell the riot.
Four people died during the invasion of the Capitol, according to the Metropolitan D.C. police. One woman was shot by law enforcement, and three others died as a result of medical emergencies.
When Congress reconvened after the Capitol was secured, Mace voted to affirm Biden's win. But several Republican lawmakers still objected to the Electoral College vote, repeating unfounded allegations of fraud. Still, Vice President Mike Pence announced early Thursday morning that Biden had won the presidency after Congress completed its count of the state electors.
Ahead of the riot, Pence had released a statement formally rebuking Trump's demands for him to reject the Electoral College outcome. The vice president wrote in a letter to Congress that his "oath to support and defend the Constitution constrains me from claiming unilateral authority to determine which electoral votes should be counted and which should not."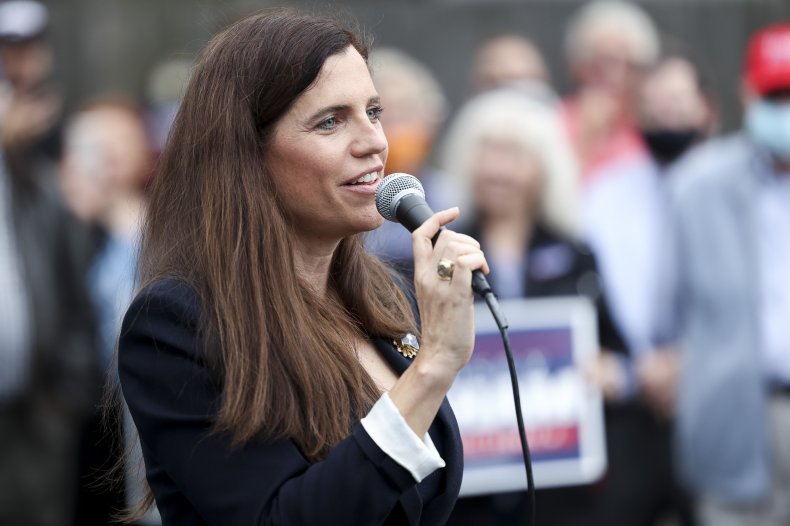 Mace, the first Republican woman to be elected from South Carolina, said she brought her two children to her swearing-in ceremony over the weekend but sent them home first thing Monday because she was concerned about the rhetoric ahead of the rally.
Asked about whose rhetoric she was concerned about, Mace replied, "From the president on down to my colleagues here in Congress."
She continued, "That when you speak like that, when you incite this kind of violence, rhetoric has real consequences. Someone threatened to shoot me recently on social media. I was accosted on a street of D.C. on Tuesday night here. It's wrong. It puts people's lives at risk."
Mace, who worked for Trump's campaign in 2016, also said that Wednesday's events have "wiped out" his entire legacy and that the Republican Party has to "start over."
Newsweek reached out to the White House for a comment on Mace's remarks but did not receive a response in time for publication.