Democratic Arizona Representative Ruben Gallego wants any former military members who participated in the January 6 Capitol riots to be stripped of their veterans' benefits. His request comes as the U.S. military has begun examining the rise of extremism within its ranks.
In a Friday letter addressed to the nation's top military secretaries, Gallego cited an NPR report stating that nearly 20 percent of 140 insurrectionists arrestees were either military veterans or retirees.
"Many of the veterans and service members who attacked their own government actively and enthusiastically enjoy special benefits given to them by their fellow citizens," Gallego wrote. "Insurrectionists should not enjoy benefits they no longer deserve."
Veterans are typically given taxpayer-funded benefits, including access to disability compensation, educational assistance, cheaper healthcare options, vocational opportunities and state programs that reward their service, Gallego noted.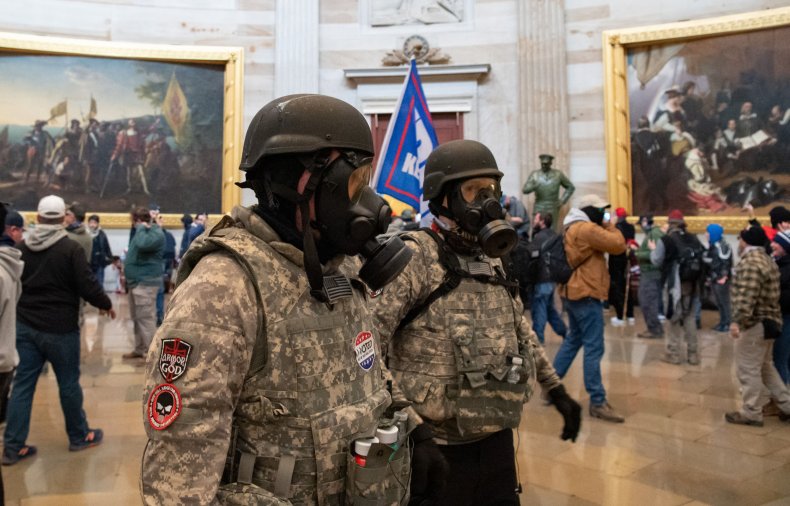 Gallego sent similar letters to the Department of Veterans Affairs Secretary Denis McDonough, Defense Secretary Lloyd Austin, Homeland Security Secretary Alejandro Mayorkas and Attorney General Merrick Garland, the military newspaper Stars and Stripes reported.
The military began looking more closely at the rise of extremism in its ranks after the January 6 insurrection.
Among the insurrection's arrested participants are a retired senior Air Force officer, according to The New Yorker; a Navy veteran, according to Military.com; and an Air Force veteran killed while attempting to break into Democratic House Speaker Nancy Pelosi's office, according to The Los Angeles Times. The Air Force veteran reportedly supported the QAnon conspiracy theory and other far-right extremist beliefs.
On February 5, Austin directed military commanding officers and supervisors at all levels to conduct a one-day "stand down" to address right-wing extremism in the ranks. The stand down order included procedures conducting small-group training, discussion talking points, case studies, a reading guide, common questions and answers as well as instructions on how to report the training's completion, The Hill reported.
But a one-day stand down isn't enough to address the issue, Dov Zakheim told the aforementioned publication. Zakheim is a former undersecretary of Defense comptroller, chief financial officer for the Department of Defense and a deputy undersecretary of Defense. He thinks the stand down should occur twice annually and require mandatory testing for all attendees. He also thinks the military needs better screening for extremism among recruits and recruiters.
A 2019 Military Times poll of active duty service members suggests that the problem is worsening. It found that over 30 percent of white service members had personally witnessed examples of white nationalism. The examples included white supremacist tattoos and Nazi-style salutes by fellow service members.
Over 50 percent of non-white service members polled had personally witnessed examples of white nationalism or ideological-driven racism. The poll's percentages were higher than similar polls conducted by Military Times in 2017 and 2018.
"The Internet has played a role in the present [surge of extremism in the military], with extremist content found on websites, discussion forums, chat rooms, social media, messaging apps, gaming and streaming sites and other platforms," Mark Pitcavage, an expert on far-right groups for the Anti-Defamation League, told a House Armed Services Committee hearing last year. He called the military's handling of extremism "haphazard" at best, according to Politico.
In a December 2020 memo, then-acting Defense Secretary Christopher Miller ordered a review of the policies, laws and regulations focused on service member participation in extremist and hate groups.
Miller requested the Defense Department to report on recommended initiatives to "more effectively prohibit extremist or hate group activity." He also ordered the Pentagon's General Counsel to report changes to the Uniform Code of Military Justice that could address extremist activity in the military. The reports are due in June and July, respectively, Politico reported.