Rep. Steve King Met With Far-Right Group Founded by Nazi on Trip Funded by Holocaust Memorial Group: Report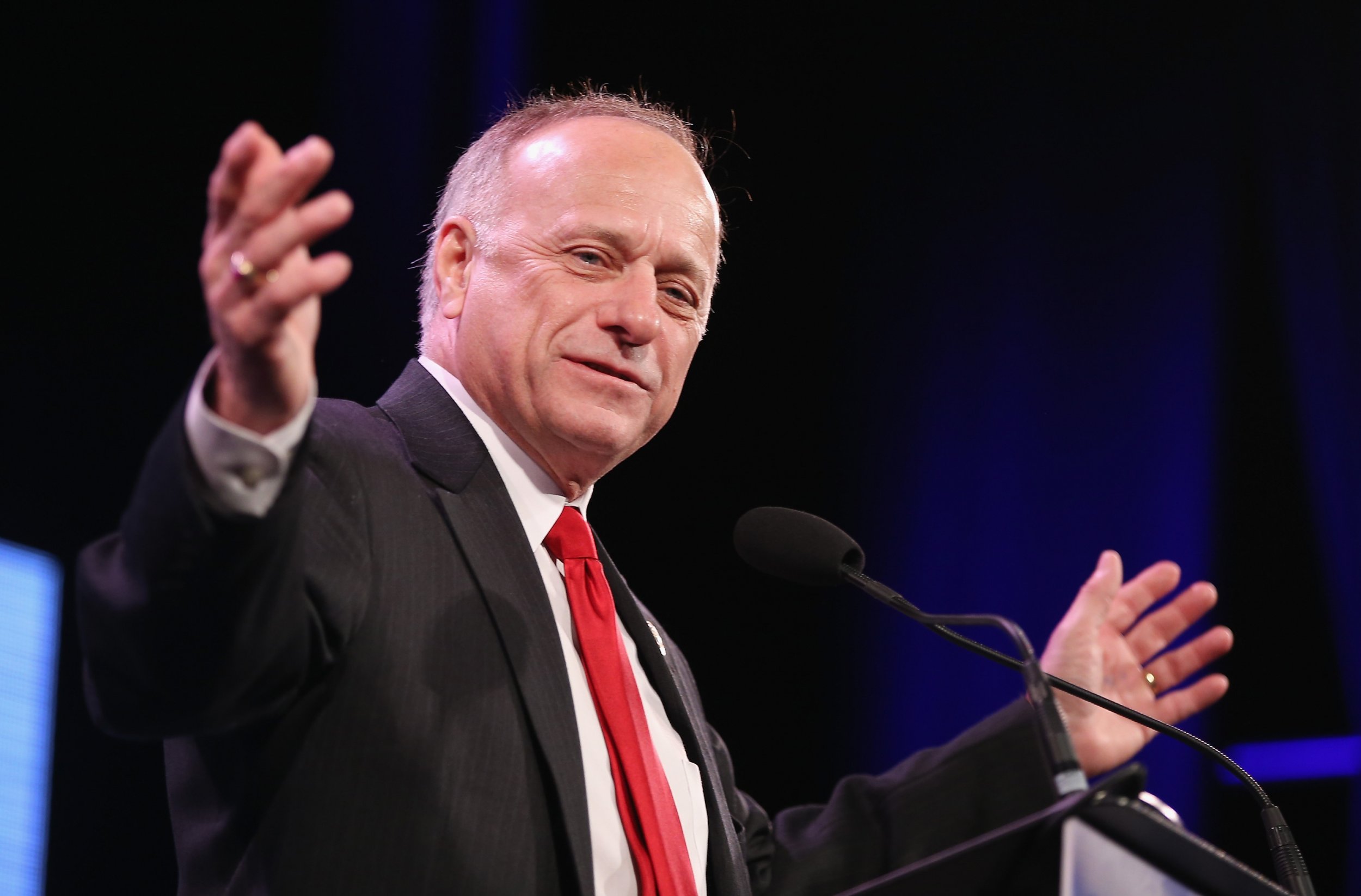 Republican Representative Steve King of Iowa met with members of an Austrian far-right political party founded by a former Nazi SS officer, during an August trip funded by a Holocaust memorial nonprofit, according to reports.
At the time of the summer trip, King reportedly welcomed an interview with Unzensuriert, a publication tied to the Freedom Party of Austria (FPO), according to The Washington Post.
The FPO was founded by Anton Reinthaller, who joined the Nazi Party's armed Schutzstaffel (SS) organization in the 1930s and served as an honorary major general within the paramilitary Nazi group. The party is currently led by Heinz-Christian Strache, who had ties to neo-Nazi groups in his youth but has since rejected the affiliation.
King's meeting with Unzensuriert, which translates as "Uncensored," took place on August 24, a day after the politician completed a five-day trip visiting Jewish and Holocaust sites in Europe, which was funded by From the Depths, a Holocaust memorial nonprofit, according to the Washington Post.
While documents King filed with the House Ethics Committee reportedly show that his time in Austria from August 24 until his departure on August 26 was personally funded, King's airfare was covered by From the Depths.
From the Depths President Jonny Daniels told Newsweek that his organization had never been informed of King's plans to meet with Unzensuriert and said he was left "shocked" by King's actions.
"Truly it was a surprise and it was quite shocking," Daniels said, adding that the revelation had been "quite upsetting" for members of his organization.
From the Depths' president said that his organization had brought "well over 100 parliamentarians" to Europe to visit Holocaust-related sites, but had never had an incident like this one arise.
He said that while the organization had previously been flexible on arranging flight dates for politicians, he would now be looking to institute more "stringent" policies to avoid a similar situation in the future.
"It's upsetting to see that the hard work that we do can be used in a way that we most definitely do not agree with," Daniels said.
In his interview with Unzensuriert, the Iowa representative expressed skeptical views of "diversity," asking: "What does this diversity bring that we don't already have?"
"Mexican food, Chinese food, those things—well, that's fine. But what does it bring that we don't have that is worth the price? We have a lot of diversity within the U.S. already," said King.
The politician had repeatedly expressed anti-immigration views, recently calling on President Donald Trump to follow through on his threat to send troops to shut down the southern border in order to prevent a caravan of thousands of Central American migrants from entering the U.S., as well as to follow through on a threat to end U.S. aid to countries along the route of the caravan for failing to stop it from making its way toward the border.
Daniels said that while his organization aimed to include politicians of all stripes, he found the comments King made during the interview to be "offensive," adding that he also took offense at comments King allegedly made preaching the importance of "forgiveness" relating to the Holocaust.
"I most certainly could never entertain forgiving anybody," Daniels said. "It's not my place."
"Forgiveness can only be given by those who were murdered and they will never forgive," he added.
On Thursday, King dismissed concerns over his decision to meet with members of the publication during his Austria trip, telling the Post that From the Depths had nothing to do with his interview and accusing his "political opposition" of "ginning this up" ahead of the November 6 midterm elections.
King is seeking re-election for a ninth term in the House, with Democrat J.D. Scholten running an aggressive campaign against him, which has seen the Bernie Sanders-backed Democrat outraise King in donations, despite Iowa's 4th District being overwhelmingly Republican.
King's office has not immediately responded to a request for comment from Newsweek.