Rep. Steve King Pushes for Committee Reinstatement After White Supremacy Remarks—But GOP Leader Doesn't Want Him Back
Iowa Congressman Steve King told a forum Tuesday night that House Minority Leader Kevin McCarthy would be allowed back into the committees he was removed from after his controversial comments were made public in 2019. However, other GOP lawmakers have made it clear that King should not be reinstated.
King's committee assignments were taken away after he made statements that aligned with white supremacist beliefs. He was removed after an interview with The New York Times in which he asked, "White nationalist, white supremacist, Western civilization—how did that language become offensive?"
"Kevin McCarthy and I reached an agreement that he would advocate to the steering committee to put all of my committees back, all of my seniority," King said. When the steering committee reconvenes at the next session of Congress, King added, "I have Kevin McCarthy's word that that will be my time for exoneration."
McCarthy, however, told reporters in 2019 that King would not be placed on congressional committees. Some members of the Republican Steering Committee are set against the idea of King being reinstated.
"As long as I am a member of the Steering Committee," said Republican Ohio Representative Steve Stivers Wednesday on social media, "I will not allow that type of person or that type of ideology to influence the legislation passed by Congress. Steve King does more to hurt Republican and conservative causes than help."
Democratic Congresswoman Judy Chu of California said Wednesday that King was an "unrepentant racist."
"Giving him more power now just says they're okay with it," Chu added.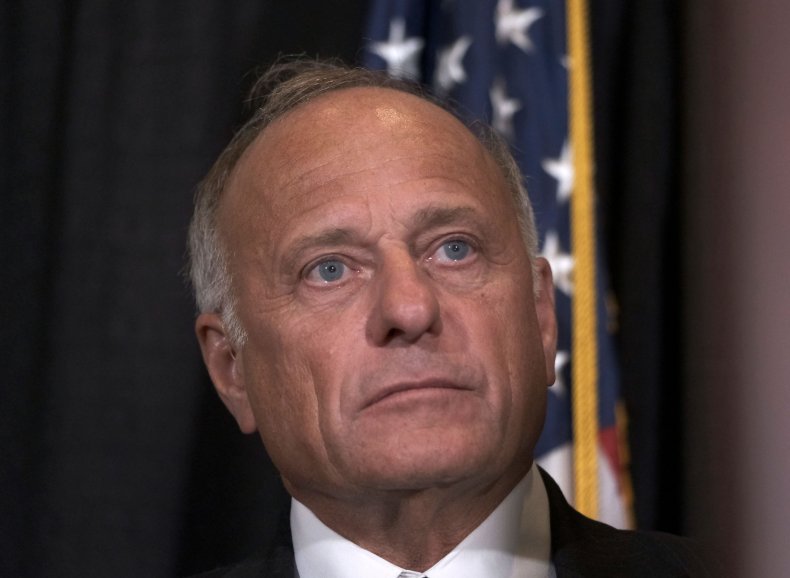 King, who has been in office since 2003, was formerly a member of the Agriculture, Judiciary and Small Business Committees until 2019, when his comments drew enough ire from lawmakers to force his removal.
At the time of King's removal, McCarthy denounced King's remarks as "definitely not American." King said McCarthy's decision was politically motivated.
Mitch McConnell denounced King's comments as "unworthy of his elected position."
"If he doesn't understand why 'white supremacy' is offensive," McConnell said in 2019, "he should find another line of work."
Although some Republicans attempted to have King reinstated to the committees he was removed from, other lawmakers stonewalled those efforts. "They think if they can keep the subject tamped down that it eventually goes away," King said in a 2019 interview. "But each day that goes by, my patience gets thinner and thinner."
When Newsweek attempted to contact Representative McCarthy, his voicemail was full and would not accept new messages. Newsweek also reached out to the office of Congressman King for further comment. This story will be updated with any response.
King is expected to run for reelection in the June election where he will face one Democratic opponent and four Republicans. Among the Republicans is state Senator Randy Feenstra whom recent polling indicates is in a statistical tie with King.