Rep. Steve Scalise Called Out by Jewish Activist Group Over Alleged "Anti-Semitism" and "White Nationalism"
A Jewish activist group has called out Louisiana Rep. Steve Scalise over what the group says is anti-Semitic and white nationalist rhetoric from the Republican party.
Two members of the progressive Jewish activist group IfNotNow confronted the congressman at a town hall event in Louisiana Monday.
Addressing Scalise in a video recording of the event, group member Ezra Oliff-Lieberman suggested a connection between "anti-Semitic and anti-immigrant" rhetoric to mass shootings targeting Jewish people. Oliff-Lieberman said that the rhetoric is espoused by Republicans "on a daily basis."
Rep. Scalise disputed the claims of Oliff-Lieberman, saying that "the facts disagree." The congressman said he has fought anti-Semitism, focusing on Republican efforts to officially condemn Minnesota Rep. Ilhan Omar for a series of allegedly anti-Semitic tweets. Rep. Omar later apologized for the tweets, and denies being anti-Semitic.
Oliff-Lieberman then asked about President Donald Trump's claim that Jews who support Democrats are "disloyal Jews," to which Scalise appeared to smile while replying "I don't know when you had that meeting with him."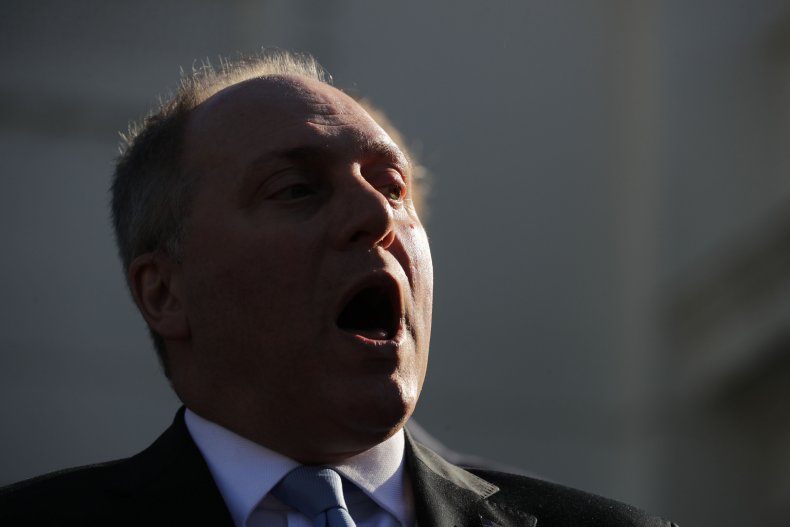 When asked to condemn anti-Semitism among Republicans, Scalise instead said he condemns "all of it," and encouraged Oliff-Lieberman to condemn anti-Semitism "on the Democrat side."
"Rep. Scalise once spoke at a convening hosted by the European-American Unity and Rights Organization, a white supremacist group founded by David Duke. Now he serves in Republican Party leadership and is one of Trump's closest allies," said Oliff-Lieberman in a statement.
"I gave him the opportunity to practice Teshuva this morning, the Jewish tradition of repairing harm that has been done. His refusal to condemn anti-Semitism in the GOP and from the president is emblematic of his entire party's embrace of white nationalists—the same people who, all across the country, have been opening fire on Jews as we pray, attacking mosques and setting fire to Black churches in Louisiana. American Jews will not stay silent, and we will not let the party that incites violence against us claim to speak for us."
IfNotNow describes itself as an inclusive movement within the American Jewish community, who are opposed to Israeli occupation of the West Bank and Gaza strip.
Another of the group's members, Elias Newman, also questioned Scalise at the event.
"Will you today, congressman Scalise, condemn white nationalism and anti-Semitism in the GOP?," asked Newman.
"I condemn white nationalism and anti-Semitism wherever it happens," Scalise replied. "And for anybody who thinks it's exclusive to any political party, you're fooling yourself. It happens all around us and we need to call it out when we see it. That's the important thing: wherever you see it. And I've been vocal in calling it out in both parties by the way."
Scalise then moved onto the topic of Israel, saying, "What's important is that we recognize Israel is a Jewish state."
Newman objected, pointing out that he is not from Israel, before reminding the congressman of Trump's "disloyal Jew" claim.
"Donald Trump calls me a disloyal Jew and you say nothing. You stay silent. It's a trope that literally sent my grandfather to Auschwitz, Jews being called disloyal in Germany," Newman said to Scalise.
Scalise did not address Trump's statement, instead recalling an anecdote from Trump's State of the Union speech concerning Jewish American soldiers. Newman again asked him to denounce anti-Semitism in the Republican party. Scalise declined to specifically do so.
Speaking with Newsweek, Newman alleged that Scalise's switching the topic of conversation to Israel was itself anti-Semitic, and part of an attempt to conflate Jews with Zionism.
"For too long we've allowed the GOP to use it as a shield in order to get away with their white nationalist rhetoric," Newman said.
Newman also noted the conference Scalise had attended with former Ku Klux Klan leader David Duke. Similarities between Scalise and Duke have been suggested before, including allegedly by Scalise himself. According to an article in The New York Times, Scalise at one point described himself as "David Duke without the baggage."
"What I encountered today was what we've been seeing from the right from a long time now," said Newman. "When asked about their own party's problem with anti-Semitism and white nationalism, they deflect to the left, and they deflect to being champions of Israel. And the fact is that these white nationalist shootings that are happening across the globe—they're not citing Democrats and they're not talking about Israel, they're talking about the same kind of anti-Semitic rhetoric... anti-immigrant, anti-woman in the case of the most recent Yom Kippur shooting in Germany, rhetoric that is honestly coming out of the mouths of the GOP."
"Until he can acknowledge and condemn the role his party has played in the rising violence facing minority communities across the nation, until he apologizes for his own voting record on the rights our communities hold dear, Scalise can never credibly present himself as an ally of the Louisiana Jewish community," adds Newman in the group's press release.
Correction 10/15, 3:04 p.m.: This article has been updated for clarification, to include the full quote of one of Rep. Scalise's responses, which had previously been partially quoted and paraphrased.