Rep. Tony Gonzales Urges Congress to Pass Immigration Reform: 'It's the Right Thing to Do'
No other member of Congress oversees more territory along the southwest border than Republican Congressman Tony Gonzales. Spanning roughly 800 miles along the U.S.-Mexico border, Texas' 23rd District has oftentimes been ground zero for the continued migration surge.
Over the past two months alone, border authorities have encountered nearly 65,000 migrants at the Big Bend and Del Rio border sectors which run across Gonzales' district. This figure stands as just a fraction of the over 1.85 million migrants who have been encountered at the southwest border since Gonzales took office.
Gonzales, a former Navy officer of Mexican American descent, was elected to serve the politically moderate, majority Hispanic district in 2020 following the retirement of former Congressman Will Hurd. During his campaign, he centered border security and stability among his top issues. He told Newsweek that realizing this goal requires immigration reform.
"(Immigration reform) is a topic that is in my face nonstop, and it's just it's the right thing to do," Gonzales told Newsweek."This country has been just going back and forth for too long, and the problem is that it's a political winner for both parties, to be able to throw it around, but the loser is the American public."
Over the past year, Gonzales' district has paid the price for America's often criticized border enforcement and immigration strategy. He said that people living in his largely rural district, a number of whom live directly on the border, have seen their property damaged and face fear over the uncertainty surrounding who may be crossing through their land.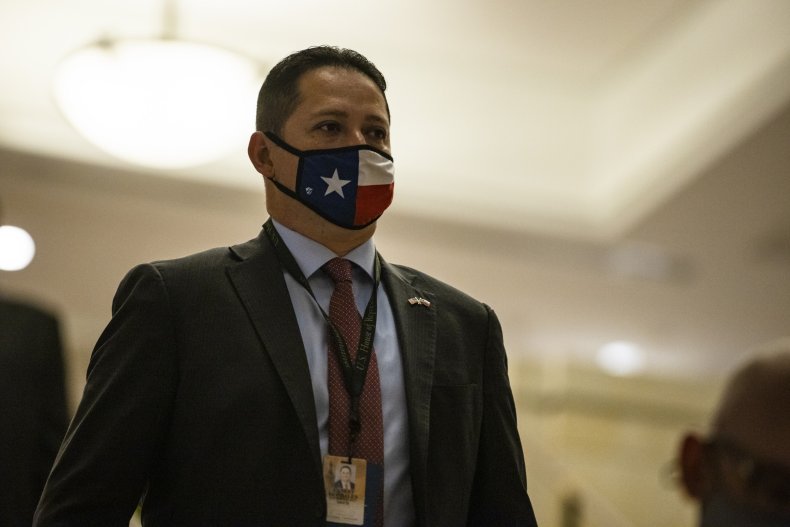 While Gonzales knocks the Biden administration's early efforts to undo measures taken by the Trump administration and believes it could do more to ensure security, he said addressing the heart of the issues starts in Congress.
Gonzales sees much of current actions being taken to address the migration surge as "Band-Aids" that do little to prevent migration surges from arising again in the future. With polices around entry often changing with the presidential administration, Gonzales said that criminal smuggling organizations often review the latest changes and take advantage of news surrounding the policy shifts to convince desperate migrants to pay them for passage to the United States.
"They're the ones that really kind of spin up the migrants and feed them information," Gonzales added.
News outlets including Reuters, The New York Times, and The Texas Tribune all report that inconsistent enforcement and confusion around immigration policies have played a role in pushing desperate people who already face gang violence, economic hardships and food insecurity to make the decision to come to the border.
The lack of clarity offers illicit smuggling businesses fuel to make their potential clients compelling promises which ultimately results in these individuals ending up in situations where they are violating the country's laws. Gonzales said that Congress must introduce a policy that does not encourage illegal immigration and instead offers feasible, clear pathways for qualifying people to pursue their "American Dream."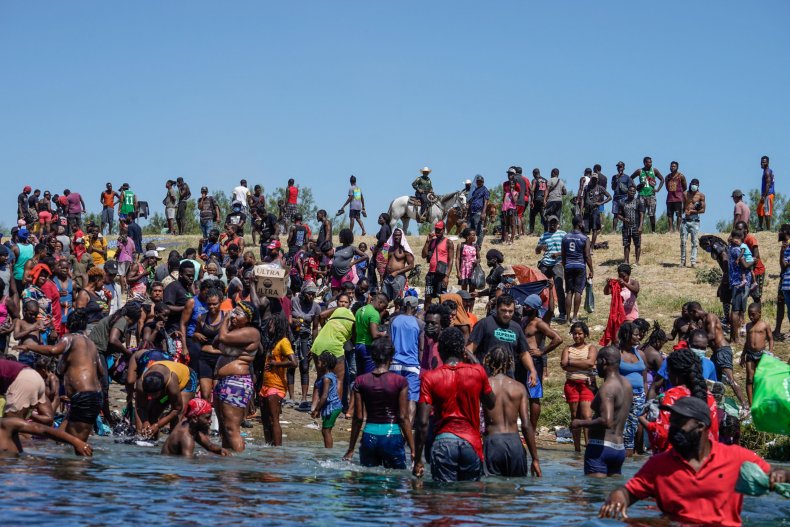 "It's been difficult to find people that even want to have the conversation. It seems like everyone is in their corners, but I'll keep pushing," Gonzales said. "Ultimately, this is about national security."
Gonzales fears that with the continued shifts in immigration enforcement comes the risk of a potential terrorist threat that could be triggered by a bad actor gaining entry into the country.
As more people continue to make the trip north, border resources will continue to be stretched and some individuals may slip through the cracks. Over the past year already, Border authorities encountered at least three individuals—two from Yemen and one from Saudi Arabia—who have been labeled as potential terrorists.
While addressing this problem and staving off the migrant flow by providing international clarity on who can enter the country stands as something to be tackled in the long term, Gonzales offered a number of recommendations on what the administration can do to address the issue in the short term.
The congressman asked that the Biden administration not fire any border agents who face potential terminations this month as a result of the federal vaccine mandate. He introduced the Border Agents Staying Employed (BASE) Act in mid-December aimed to provide vaccination alternatives. Gonzales also suggested to Newsweek that the administration move to expand the agency's technological repertoire by adding more drones that can support agents as they monitor remote areas of the border.
"These simple things I think would go a long way in helping kind of just shore up or insulate a Border Patrol that is beyond a breaking point," Gonzales said. "When a terrorist a threat occurs, they don't target Republicans or Democrats, they're just trying to kill Americans. Everyone should be rooting for a secure border."