Rep. Tulsi Gabbard Has Harsh Words for Hillary Clinton: 'You, the Queen of Warmongers, Embodiment of Corruption'
Tulsi Gabbard responded to an insinuation made by Hillary Clinton on a podcast that Russia is grooming one of the candidates running in the Democratic presidential primary to be a third party candidate favorable to their interests—and that Gabbard was the one being groomed—with a string of strongly-worded tweets.
"Great! Thank you @HillaryClinton. You, the queen of warmongers, embodiment of corruption, and personification of the rot that has sickened the Democratic Party for so long, have finally come out from behind the curtain. From the day I announced my candidacy, there has been a concerted campaign to destroy my reputation. We wondered who was behind it and why.
"Now we know — it was always you, through your proxies and powerful allies in the corporate media and war machine, afraid of the threat I pose. It's now clear that this primary is between you and me. Don't cowardly hide behind your proxies. Join the race directly," said Gabbard in three tweets on Friday afternoon.
The comment that sparked Gabbard's tweets were made public on Thursday's Campaign HQ podcast.
"I'm not making any predictions, but I think they've got their eye on somebody who is currently in the Democratic primary and are grooming her to be the third-party candidate," Clinton said during an appearance with David Plouffe, a former Barack Obama adviser, according to CNN. "She's the favorite of the Russians. They have a bunch of sites and bots and other ways of supporting her so far."
While Clinton did not name Gabbard, there are only five women in the race, and Gabbard has been the only one thus far to respond.
Clinton spokesman Nick Merrill responded in a statement to CNN, "Divisive language filled with vitriol and conspiracy theories? Can't imagine a better proof point than this."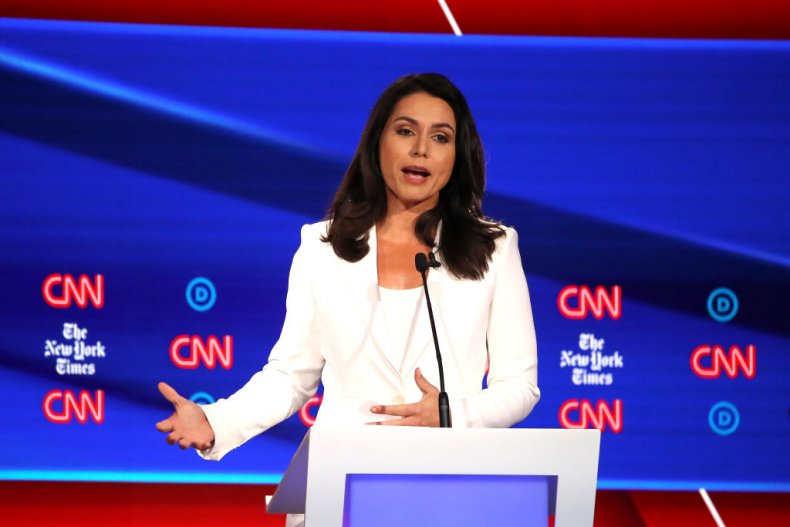 Merrill then responded to CNN's question if Clinton had been referring to Gabbard in her statement by saying, "If the nesting doll fits."
He also tweeted at Gabbard in response to her Tweets that it was the "Assad day for your candidacy." Gabbard has previously defended Syrian dictator Bashar al-Assad, who is an ally of Russian President Vladimir Putin.
Gabbard has also firmly stated that she is not planning a third party candidacy should her bid for the Democratic nomination fail. "I will not," she said to CNN. "No, I have ruled that out."
NBC News and The New York Times have posted analysis that shows Russian news sites and social media linked to the Kremlin had been promoting Gabbard's presidential candidacy leading up to her announced run, beginning in February and continuing in the months since.
Gabbard responded to both charges by saying, "Just two days ago, The New York Times put out an article saying that I'm a Russian asset and an Assad apologist and all these different smears. This morning, a CNN commentator said on national television that I'm an asset of Russia. Completely despicable."
Clinton also had similar accusations for former rival Jill Stein.
"That's assuming Jill Stein will give it up, which she might not, because she's also a Russian asset," Clinton said. "Yes, she's a Russian asset, I mean, totally. They know they can't win without a third-party candidate."
Stein—whose campaign, in the Muller Report and a report by Senate Intelligence Committee, was linked to Russian election meddling—said on Twitter "It's a shame HRC is peddling conspiracy theories to justify her failure instead of reflecting on real reasons Dems lost in 2016."