Rep. Yoho Tells Fox He Didn't Insult AOC, But Said Her Policies Were 'B.S.'
Congressman Ted Yoho said Friday that he never called Representative Alexandria Ocasio-Cortez "disgusting," but that her policy ideas were "B.S."
Yoho referenced a verbal altercation between Ocasio-Cortez and himself that occurred Monday at the U.S. Capitol. According to Ocasio-Cortez, Yoho swore at her and called her names.
"He called me disgusting," Ocasio-Cortez said during a Thursday floor speech. "He called me crazy. He called me out of my mind."
Yoho denied Ocasio-Cortez's claims Friday on Fox News. "I wanted to ask her about this policy where she was telling people it was okay to shoplift if you were hungry," Yoho explained. "And it went backwards from there."
During Monday's verbal exchange, Yoho was talking about comments made by Ocasio-Cortez at a July event. While discussing reasons for the rising crime rate in New York, Ocasio-Cortez suggested that the closure of businesses due to the coronavirus pandemic has placed people "in a position where they feel like they either need to shoplift some bread or go hungry that night."
"I said, 'Seriously? With as many social programs and faith-based programs and all these other—and food kitchens around—the best that you can do is to offer people in your district to go ahead and shoplift while you're calling at the same time to defund the police?" Yoho said. "I said those are just absolutely the most frickin' crazy policy ideas I've ever heard. And I said, 'Your policy ideas are just disgusting,' and I turned around and walked away."
"I walked down the steps and I said, 'This is just such frickin' B.S.,' and that's all I said," Yoho added.
Newsweek reached out to Representative Ocasio-Cortez's office for comment.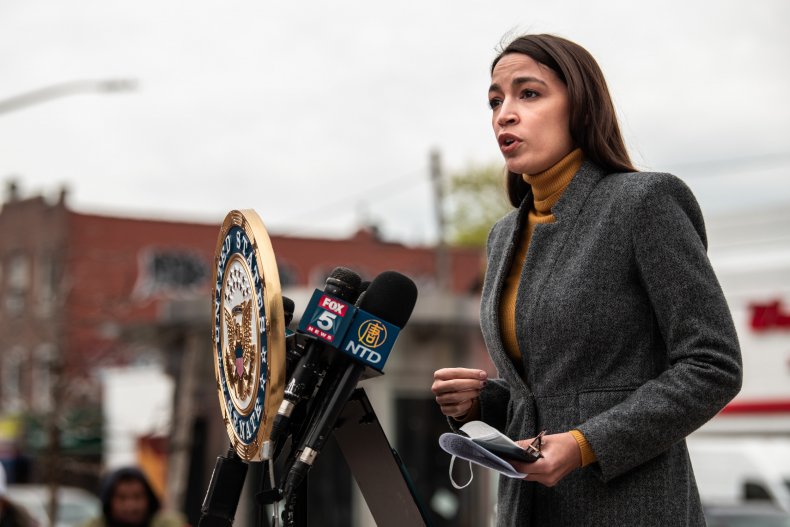 Tweeting about the incident on Tuesday, Ocasio-Cortez wrote, "I never spoke to Rep. Yoo before he decided to accost me on the steps of the nation's Capitol yesterday. Believe it or not, I usually get along fine w/ my GOP colleagues. We know how to check our legislative sparring at the committee door. But hey, 'b*tches' get stuff done."
Yoho apologized to Ocasio-Cortez for his comments on the House floor Wednesday. "The offensive name-calling words attributed to me by the press were never spoken to my colleagues," Yoho said, "and if they were constructed that way, I apologize for their misunderstanding."
Ocasio-Cortez told the Senate on Thursday that she did not need Representative Yoho to issue an apology.
"Clearly, he does not want to," Ocasio-Cortez said. "Clearly, when given the opportunity he will not. And I will not stay up late at night waiting for an apology from a man who has no remorse over calling women and using abusive language towards women."