Trump Administration's Repeal of Clean Water Rule Raises Contamination Fears: 'Distinct Probability That Human Health Will Be Compromised'
Last week, the Environmental Protection Agency (EPA) announced it plans to roll back clean water regulations initiated under the Obama administration as part of the Clean Water Act (CWA)—a move that could end up increasing the amount of toxins entering waterways used for drinking water.
A study published on Thursday in Heliyon highlights the dangers increased levels of carcinogenic chemicals in the nation's drinking water supply could cause, with researchers concluding contaminated water could be responsible for more than 100,000 cases of cancer across the U.S.
The EPA has announced the repeal of the 2015 Clean Water Rule defining "waters of the United States" (a description referring to wetlands, streams and other bodies of water that had previously been largely unregulated), and currently applies to 22 states, the District of Columbia and the U.S. territories.
Their motivation for doing so—at least, in writing—was to "eliminate the ongoing patchwork of regulation" until a revision of the definition for "waters of the United States" can be made. What this means in practical terms is that farmers will not have to seek a permit to use pesticides and fertilizers that risk running into waterways that may later be used as drinking waters. That, in turn, has the potential to increase the risk of cancer and other diseases—although to what extent is hard to say.
"The CWA is critical for maintaining and improving the quality of water that is used for municipal, industrial and agricultural purposes. The adage "clean water in = clean water out" is paramount," Kellogg Schwab, the Abel Wolman Professor in Water and Public Health at John Hopkins, told Newsweek.
"If the CWA is weakened or eliminated and U.S. waterways become further impaired there is a distinct probability that human health will be compromised resulting in increased morbidity and mortality," he added.
Dr Andrew Rosenberg, Director of the Science and Democracy at the Union of Concerned Scientists describes the decision as a continuation of a conservative campaign to limit oversight from what they believe is government overreach. "This administration has reinterpreted the requirements of the act to say that it covers fewer waterways because they think it is an unfair regulatory burden," Rosenberg told Newsweek.
"This is really about big developers and the oil and gas industry," he continues, adding that the move is part of a broad attack against science instigated by the current administration "to shift the cost burden from the polluter to the public."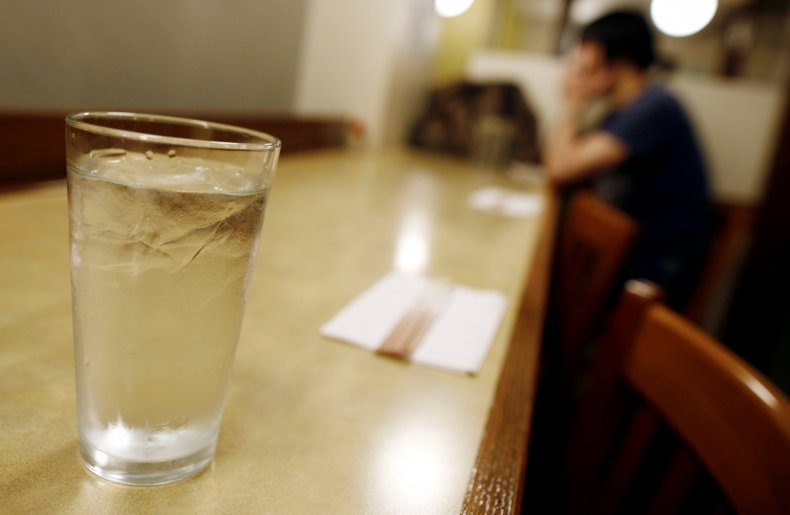 In light of these changes, the publishing of a study on water contamination (and its associated public health effects) is timely—even if the findings have been contested.
For the study, scientists at the Environmental Working Group profiled more than 48,000 community water systems across the country between 2010 and 2017. Their calculations produce a figure that is equivalent to four cases of cancer in a lifetime for every 100,000 U.S. citizens—though this varies slightly state-to-state. (According to the National Cancer Institute, approximately 38 percent of people will be diagnosed with cancer at some point in their lives.)
Chemicals causing adverse health effects include arsenic and disinfectant products—which, combined, contribute to 87 percent of cases—and radioactive chemicals in drinking water, hexavalent chromium, and carcinogenic Volatile Organic Compounds (VOCs), the study finds.
The researchers also note a positive correlation between higher levels of arsenic in community water systems and increased cumulative cancer risk, meaning states such as Nevada and Nebraska could be at higher risk than the national average (nine per 100,000 citizens). Areas with lower annual precipitation (and greater water scarcity) also saw increases in cumulative cancer risk.
However, the study has not been without criticism. John Fawell, Visiting Professor at the Cranfield University Water Institute in the U.K. calls the findings "misleading," saying the figures in the study shouldn't be taken too seriously because they rely on worst case assumptions. While Jim Smith, Professor of Environmental Science at the University of Portsmouth, says the study risks arousing an exaggerated public concern because it fails to explain the many uncertainties of the analysis or put the results in context of other environmental risk factors. The low levels of contaminants found in drinking water have not been proven to be harmful.
In spite of these limitations, studies suggesting that potentially harmful chemicals are found in water supplies deemed safe within the current standards could highlight the potentially life-threatening ramifications of further deregulation and loosening of the clean water standard.
"The effect is that [the Trump Administration] are dismantling the CWA when instead they should be adding to and strengthening existing water quality regulations," says Schwab.
Other experts echo these concerns. "[The EPA] should be looking for ways to improve protections for our water, not ticking off items on a corporate special interest wish list," says Michael Kelly of environmental advocacy group Clean Water Action.