Report of 10,000 Russian Deaths Immediately Deleted by Pro-Putin Tabloid
A pro-Kremlin Russian tabloid said nearly 10,000 Russian soldiers have died fighting in Ukraine before quickly scrubbing the casualty figure from its website.
Komsomolskaya Pravda on Sunday published a story citing Russian Defense Ministry officials who disputed casualty numbers reported by their Ukrainian counterparts. However, the story was changed after its initial publication with the number deleted, indicating that tight controls remain on information available to the Russian public concerning the war.
"This is just mind-blowing," Illia Ponomarenko, defense reporter of The Kyiv Independent, said in a tweet pointing out the article's modification.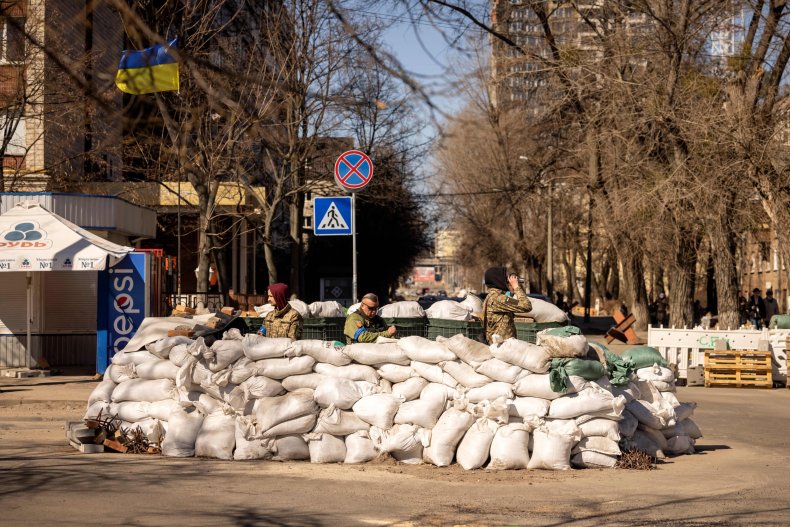 An archived version of the article cited preliminary estimates of the General Staff of the Armed Forces of Ukraine putting the number of Russian soldiers who died since the invasion began at nearly 15,000, in addition to another 96 lost aircraft and 118 helicopters.
The Ukrainian estimates were followed in the article by figures from the Russian Defense Ministry, which put losses at 9,861 and 16,153 injured.
Ponomarenko said in his tweet that "the story was deleted almost immediately." A newer version of the article does not include the figure.
The article published by Pravda, founded in 1925 as a Soviet youth paper, gives a positive account of Russian troops' progress in southeastern Ukraine, stating that "two tanks, three infantry fighting vehicles, six field artillery pieces and mortars, as well as about 60 militants of a Ukrainian nationalist formation were destroyed."
Seven Ukrainian drones were shot down by Russian troops who also attacked the country's military facilities, according to Pravda.
However, the General Staff of the Armed Forces of Ukraine said in a Facebook post Monday that Russian troops are sustaining "heavy casualties," deserting or are in "dire need" of repairs to military equipment.
Russia has failed to take Ukraine's capital city of Kyiv as its invasion approaches the one-month mark. As troops advanced, the Russian government enacted new laws censoring how the war could be described publicly.
It's unclear how many casualties Russian troops have sustained.
The New York Times last week put a conservative estimate of Russian troop deaths at 7,000, more than the number of American military personnel killed during 20 years in Iraq and Afghanistan combined. CNN reported that estimates of Russian troops killed are between 3,000 and 10,000.
A unnamed NATO official told CNN that Russian casualties are having a severe impact on the military's morale. "It becomes more evident every day that Putin gravely miscalculated," a senior NATO intelligence official said. "Russia continues to face difficulties replacing its combat losses, and increasingly seeks to leverage irregular forces, including Russian private military corporations and Syrian fighters."
Newsweek has reached out to the Pentagon for comment.