Report: 60 Journalists Killed in 2014, Syria Deadliest Country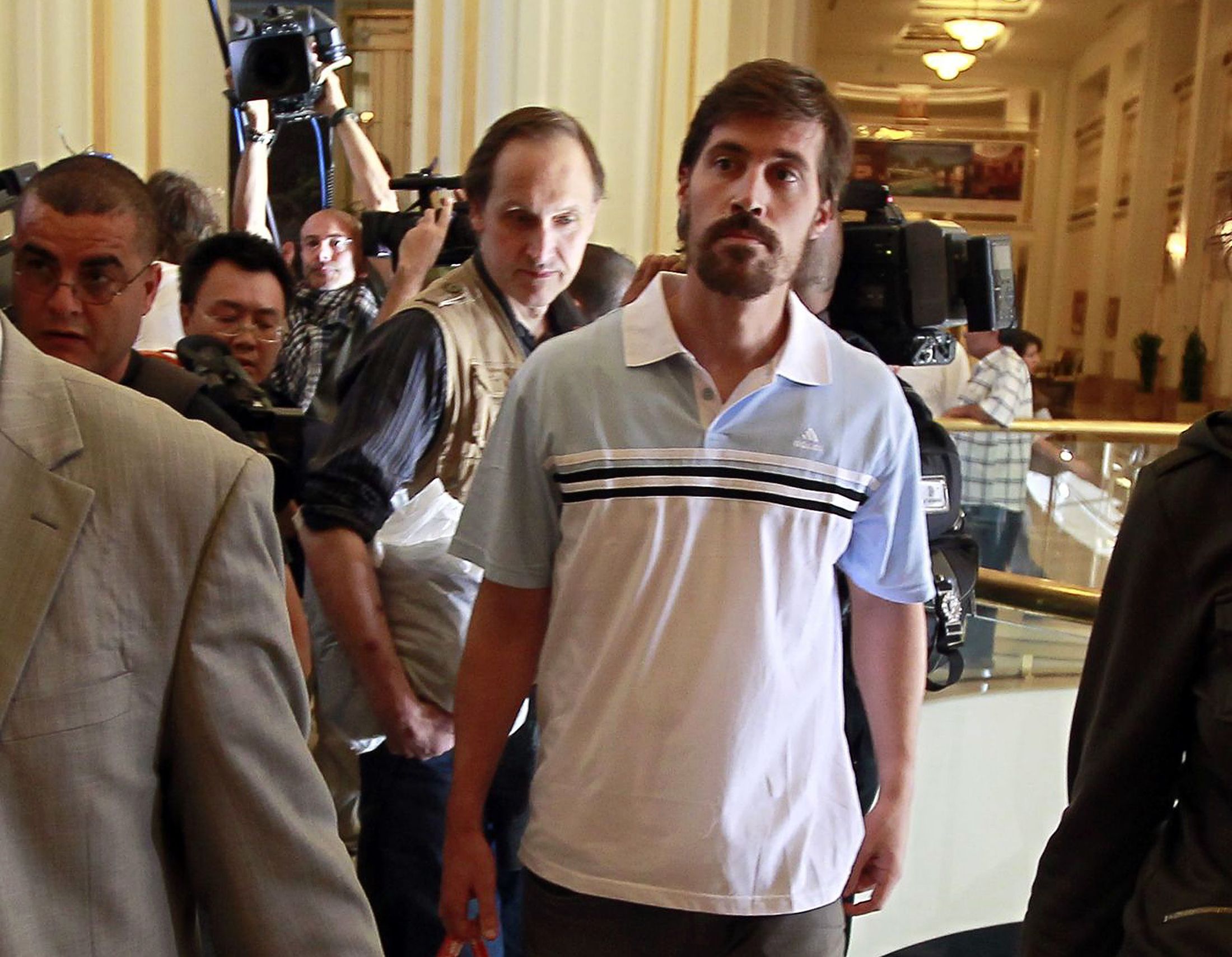 On August 19 this year, a video that purported to show the beheading of freelance journalist James Foley horrified the world. Images of Foley dressed in orange kneeling next to a black-clad person claiming to be a member of the Islamic State, also known as ISIS, flooded television news and social media and the footage was confirmed as authentic the next day. Two weeks later, American-Israeli journalist Steven Sotloff was at the center of a similar video.
The year 2014 has been a deadly one for journalists, especially those operating in Syria, a country embroiled in a devastating civil war since 2011.
Foley and Sotloff were two of at least 17 journalists killed in Syria this year, making it the deadliest country for reporters, according to a report released Tuesday by the Committee to Protect Journalists. The group confirmed a total of five dozen journalists were killed around the world this year in direct reprisal for their work, in crossfire during combat, or while carrying out a dangerous assignment, along with 11 media workers such as drivers, translators, fixers and more.
In Focus
Pictures of James Foley, the American reporter apparently killed by Islamic State militants, who worked extensively in the Middle East
Launch Slideshow

8 PHOTOS
This year has seen "historic levels of journalists who've been killed and imprisoned," says Courtney Radsch, advocacy director at CPJ. She explains that the last three years have been the most dangerous on record since the New York–based organization began keeping track of the deaths of reporters in the field in 1992. "Part of this is due to the rise in violent conflict which is inherently dangerous," she says, but part of it seems to stem from an "increasing animosity of government and non-state actors toward journalists."
CPJ investigates each death, interviewing eyewitnesses and family members to confirm whether it occurred in relation to the journalist's work rather than in accidents or under other circumstances. In addition to 60 confirmed deaths in 2014, the organization continues to investigate 18 unconfirmed cases.
The Middle East was the deadliest region for journalists in 2014. Iraq and Ukraine followed Syria with five deaths each, with Somalia, Israel and the Occupied Palestinian Territory each amassing four deaths.
A total of 79 journalists have been killed in Syria since the conflict there began in 2011. The country now surpasses the Philippines as the second deadliest country overall after Iraq, since CPJ began tracking numbers. A total of 1,100 journalists have been killed worldwide as a result of their work in just over two decades.
"It's really critical to note that the vast majority of those killed and imprisoned are local journalists covering local stories," says Radsch, a journalist who has worked for Al-Arabiya in Dubai, the Daily Star in Lebanon, and The New York Times. But this year's report included a "surprising number of international journalists," she says.
Nearly one quarter of those killed in 2014 were members of the international press, a higher portion than usual. CPJ says over time roughly 90 percent of those killed are local journalists covering local stories.
The journalists beheaded by ISIS were in the headlines for days, but other cases didn't receive the same kind of prominence in the American press. Pablo Medina Velázquez, a local reporter for Paraguay's largest independent newspaper ABC Color, was shot and killed in his car on his way back from a reporting trip in October. Simone Camilli, an Italian video and photo journalist for the Associated Press, was killed in Beit Lahiya in the Gaza Strip in August when an unexploded missile blew up. Anatoly Klyan, a cameraman for the Russian state-owned broadcaster Pervy Kanal (Channel One) was hit when his bus in Donetsk, Ukraine came under gunfire.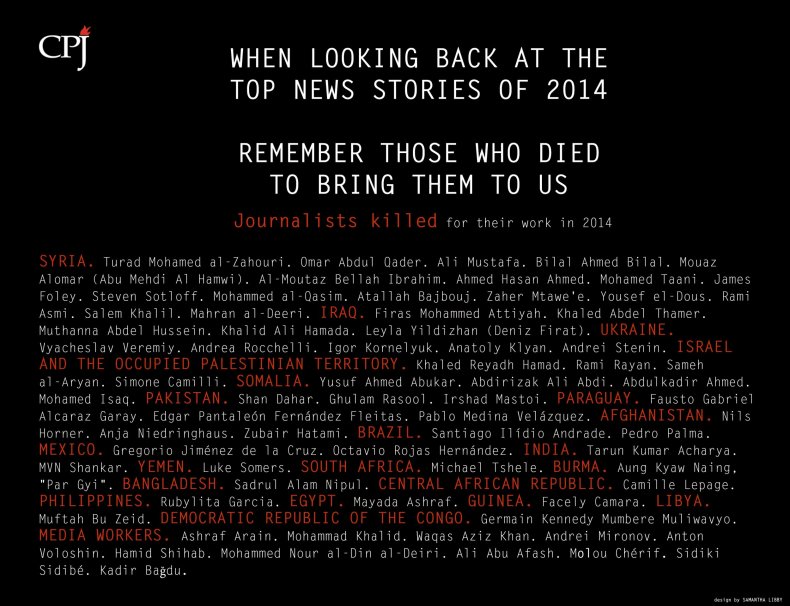 Of the 60 confirmed deaths this year, 26, or roughly 43 percent, were murders, according to CPJ.
"The fact that nearly half of journalists killed were targeted for murder is shocking," says Radsch. "It really demonstrates the fact that it's not just violent conflict." Radsch says it's very unlikely anyone will be prosecuted for these murders.
The report "emphasizes the fact that journalism can be a deadly profession," and that journalists are "targeted for doing their job," says Radsch. There are very few signs that the situation might improve, says Radsch, describing the current climate for reporters as a "most dangerous time."
CPJ's report comes just one week after Reporters Without Borders released its own accounting of violence against journalists during the past year. RWB counted 66 journalists killed in 2014, 119 kidnapped and 178 imprisoned, with even higher numbers of journalists arrested and threatened.
Earlier this month, CPJ released its annual prison census, which showed 2014 was the second worst year on record in terms of members of the press being jailed.
"We may live in the information age, but those who bring us the news are being jailed in record numbers," Joel Simon, executive director of CPJ, said in a statement. "From China to Iran, and from Egypt to Burma, hopes for reform have been dashed as authoritarian governments suppress critical speech at a terrible cost to journalists."