Report: Boko Haram Beheads Two Men, Claiming They Were Spies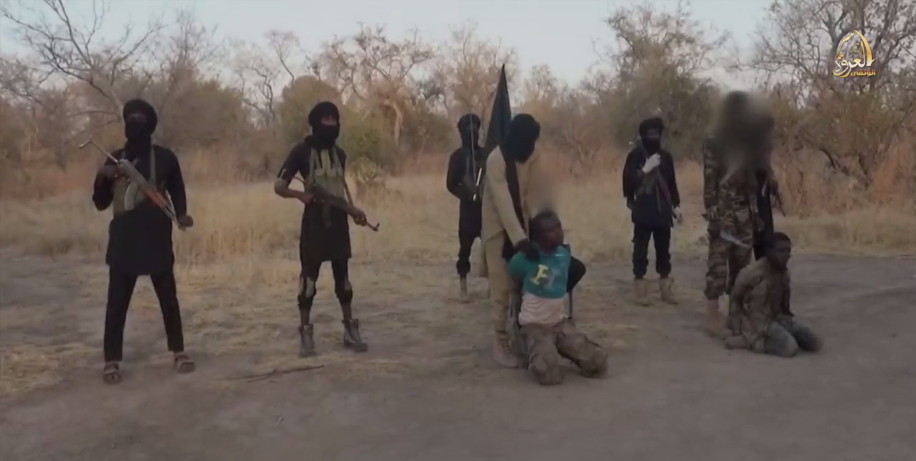 Fighters with the Nigerian terrorist organization Boko Haram have executed two men, claiming they were spies. The men were beheaded and a video of the execution was circulated online on Monday, mainly through social media.
The authenticity of the video could not be independently verified by Newsweek; however, both the SITE Intel Group and Terrorism Research Analysis Consortium reported on the video.
On one platform, the video had more than 5,000 views within a half hour of being uploaded. It was subtitled in French, English and Arabic.
The video is part of a series, "Harvest of Spies," which Boko Haram advertised online late last week. Notably, the videos are filmed in almost an identical style to beheading videos released by the Islamic State (ISIS), and the method of execution is similar. A watermark of the Black Standard flag used by ISIS appears on the Boko Haram video.
A masked executioner stands above the kneeling hostages with a sharp, short knife. The hostage is then made to "confess" wrongdoings, though these speeches are often full of inaccuracies and the hostage reads it only because his life is directly threatened. In another similarity to the videos of Western hostages being executed by the Islamic State, the actual beheading is not shown: The film is cut between when the executioner begins the murder and when the head is placed on the body after the hostage's death.