Donald Trump Removed Trees From Golf Courses to Help Him Win, Claims Author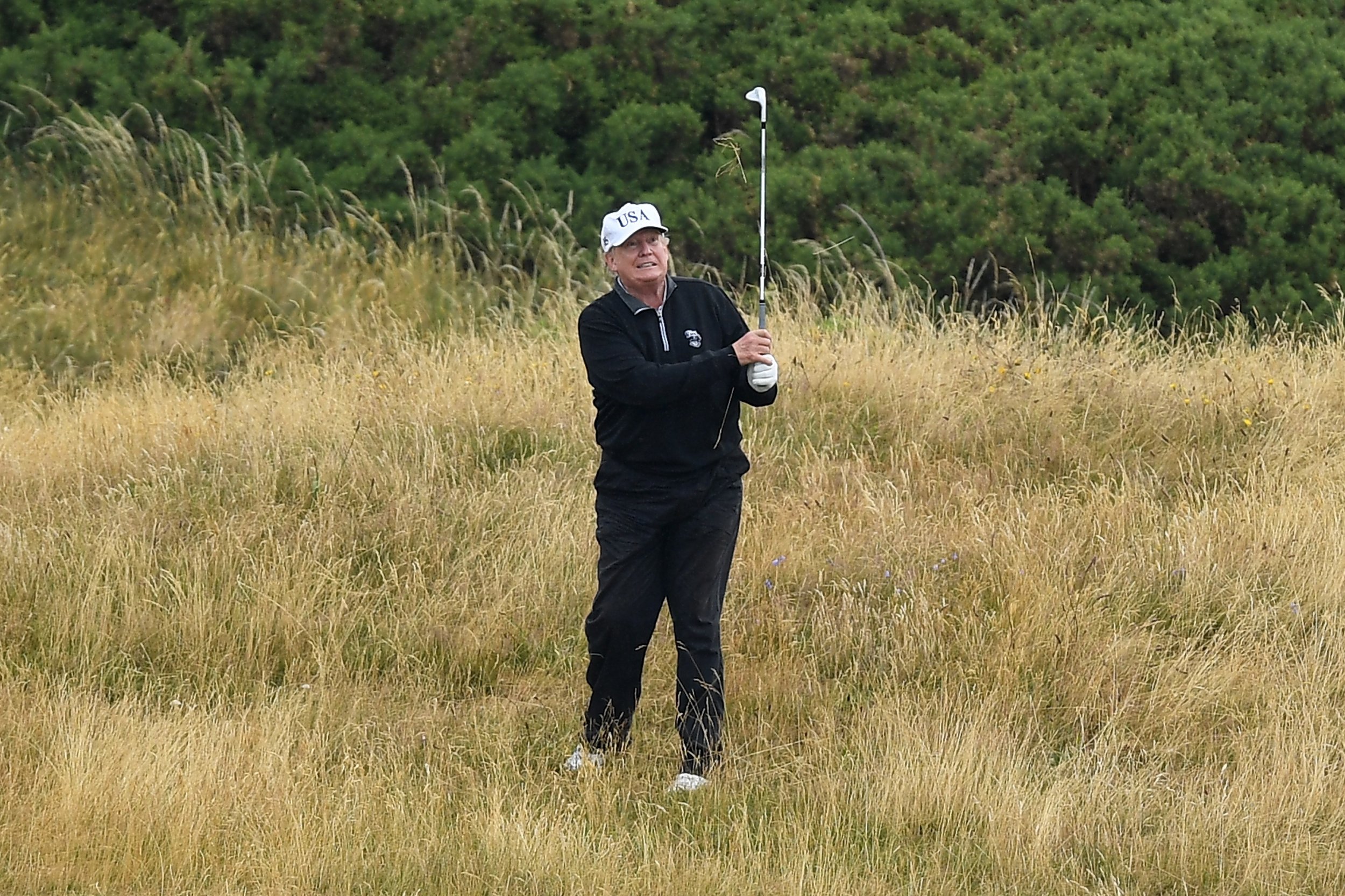 President Donald Trump cheats while playing golf to such an extent he has been given nickname by caddies and even asked to remove trees from courses that he has hit a ball into, according to reports on a new book about the commander-in-chief.
Rick Reilly, who has published a book about the president's golfing exploits entitled Commander in Cheat: How Golf Explains Trump, described that merely saying Trump cheats is similar to saying that Michael Phelps swims and does not fully describe the extent to which Trump has allegedly gone in order to win.
According to excerpts of the book, published by The Sunday Times, Reilly described how Trump has become infamous for cheating while on the course, including replaying shots whenever it suits it him, changing his scores and giving himself generous "gimmes"—an easy putt that your opponent will concede you will make which are illegal during professional play.
"Gimmes are supposed to be like gifts: they can only be given, never taken," Reilly writes. "Except for Trump. He'll declare any putt he has under 5ft, or 6ft, or 8ft a gimme and scoop it up."
Riley described how Trump gave himself a gimmie despite his ball not even being on the green while playing at his Trump National Golf Club Westchester in Briarcliff Manor, New York.
"Never in the history of golf has anyone taken a gimme chip-in until Trump did that day with me," he said. "I was in the hole for a five and he was lying off the green in five, and he said, casually, 'Well, I guess that makes this good,' and scooped the ball up."
Reilly also described how Trump had become so infamous among caddies for kicking the ball back onto the course following a skewed shot that he was given the nickname "Pele," in reference to the legendary Brazilian soccer player.
Other golfers have described how Trump cheats so much while playing because he expects others to do the same.
"I played with him once," said Bryan Marsal, chairman of the coming 2020 US Open and longtime member of the Winged Foot Golf Club, where Trump also plays.
"It was a Saturday morning game. We go to the first tee and he couldn't have been nicer. But then he said, 'You see those two guys? They cheat. See me? I cheat. And I expect you to cheat because we're going to beat those two guys today.' So, yes, he's going to cheat you. But I think Donald, in his heart of hearts, believes that you're gonna cheat him, too. So if it's the same, if everybody's cheating, he doesn't see it as really cheating."
One unnamed caddie also claimed that Trump would drastically change golf courses to help him play better.
"For a while he kept a can of red spray paint in his cart," the caddy said. "Whenever his ball hit a tree that he didn't think was fair, he'd go up and paint a big X on it. The next day, it was gone."