Majority Of White Southerners Say They Don't Have Better Chances Of Making Money Than Blacks or Latinos, Report Shows
A majority of white Southerners don't think that they have more economic opportunities than black and Latinos, a new report shows.
The report, called "Divided by Design," found that the legacy of slavery is a major barrier to getting ahead and that there are wide-ranging, conflicting views on racism among African Americans, Latinos and whites. Among them is access to economic opportunities and the impact that history has had on the ability of black and Latino people living in the American South to improve their economic status.
It is one of the first projects from the E Pluribus Unum Fund, an initiative to help break down racial divides started by former New Orleans Mayor Mitch Landrieu.
According to Friday's report, 90 percent of black respondents and 64 percent of Latino respondents said that they think that white Americans have more opportunities to make money. In contrast, fewer than half of white respondents, or 44 percent, said they shared that view.
"There is very little recognition among white Southerners that the playing field has been tilted toward them in a way that has provided significant socio-economic advantages over the course of generations," the authors wrote in the report.
A large majority of blacks, or 82 percent, and Latinos, at 62 percent, said they believe that systemic racism and the legacy of slavery plays an important role in current economic conditions. But only 37 percent of white respondents agreed with that idea.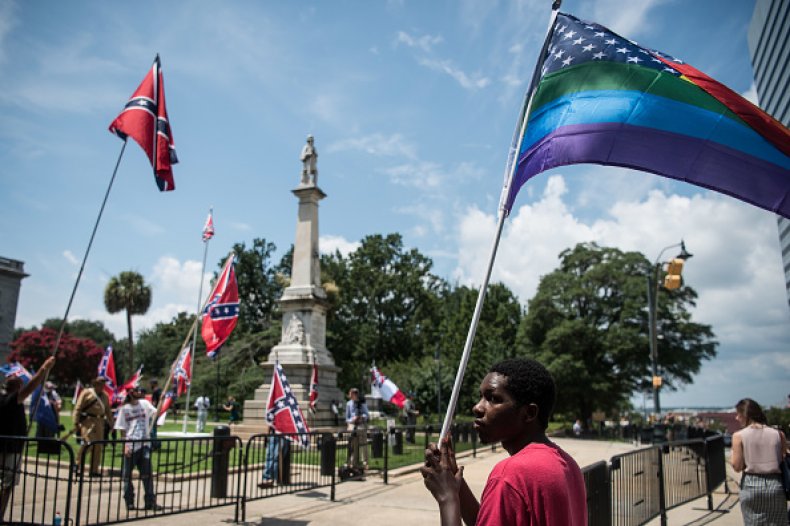 Landrieu appeared on CNN's New Day program Friday morning to discuss the report and its findings. The former New Orleans mayor told host John Berman that race has been an "incredible faultline" across the country since its foundation.
"We found that not only are we a nation divided by each other but we're essentially still a nation divided against ourself," Landrieu said. He added that it is "sobering to understand that we see the world so differently."
Most white people see racism as "an individual act of meanness to another person that looks differently than them" the former mayor said, while African Americans view it as "institutions that are designed in a way not fair to them."
During his time as mayor, Landrieu removed four Jim Crow-era monuments from his community, including statues of Confederate Army icons Generals Robert E. Lee and P.G.T. Beauregard and Confederate President Jefferson Davis.
The report's findings are based on an 1,800-person survey (600 interviews per racial group) across 13 Southern states including Alabama, Arkansas, Florida, Georgia, Kentucky, Louisiana, Mississippi, North Carolina, South Carolina, Tennessee, Texas, Virginia and West Virginia. The survey was conducted from September 29 to October 7 and has a margin of error of 4 percentage points.