Beyond 'Charlie Hebdo': Cartoonists Worldwide Face Jail and Death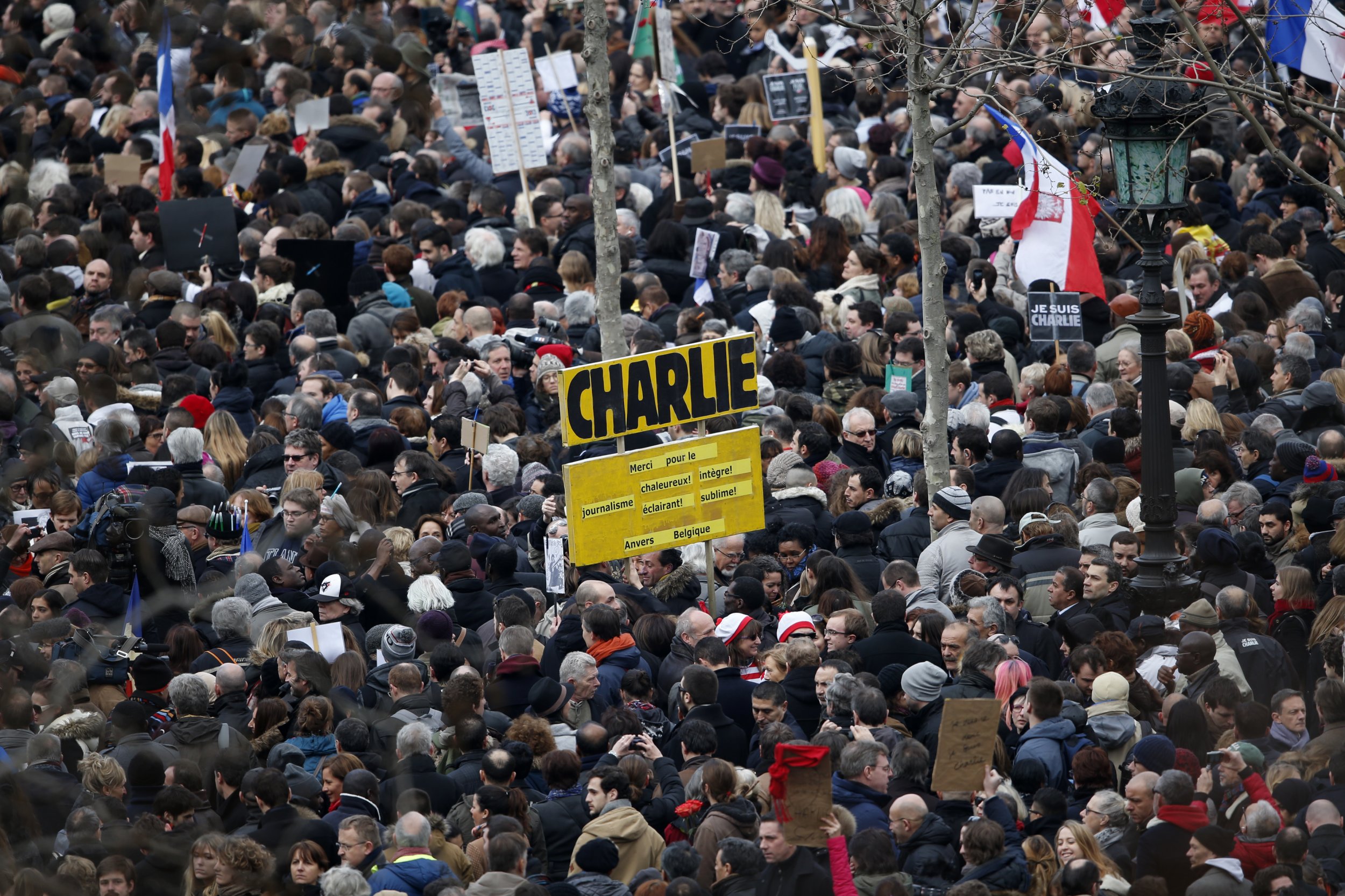 Updated | Four months after Islamist radicals killed a dozen people in the Paris offices of Charlie Hebdo, a new report by the Committee to Project Journalists (CPJ) says the incident casts a spotlight on the death threats and abductions that cartoonists often face in response to their political work.
Cartoonists are "particularly vulnerable" to threats because their work conveys "incredibly complex ideas and themes and critiques in a pretty simple, easy to understand manner that crosses barriers," said Courtney Radsch, advocacy director of CPJ. "That's what makes the cartoons powerful but also what puts the cartoonists at great risk.... They are pushing those red lines and criticizing authority figures."
Threats against cartoonists are particularly heightened in times of political turmoil and upheaval, the report says.
The report was published one day before hearings began in the case of Malaysian cartoonist Zulkiflee Anwar Ulhaque, also known as Zunar, who faces decades of jail time after being arrested in February on charges of sedition. (On Wednesday, Zunar tweeted that his trial has been adjourned until July 7, pending a decision by Malaysia's Federal Court on the legality of the Sedition Act.) Zunar's cartoons and tweets depict the most recent trial of Anwar Ibrahim, a political rival to Malaysian Prime Minister Najib Razak. Published online and in a book, the cartoons raise "not-so-subtle questions about judicial independence," the report says, a taboo topic for the mainstream media in Malaysia to cover.
Zunar is now facing 43 years in prison on charges Radsch calls "ridiculous," adding, "The fact that drawing a picture can be considered sedition is ludicrous."
The report is the first in which CPJ looks specifically at work by editorial cartoonists who push boundaries and criticize political and religious authority, says Radsch. The group found that "cartoonists in all regions of the world are facing threats and that these are emanating from religious reactions or purported religious reactions," she said. "These threats are global and worldwide."
The Charlie Hebdo attack brought increased attention to the pressures faced by cartoonists, although CPJ acknowledges that it is difficult to track whether these pressures have increased in recent years. However, Radsch says the advocacy group found a "pretty consistent targeting of cartoonists during times of political turmoil as well as times of high-profile cartooning around the Prophet Muhammad."
Cartoonists have for years faced threats for their controversial depictions of Muhammad, which some Muslims see as irreligious and an act of blasphemy. Drawing the Prophet is a criminal offense in a number of Muslim countries. In the debate that ensued after the Charlie Hebdo attacks, some thought the magazine's cartoons were racial stereotypes.
In 2005, Danish newspaper Jyllands-Posten's publication of a cartoon of Muhammad wearing a lit bomb in his turban sparked riots across the world. The cartoonist behind the drawing, Kurt Westergaard, continues to face death threats. Earlier this year, one person was killed in a shooting by Danish-born gunman Omar Abdel Hamid el-Hussein at a debate on blasphemy and art in Copenhagen featuring Danish cartoonist Lars Vilks. Vilks had received death threats since publishing images of Muhammed in newspapers and art galleries. Earlier this month, a shooting at a contest for drawings of the Prophet in Garland, Texas, resulted in the deaths of two gunmen, who were inspired by ISIS.
The report cites the example of Molly Norris, an American cartoonist, who went into hiding after a call on her Facebook page for "Everybody Draw Muhammad Day," accompanied by cartoons showing the likeness of Muhammad, resulted in death threats from Islamic extremist groups. Arifur Rahman, a Bangladeshi cartoonist, sought and received asylum in Norway after being held in detention for more than six months due to a cartoon clerics perceived as portraying the Prophet as a cat. He first arrived in Norway in 2010.
In countries without democratic safeguards, attacks on cartoonists may inspire responses that essentially clamp down on critical speech, CPJ says. After the Charlie Hebdo attacks, a number of countries saw protests over the cartoons. China used the attacks to highlight the risks of a free press, the report charges, while France used them as an excuse to tighten surveillance laws and to prevent a reaction to the 2005 attacks on Jyllands-Posten.
"We are concerned that we're going to see [freedom of speech restrictions] being used increasingly to restrict, imprison or potentially force journalists into exile," said Radsch. "That is a deep concern."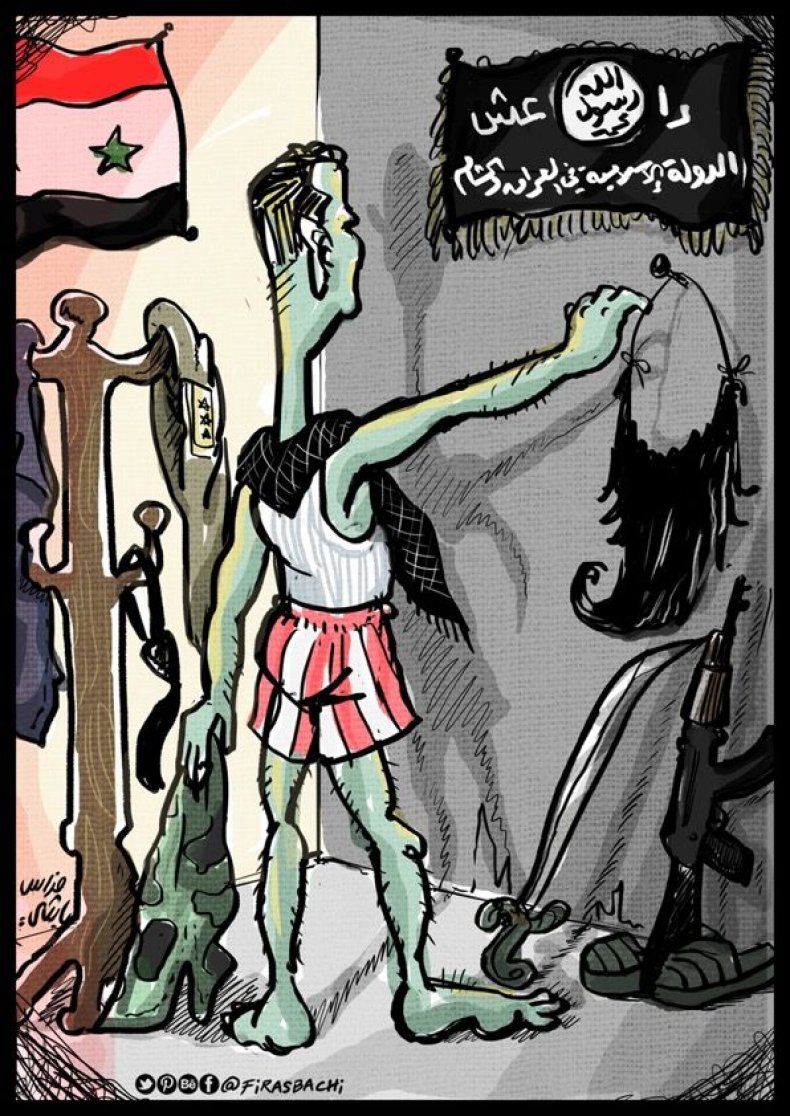 Firas Bachi, a Syrian cartoonist living in the U.S., who is not mentioned in the CPJ report, knows firsthand the threats that come from cartooning. Bachi left Syria in 2010, before the start of the country's ongoing civil war, but his work has criticized the government of President Bashar Assad and, later, ISIS, which control parts of Syria and Iraq. After leaving Syria for Saudi Arabia, Bachi, his wife and two children have now settled in the U.S.
In Syria, Bachi worked in advertising, drawing political cartoons in his spare time. When the Syrian civil war started in March 2011, he started drawing on a daily basis "about the revolution, about killing people, about the regime and all kinds of repression," he said.
Because of his criticism of the government, Bachi has been warned by a friend working in diplomatic circles not to travel to Syria because his name is on a list of people to be detained, like other Syrian artists in exile, he says.
Bachi was already living in the U.S. at the time of the Charlie Hebdo attacks and was one of the many cartoonists who responded with a work of his own. "When I saw the news, as a cartoonist, a Middle Easterner and a Muslim at the same time, I had to react. I had to do something," he said. He chose to go against the "Je Suis Charlie" (I Am Charlie) sentiment of solidarity that erupted after the shooting. While he condemned the killing of the Charlie Hebdo cartoonists, freedom of speech should not come at the expense of denying other groups freedoms, he said.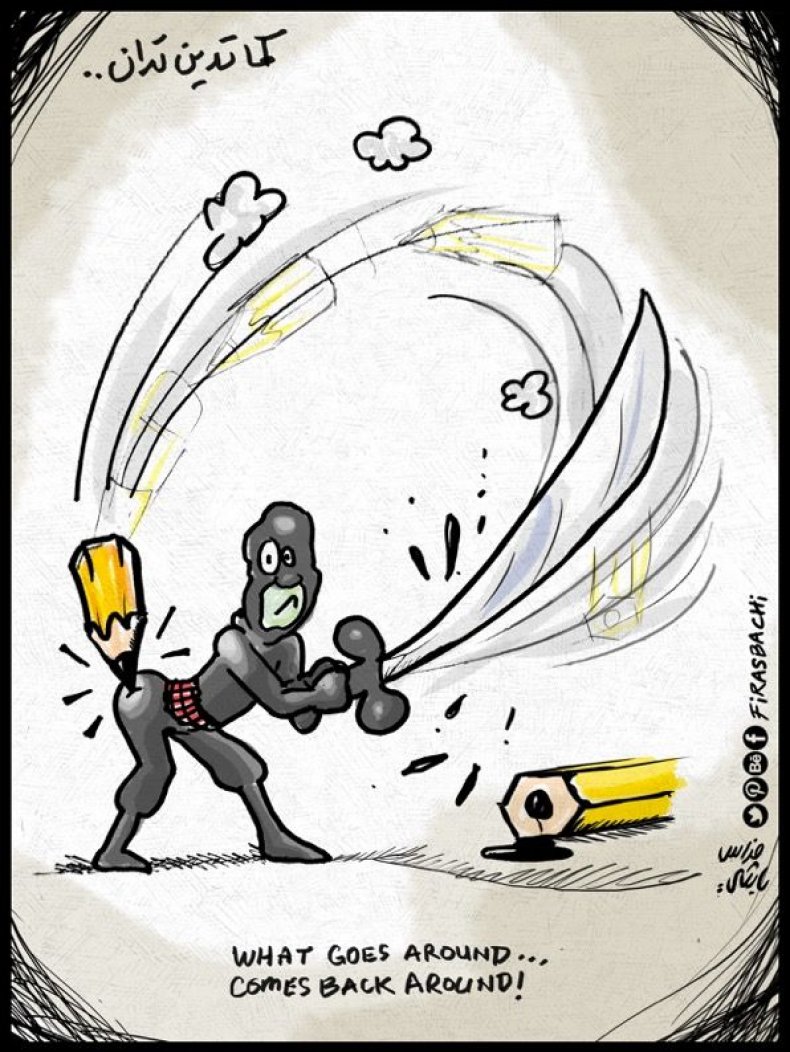 Bachi's image, which is just text, reads, "I'm Not Charlie, I'm Not ISIS, I Love All Prophets & I Love All Humans & I Never Hate Anyone Over His Belief...Would You Please Leave My Belief Alone." The text, in gray and white and featuring a logo that looks like the ISIS logo, is on a plain black background. Bachi says he is against all kinds of hatred and terror but feels personally that "as a Muslim, I won't be illustrating others' belief symbols."
Cartoonists have an important role to play in representing, exposing and showing wrong in society, said Bachi. "I believe that if everybody kept silent, nothing will change. Having someone who can...express others' feelings and share the same point of view" is a form of representation, he says.
Threats of legal action against South African cartoonist Jonathan Shapiro, who draws under the pen name Zapiro, are cited in the CPJ report as an example of the obstacles political cartoonists encounter in their work. Shapiro said the similarity in experiences of cartoonists around the world, as recounted in the report, shows how widespread intimidation by the state is, and also shows "threatening fanatics of various kinds."
As well as taking on South Africa's biggest political players—he was sued twice by Jacob Zuma before the latter became South Africa's president in 2009, including once in 2006 for $2 million—Zapiro has come under fire for his religious cartoons. He believes a 2010 cartoon he drew of Muhammad, which shows the Prophet lying on a psychologist's couch and complaining that "other prophets have followers with a sense of humor," led to him being beaten up by a security guard outside a soccer stadium during the World Cup in Cape Town the same year. He didn't go to the police because he didn't want to taint the jubilant atmosphere created in South Africa by the World Cup.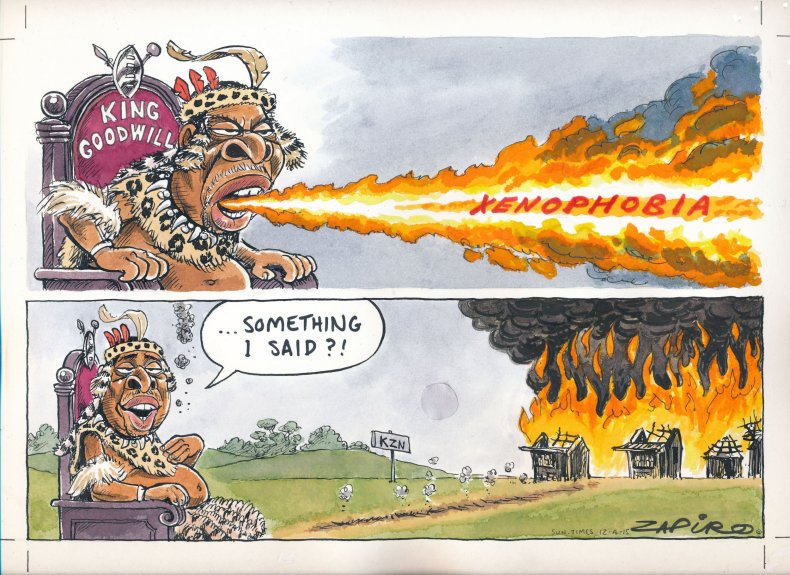 "Even when someone has shouted that I should be shot and killed, I've taken those sorts of threats as bluster, not something that I think that people will act on," he said, but when it comes to religious fanatics, it's different.
"I really do feel more vulnerable than I think ever before. Because of the globalization and the threat to media people and cartoonists in particular, whatever one does within one's own society, nation, general political situation is often about testing the waters, pushing the boundaries, trying to go as far as you can go," Zapiro toldNewsweek, speaking from Cape Town. "The situations differ in different places, but people who are watching are often just looking for anything that they feel goes beyond their accepted boundaries."
However, Zapiro hasn't ruled out the possibility of drawing the Prophet in the future. But he is wary of being gratuitous and scornful in his depictions. "Whatever I've done is to try and make a real point," he said.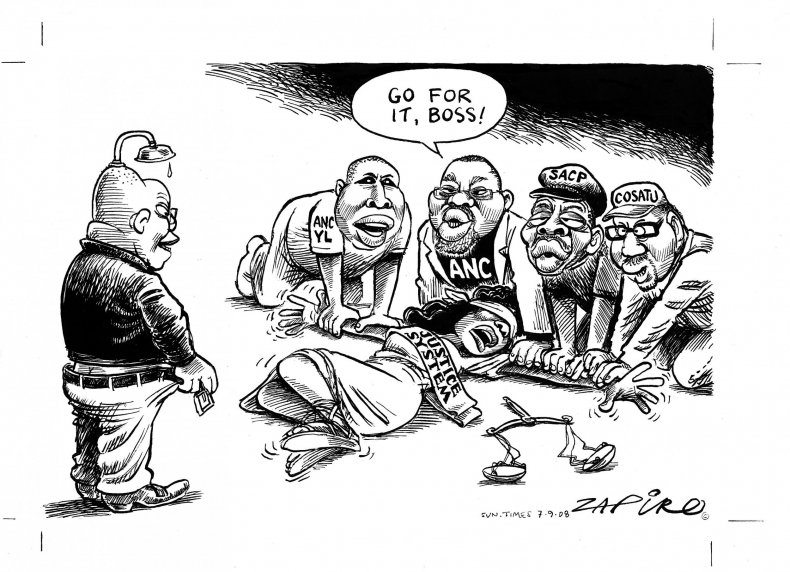 Zapiro considers the work of his peers hugely important. Cartoonists push the boundaries of free speech and can distill subversive issues into an easy-to-understand image that is often more potent that a lengthy news article, he said.
"Cartoonists tend not to take political, religious or corporate doctrine at face value, and I believe the questioning we do and insights we sometimes come up with are an important part of public discourse," he said.
"How a state treats cartoonists has often been seen as a litmus test for how democratic it is. If power corrupts—and it does—then it's good to have cartoonists snapping at the heels of the powerful."