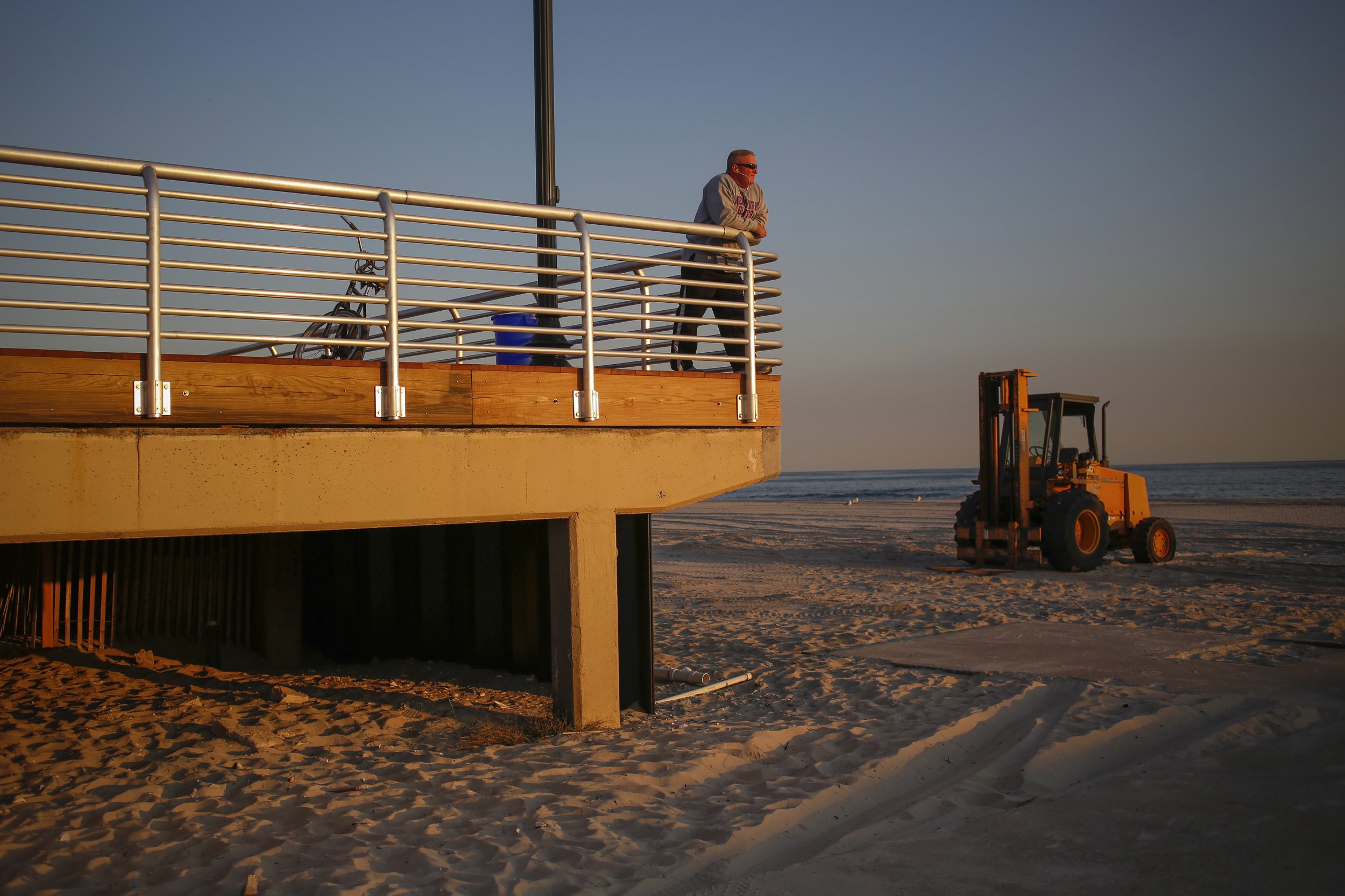 On this day in 2012, Superstorm Sandy slammed into sections of the East Coast.
In New York, the hurricane turned the streets of Long Beach into rivers and tore up boardwalks. It caused sewer systems to overflow in Babylon, threw boats docked along the shores of Islip into yards and houses, and blew substations and transformers on the electrical grid of Manhattan's Lower East Side.
In neighboring New Jersey, Sandy inundated Hoboken and Monmouth Beach with water, tore off decks and carried away picnic tables and bicycles in Point Pleasant, and stranded residents of Jersey City high-rises who couldn't leave without an elevator.
The storm left thousands in the dark, as power was out for days, and devastated homes, resulting in 182 deaths and an estimated $65 billion worth of damage in the U.S.
Two years later, some neighborhoods are back on their feet, with few traces of Sandy visible. But others lag behind, struggling to build infrastructure and confidence.
"Even two years after the storm, there's still a significant minority of people struggling," says Jennifer Benz, a senior research scientist at the Associated Press-NORC Center for Public Affairs Research and one of the principal researchers of a new report that looks at Sandy recovery, released Monday..
Around a third of people surveyed for the report between June and September this year felt their neighborhoods have recovered only halfway or less, Benz says.
The report, funded in part by a grant from the Rockefeller Foundation and carried out by the AP-NORC Center, which is affiliated with the University of Chicago, focused on a dozen neighborhoods in New York and New Jersey that had been severely affected by Sandy.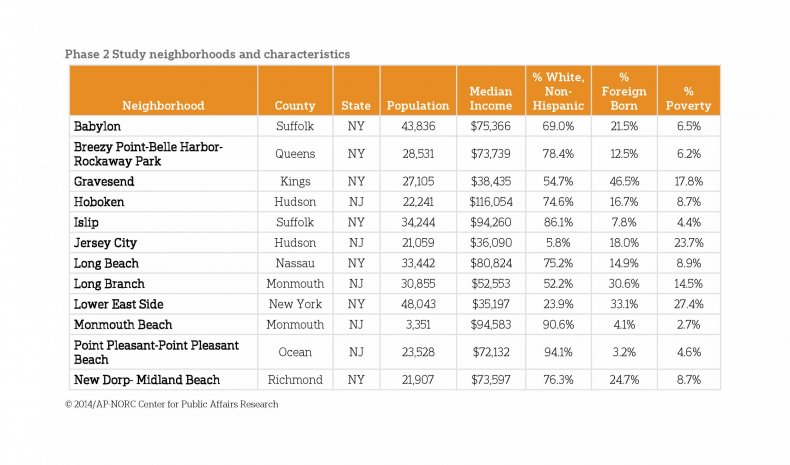 The study found that less than half of residents surveyed felt people in their neighborhoods had gotten all or most of the help they need to recover and restore their lives after the storm. Nearly 7 out of 10 said neighbors helped, whereas only 57 percent said the local government provided assistance, and 55 percent said the same about the federal government and the Federal Emergency Management Agency (FEMA).
More than money
The varying levels of recovery among neighborhoods had to do with more than money, Benz says. The study built on previous research the AP-NORC Center conducted six months after Sandy, which found that "many Americans who were impacted by Superstorm Sandy turned to family, friends, and neighbors for support or assistance more often than formal sources of support like the federal or state government."
For the follow-up, Benz says, the researchers wanted to dig deeper into the impact of social, rather than economic, resources by focusing on 12 neighborhoods with different socioeconomic demographics. They used survey data collected over the phone, online or in person, along with interviews and observations in the field, and focused on resident perceptions rather than "more objective indicators" of recovery.
Their stated goal was to see how social factors influence recovery "to better understand why some neighborhood areas are more resilient than others." The survey included questions to gauge social cohesion (how people are connected), social control ("the informal ways that people in the neighborhood maintain public order"), social exchange (how people help each other out, like asking to borrow a cup of sugar, says Benz) and trust of others.
The AP-NORC researchers drew on previous research like that of Daniel Aldrich, a professor at Purdue University who looked at how different neighborhoods fared after the Tokyo earthquake in 1923, the Kobe earthquake in 1995, the Indian Ocean tsunami in 2004 and Hurricane Katrina in 2005—and Kate Cagney at the University of Chicago, who did similar work on the 1995 Chicago heat wave, which killed hundreds.
They found that in both low- and high-income neighborhoods, members of communities that had stronger social ties felt more positively about their prospects for recovery and how well they could fare in another disaster.
For example, researchers found:
In Monmouth Beach, a small high-income community where 3,351 residents live within one-square mile and there is high social exchange, about half of people report their neighborhood is extremely or very well prepared for a disaster. In another high-income neighborhood, Babylon, which has low social exchange, only about 1 in 10 residents say their neighborhood is extremely or very well prepared for a disaster.

In Midland Beach, a low-income community that had a stable population before Sandy and has high social control, many residents believe their neighborhood is prepared for a disaster. Residents of Midland Beach are three times more likely to say their neighborhood is completely or very prepared for a disaster (23 percent) than residents of Long Branch (7 percent), a low-income neighborhood with low social control.
"We all work in close association with each other," said Susan Stetzer, district manager of Community Board No. 3 on Manhattan's Lower East Side, which had the lowest median income—at $35,197—of all 12 neighborhoods surveyed but ranks high in social exchange. "This community had a big advantage because of that tradition and because [it] is very united still in serving our community."
In some places, residents felt that the storm itself helped increase social ties among residents. "People are more aware of each other now than before [Superstorm Sandy]. People usually socialize in the city, but after the storm, there was no way to take a train to the city, so people were forced to socialize," a Jersey City resident told researchers, who promised people responding to surveys and in focus groups that their names would be kept confidential.
"If you ask people, 'What is the best thing that happened?'—which is an odd thing to ask—everyone will say 'community,'" Liz Treston, a writer from Long Beach who became president of the town's Community Organizations Active in Disasters, told the researchers.
Mental health
A series of questions about mental health—which did not get much discussion in the report—revealed that the percentage of Sandy survey respondents who reported feeling "nervous, depressed, hopeless, worthless, restless, or that everything was an effort" in the 30 days prior to the survey was higher for each category than for adults nationwide (based on data from the 2012 National Health Interview Survey).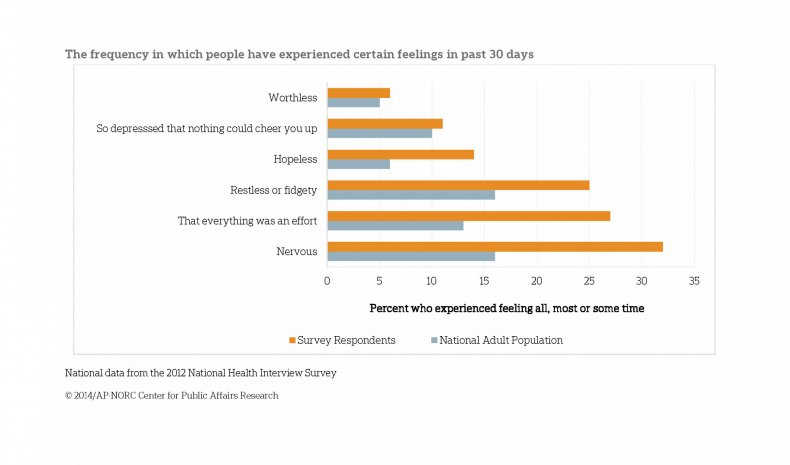 New York health officials estimate that 700,000 residents are still experiencing mental health problems from the storm, while New Jersey supported a disaster mental health program that served 500,000 in the 15 months after Sandy, according to a story written by a research team member.
"There's just this sort of cumulative stress that has taken a toll on people," Renee Burawski, director of the Office for Sandy Recovery in the New Jersey Division of Mental Health and Addiction Services, told the AP. Indeed, the resilience report found that Sandy respondents were twice as likely as people in the general population to have serious distress.
"The recovery process is taking a longer period of time," Robert Kley, vice president and chief operating officer of the Mental Health Association in New Jersey, told the AP. "We're kind of feeling we're going to see some of the longer-term impacts coming out a bit more."
The future
The report serves as a preliminary indication that social factors can influence a neighborhood's ability to survive and recover from a storm like Sandy, as well as its residents' perceptions of recovery and confidence in the face of future natural disasters.
However, the report's results are limited, drawing from a sample of only a dozen neighborhoods and using an arbitrary cutoff at $73,600 to distinguish between the six members of the "high socioeconomic status group" and the six members of the "low socioeconomic status group."
Benz tells Newsweek that future research could expand on the study's findings by looking beyond natural disasters to other types of debilitating events, such as the economic calamity of a major employer shutting down or moving away. She also points out that the New York and New Jersey neighborhoods included in this study are fairly urban (with a few suburban representatives), and future work could focus on or include rural communities.
The study authors write that "measuring a community's social resources can be an important disaster preparedness tool for governments and other stakeholders trying to take a proactive approach to building resilient communities." But more work needs to be done, Benz says, before researchers can fully understand and fine-tune measures of social resilience and how they can be tracked over time.
The report does suggest that institutions and programs that foster engagement with neighbors—like community centers and organizations, public art installations, shared meals, block parties and more—could help reduce isolation and loneliness in the short term and prepare communities to survive and recover from disaster.
Community, says Benz, would be "one less thing that they have to build from the ground up when the neighborhood is already struggling to recover from disaster."
Correction: An early version of this article incorrectly stated that the AP-NORC Center is based at the University of Chicago. It is affiliated with, not based at, the University of Chicago.