'Illegal' Homeland Security Appointment Ignites Insider Fears of How Trump Wields Power Ahead of Election
A congressional watchdog report finding President Donald Trump's appointment of Department of Homeland Security (DHS) leadership was illegal has ignited fears among insiders concerned about how the administration could have been repurposing DHS to act on behalf of its own political purposes ahead of a divisive national election.
The Government Accountability Office (GAO) issued a non-binding decision Friday finding Acting DHS Secretary Chad Wolf and his deputy Ken Cuccinelli "were named by reference to an invalid order of succession" in the wake of former head Kirstjen Nielsen's resignation last year. She was succeeded by then-Customs and Border Protection chief Kevin McAleenan rather than the head of cybersecurity as is protocol, so when Aleenan himself left months later, Wolf assumed the role in what the GAO deemed an "improper" move.
Rather than a simple breach of protocol, however, current and former federal officials saw an orchestrated attempt on the part of the administration to commandeer DHS by installing hardline loyalists willing to allow the department's broad, post-9/11 mandate to be reinterpreted. By doing so, the administration could channel the powers of its many, traditionally autonomous agencies to pursue political goals in exchange for more federal resources, they said.
"What is being done to DHS now is completely politicizing and giving them a mandate that was never thought of when it was created," a senior law enforcement official told Newsweek on the condition of anonymity. "Trump has demonstrated his propensity to weaponize DHS in furtherance of his political ends, which concerns me if the election results do not produce a clear winner."
"If Trump wins, you're gonna see a bigger scope and a bigger role and more authority, and if there's a change in administration, I think you'll see DHS crumble," the official added. "DHS is at this point where the leadership of DHS is all in with the administration. It's completely politicized."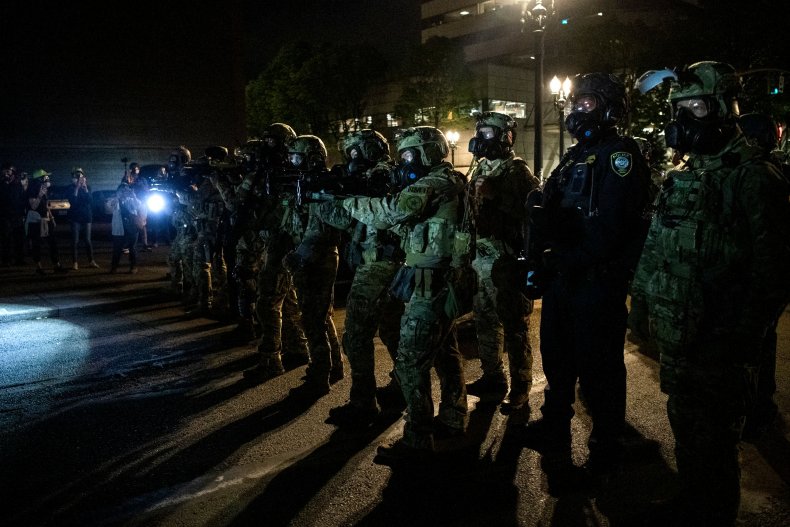 The official offered Newsweek a number of hypothetical scenarios in which federal agencies such as CBP or Secret Service could be dispatched to new, seemingly unfit positions, essentially acting as "the federal SWAT team for the United States of America" in exchange for a raise in resources. "This administration is just like, whatever the political topic is, they need an action arm, they need that operational element to do what they're looking for," the official added.
On paper, DHS presides over an alphabet soup of more than a dozen agencies tasked with activities that range from overseeing land, sea and air crossings to preventing nuclear attacks and shielding from cyberwarfare. In reality, these agencies have operated largely independently, with their own command calling the shots—until recently.
Wolf's deployment of CBP paramilitary officers tasked with protecting federal property amid violent demonstrations in Portland set a new standard for how federal forces could be utilized, especially in response to hot button issues and, as the GAO believed, under the command of an illegitimate leader.
In response to the ruling, a DHS spokesperson told Newsweek, "We wholeheartedly disagree with the GAO's baseless report and plan to issue a formal response to this shortly."
DHS later released a formal response to the GAO's findings, picking apart the report and ultimately arguing that "both Acting Secretary Chad F. Wolf and Senior Official Performing the Duties of Deputy Secretary (SOPDDS) Kenneth T. Cuccinelli II are lawfully performing their current roles at DHS."
"The Report takes the reader on a march through a marsh," the statement added. "At each refusal to rely on key evidence, the morass thickens and the water deepens, as crucial questions lurking just underneath the surface begin to emerge: Is the ignored evidence and failure to afford DHS deference more than just a good faith disagreement?"
"Does the timing of this Report suggest that something else is motivating this opinion? Does the GAO's unfortunate recent history of issuing partisan and inaccurate reports perhaps explain what is going on? As the reader reaches the Report's conclusion, he is left with the sinking and inescapable feeling that something is afoot in the swamp," it concluded.
But one DHS official who asked to not be named because they were not authorized to speak to the press told Newsweek they had "zero faith in senior DHS leadership, with the exception of Pete Gaynor because he's a longtime FEMA employee."
"Trump said he would hire the best people, but then he puts people like Wolf and [Cuccinelli] in charge because they will say, 'Yes.' It's a huge embarrassment to the rank and file employees," the official said, not wanting to "even contemplate" the question of where DHS allegiance would lie if the sitting president lost the election.
"The vast majority of DHS employees take their oaths seriously and will honor the election results. I know I will," the official added. "I don't swear an oath to a person, I swore an oath to the Constitution. I will only obey lawful orders."
Erroll Southers, professor of the practice in national and homeland security at University of Southern California's Price School who formerly served as an FBI SWAT team member and assistant chief of the Los Angeles World Airports Police, expressed to Newsweek "hope that DHS will return to the original mission and abide by Congressional oversight as they were established to do."
But with DHS "essentially" becoming the "president's personal militia" as it continued to act outside the mandate or approval of lawmakers and take on law enforcement and investigative responsibilities, Southers also conveyed deep reservations about the near future.
"What's happened over time is what people feared would happen, and now their greatest fears are being realized," he added.
This article has been updated to include excerpts of a formal response by DHS to the GAO's ruling.
Correction (8/14/2020, 6:30 p.m.): An earlier version of this article misspelled Erroll Southers' name. We regret the error.