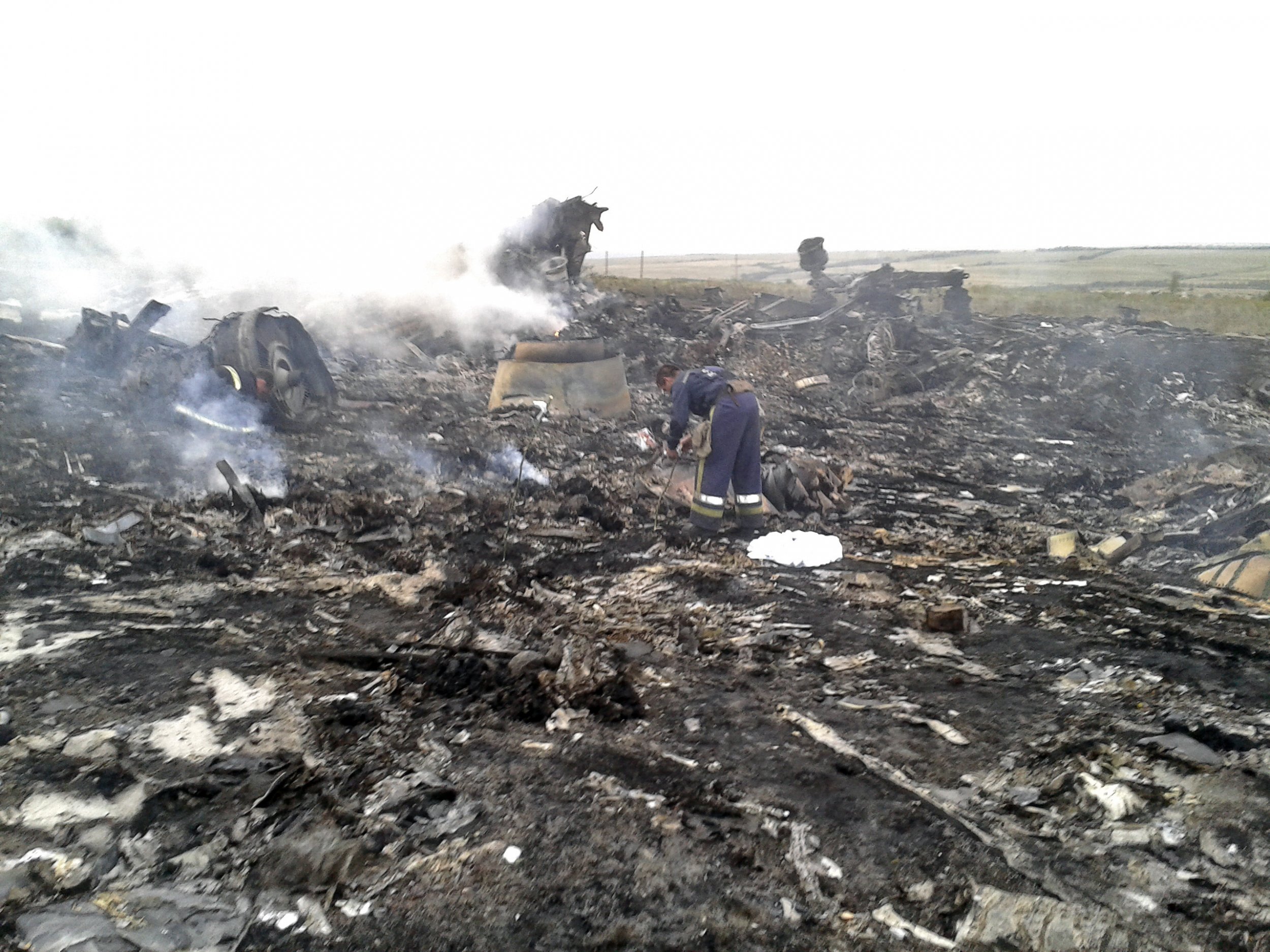 A Malaysia Airlines flight carrying 283 passengers and 15 crew members crashed in the Donetsk region of Ukraine, near the Russian border. Echoing Ukrainian officials, U.S. intelligence believes a surface-to-air missile brought the flight down, but they are divided on the origin of the strike, a source told Reuters.
There were no reports of survivors. Reuters pictures showed a scene of devastation with burning debris and body parts spread over a wide area near the village of Grabovo. An airport official puts the death toll as follows: 189 Dutch, 44 Malaysians, 27 Australians, 12 Indonesians, ten from the U.K., four from Germany, four from Belgium, three from the Philippines, and one Canadian, and one from New Zealand, the BBC reports. In a news conference on Friday, President Barack Obama said there was at least one U.S. citizen on board.
Ukraine's intelligence agency has released footage of what they say are intercepted phone calls between Russian military intelligence officers and pro-Russia separatists. In the conversations, they appear to acknowledge the plane has been shot down, but sound shocked upon realizing it's a civilian aircraft completely devoid of any weapons. "Civilian items, medical equipment, towels, toilet paper" are some of the items they find on the ground.
The Ukrainian Prime Minister has ordered an investigation, while the Ukrainian president says that Ukrainian forces were not involved in bringing the plane down. Ukrainian officials said the plane may have been shot down by a Russian-made Buk, or Beech, antiaircraft system, according to a report in The New York Times. A Ukrainian interior ministry official blamed "terrorists" using a ground-to-air missile on the "catastrophe," Reuters reports.
LATEST DEVELOPMENTS:
The S.B.U., Ukraine's intelligence agency, released footage of what they say is audio between Russian military intelligence and pro-Russia separatists. An English-language translation of the conversation shows Igor Bezler, a separatist commander, telling a Russian military intelligence official, "We have just shot down a plane."
In a statement released by the Kremlin, Russian President Vladimir Putin says, "Undoubtedly, the government in whose air space this happened bears responsibility for this terrible tragedy." He also said that the tragedy would not have happened if Ukrainian forces "had not renewed hostilities in south-eastern Ukraine."
The Malaysian jet was hit by a surface-to-air missile, according to U.S. intelligence, The Wall Street Journal reports. Intelligence has not yet determined the origin of the missile. According to Reuters, Vice President Joe Biden, speaking in Detroit, says the crash was "not an accident" and the plane was "blown out of the sky."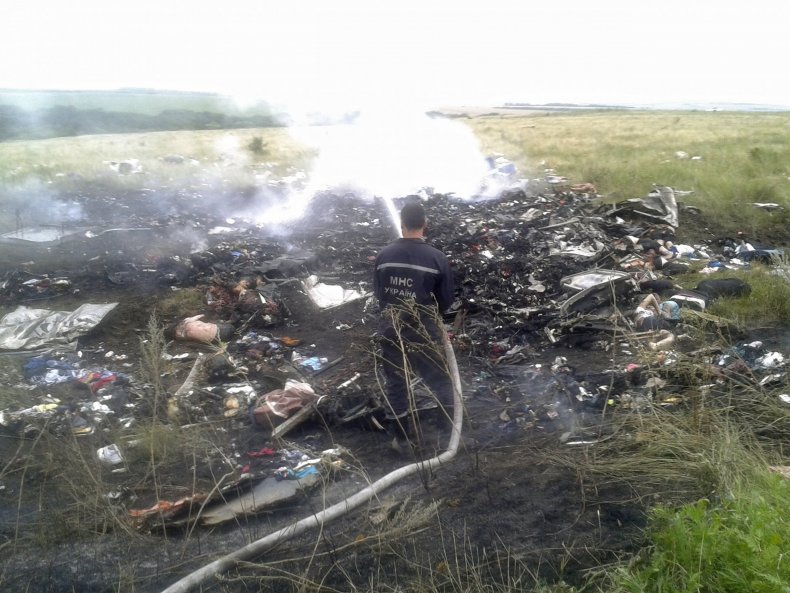 This video reportedly shows smoke billowing from the downed plane, although Newsweek cannot confirm this.
The Boeing 777 flight was en route from Amsterdam to Kuala Lumpur. Reuters reports that the plane was came down 20 miles outside of entering Russian airspace, and another official, quoted by Interfax, said the plane disappeared at a height of 10,000 meters. According to the International Business Times, the flight was at cruising altitude, "at a height that can be reached only by sophisticated missiles, fired either from the ground or from fighter aircraft." Governments of both Russia and Ukraine possess such missiles as, the International Business Times points out, could pro-Russian separists based in eastern Ukraine.
A Reuters correspondent on the ground in Eastern Ukraine reports seeing bodies on the ground amidst the burning wreckage, while an Emergency Ministry officals tells Reuters body parts are "scattered" and there are at least 100 bodies seen at the scene, which is near the village of Grabovo.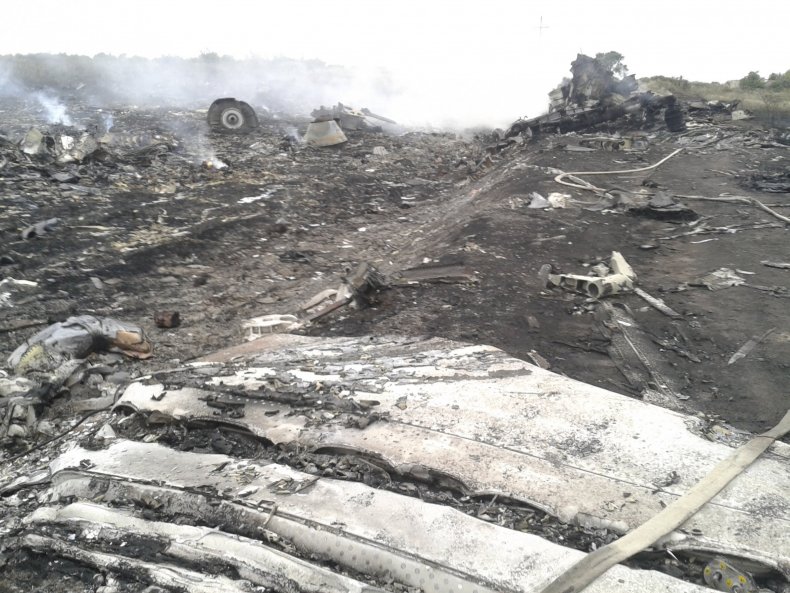 The reporter adds that wreckage debris was thrown throughout an area up to nine miles in diameter, and includes red and blue pieces of the broken plane wing.
Malaysian authorities are launching an investigation into the crash.
The Ukranian State Aviation Service shut down airspace to civilian aircraft on July 8 for security reasons.
The Malaysia Airlines MH-17 plane crash has sparked more than 810,000 tweets today, according to data provided by social data analytics firm Brandwatch.