Nine Dead in Shooting at South Carolina Church, Suspect Dylann Roof Caught in Shelby, North Carolina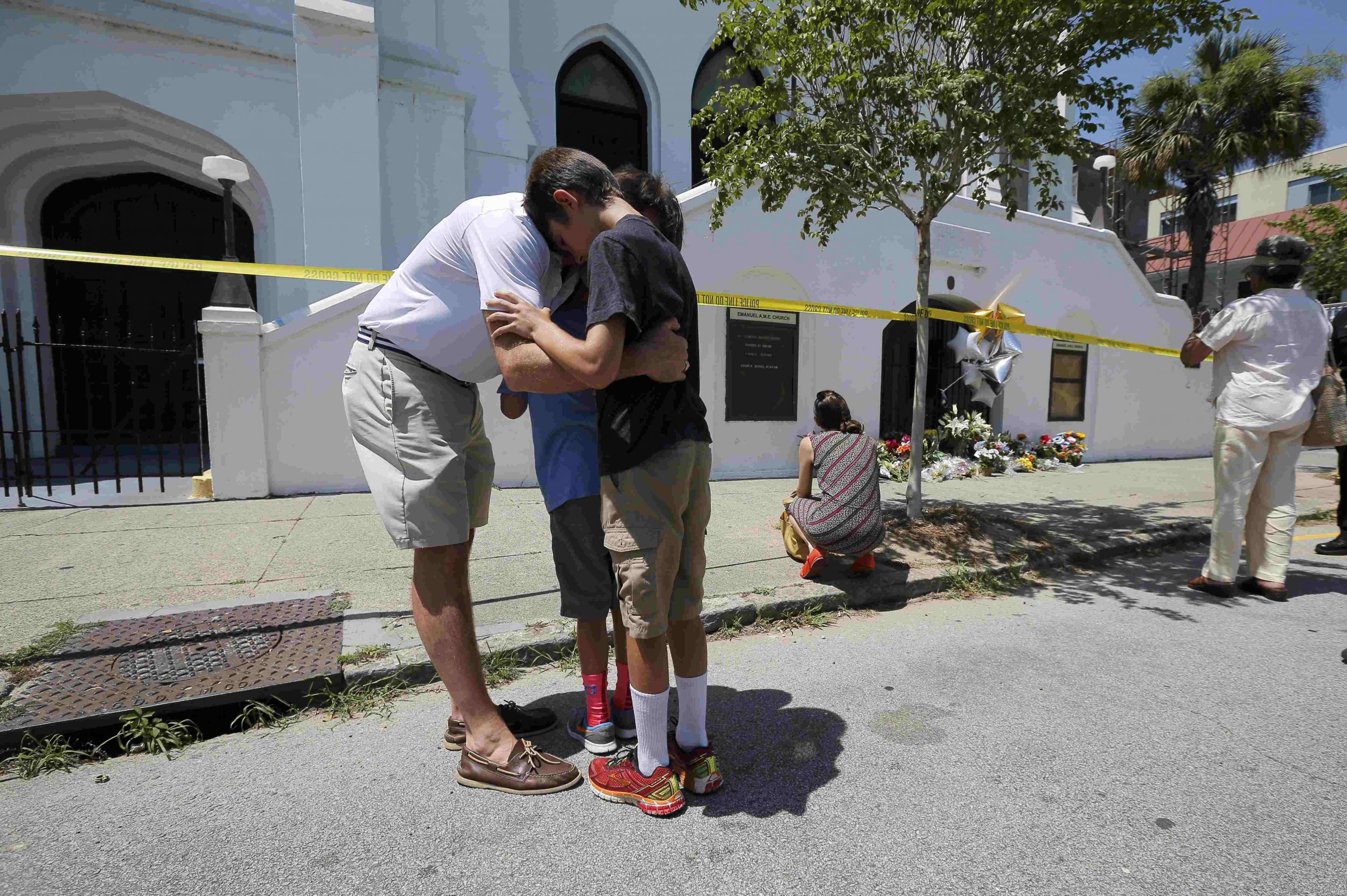 Updated | Nine people were shot and killed as they gathered for a weekly Bible study group at Emanuel African Methodist Episcopal, an African-American church in Charleston, South Carolina, around 9 p.m. on Wednesday. The suspect, identified as Dylann Roof, was arrested at a traffic stop in Shelby, North Carolina, Thursday morning, after spending 13 hours on the run.
A tip from the public led to his arrest. Authorities will now begin interviewing Roof and collecting evidence. An investigation is ongoing, authorities said. "He was cooperative with authorities who stopped him," Charleston police Chief Greg Mullen said at a press conference following Roof's arrest. Authorities have no reason to believe any other gunman or suspect was involved, Mullen added.
Eight people died on the scene and the ninth person died at a nearby hospital while being treated. The victims included three men and six women, Mullen said at another briefing just after 7 a.m. on Thursday. There were three survivors inside the church. The victims include:
Susie Jackson, 87, who has long attended this church
Daniel Simmons Sr, 74, a Reverend and pastor
Ethel Lance, 70, who worked for the church for over 30 years
Myra Thompson, 59, a pastor
Cynthia Hurd, 54, a manager at the Charleston County Public Library
Depayne Middleton, 49, a former director of Charleston County Community Development
Sharonda Coleman-Singleton, 45, a pastor, speech therapist and track coach
Clementa Pinckney, 41, the Reverend of the church and a State Senator
Tywanza Sanders, 26, a recent graduate of Allen University
Roof was identified by his uncle who recognized him in a photograph posted by police. Roof allegedly sat in the church for about one hour before opening fire, authorities said. He was driving a black sedan with the license plate LGF 330. He received a gun for his birthday earlier this year, according to his uncle. It is unclear if this was the weapon used for the church shooting.
On April 26, Roof was arrested for trespassing and had a second minor arrest on his record. He is from Eastover, South Carolina, a town in Richland County. According to a relative of a man shot inside the church, Roof said, "I have to do it. You rape our women, and you're taking over our country."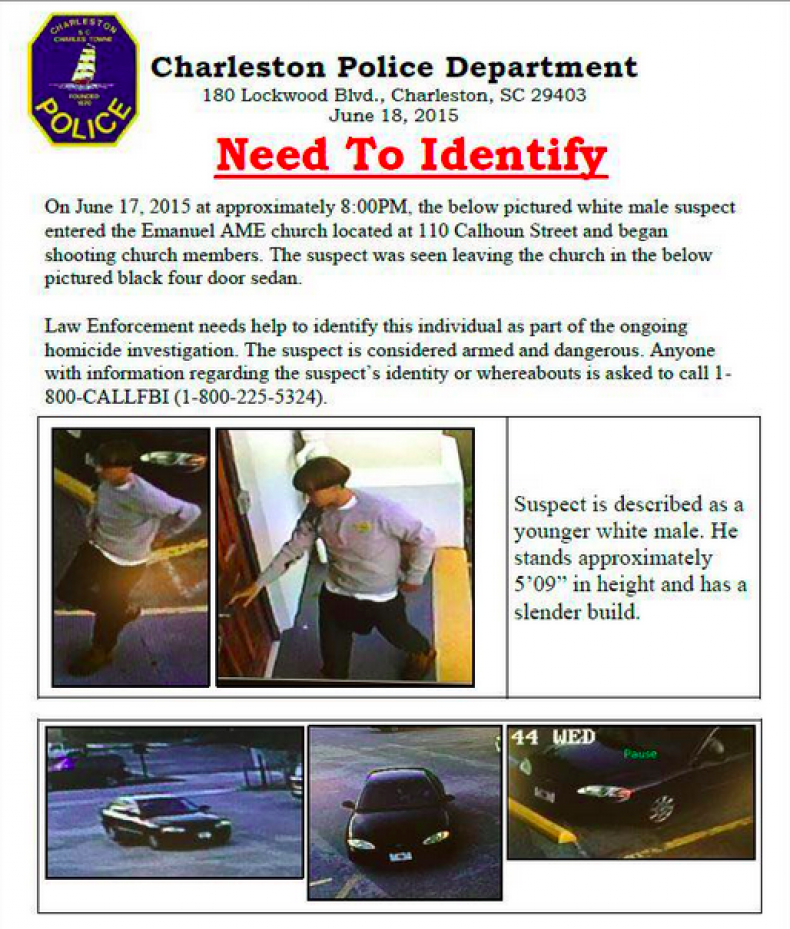 This shooting is being treated as a hate crime, Mullen and Charleston Mayor Joseph Riley said during the press briefing. The FBI has also been brought in to assist in the investigation of the shooting. "An evil and hateful person took the lives of citizens who had come to worship and pray together," Riley said.
The Emanuel African Methodist Episcopal describes itself as the oldest AME church in the South, with "one of the largest and oldest black congregations south of Baltimore, Maryland." The church was founded in the early 1800s and was once set on fire after officials suspected members of the church of helping to plan a slave revolt. The church was led by Reverend Clementa Pinckney, a South Carolina state senator. Pinckney was shot and killed in the incident.
Dot Scott, the president of the Charleston NAACP, told the Post and Courier that the gunman spared one woman as he wanted a witness who would recount the story to others.
"It's very numb. It's sad. No one expects to go to church to worship their God and be shot dead," James Johnson of the National Action Network told the Post and Courier.
Vice President Joe Biden called Riley to express his condolences for the situation. Biden knew Reverend Pinckney personally. President Obama also called the mayor, offering any and all federal resources necessary for this investigation. A fund was created by the mayor on behalf of the church. The city made a donation of $5,000 to the fund and the public will be able to donate as well. This fund will cover the expenses for the funerals of those killed in the shooting.
"Michael, Rena, Nalin and I are praying for the victims and families touched by tonight's senseless tragedy at Emanuel AME Church," South Carolina Governor Nikki Haley said in a statement Wednesday. "While we do not yet know all of the details, we do know that we'll never understand what motivates anyone to enter one of our places of worship and take the life of another. Please join us in lifting up the victims and their families with our love and prayers."
Speaking at a press conference following Roof's arrest, Haley said, "The heart and soul of South Carolina was broken." She expressed the state's need to heal in light of the tragedy. "South Carolina has stepped up today in a way that makes me proud.… For that, I am thankful. It is a very, very sad day in South Carolina, but it is a day that we will get through and we will get stronger."
A prayer vigil was held on Thursday at noon in memory of those killed in the shooting.
"When the community has to cry, Lord, we must gather," a community leader said during a prayer meeting following the incident. "We ask the question now: Where do we go from here? We are going to forgive but how will we respond from here?"
Presidential hopeful Jeb Bush, who was set to campaign in Charleston on Thursday, canceled his events in the wake of the shooting.