Report: Obama Administration Drafting Plan to Close Guantanamo Bay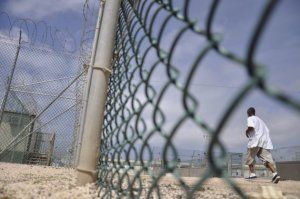 Updated | President Barack Obama's administration has been working on a plan to close the Guantánamo Bay detention center, a White House spokesman told Reuters. This announcement comes as Cuba, where the prison is located, and the United States work to reestablish lines of communication and diplomacy. Josh Earnest, the spokesman, said the administration is "in the final stages of drafting a plan to safely and responsibly close the prison at Guantanamo Bay."
The military prison has been hotly debated for years, as many suspected terrorists are held there. Conditions at the prison have also been harshly criticized and some inmates are subject to force feeding after refusing to eat in protest of their imprisonment.
Currently, 116 inmates remain at Guantanamo Bay. The prison has held almost 800 prisoners since 2002, according to the Congressional Research Service.
President Obama once called Guantanamo's closing a "national imperative" and one of his campaign promises was to put an end to the prison.