Report: San Bernardino Shooter Made Social Media Contact with Extremists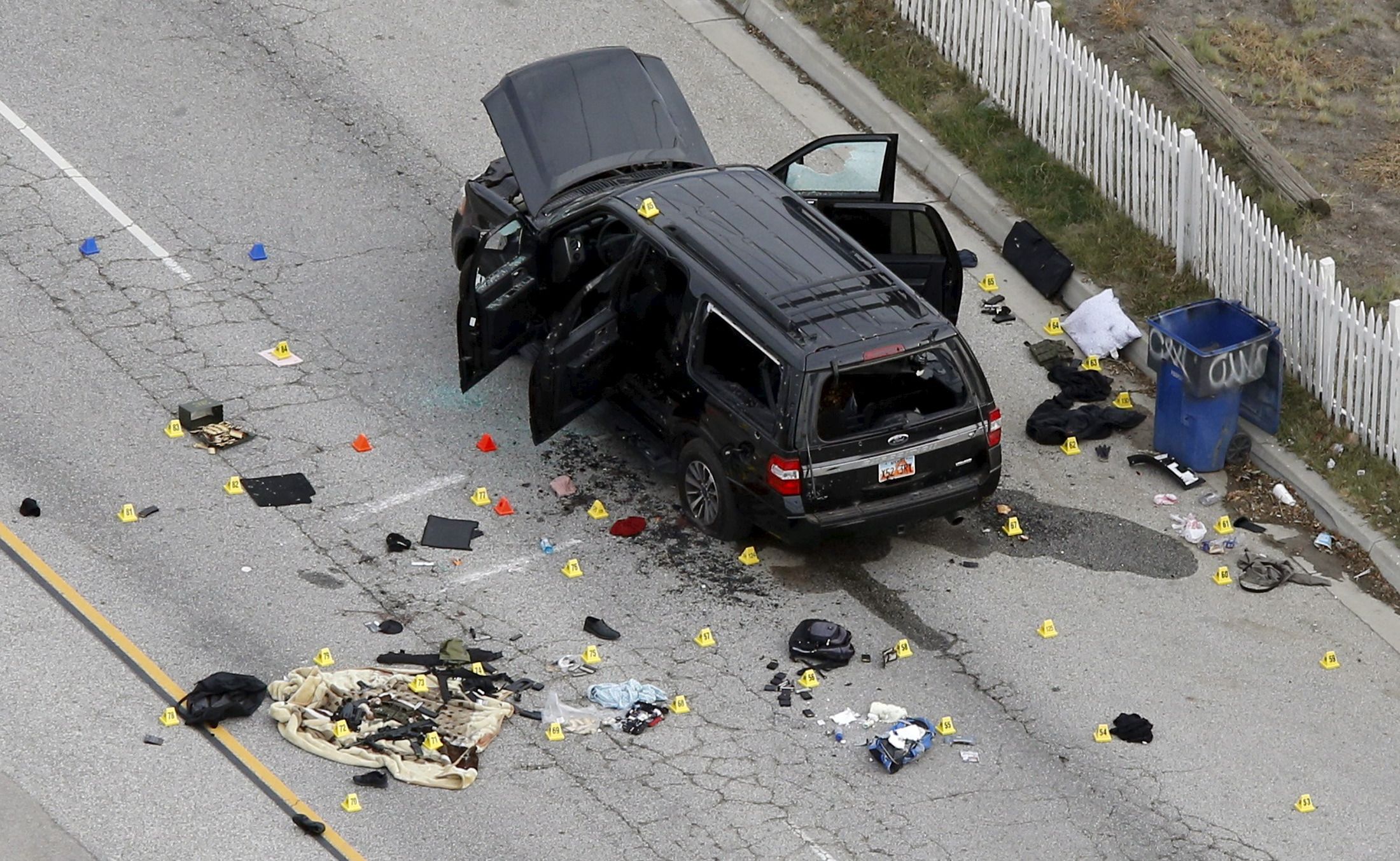 One of the two assailants in the San Bernardino mass shooting that left 14 dead on Wednesday made social media contact with extremists, the Associated Press reported on Thursday evening.
The assailants, Syed Rizwan Farook, 28, and Tashfeen Malik, 27, opened fire at an event hosted by the San Bernardino County Department of Public Health at the Inland Regional Center on Wednesday at 11 a.m. It is unclear which of the two suspects spoke with extremists, who the AP reports were being monitored by the FBI.
Farook, an employee of the department, attended the event but left in an "angry" manner and returned to open fire. Fourteen people were killed and 21 injured in the attack.
"We believe the suspects, when they entered, fired between 65 and 75 rounds," San Bernardino Police Chief Jarrod Burguan said at a press conference on Thursday morning. A pipe bomb was left at the scene, but failed to detonate.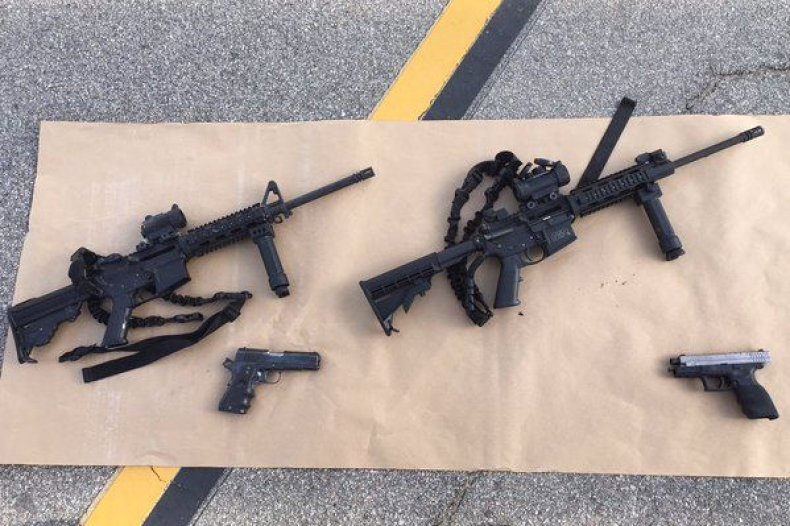 A tip on Wednesday led authorities to a Redlands home rented by the Malik and Farook, a married couple. When law enforcement arrived, the couple fled and engaged in a shootout with police. Officers fired 380 rounds at the suspects, who fired 76 rounds in return. The suspects were both killed, and two officers sustained non-life threatening injuries in the shootout.
Inside the victims' vehicle, the authorities found 1,400 .223 caliber rounds and 200 9 mm rounds. They carried four weapons, all of which were purchased legally.
The authorities found a dozen pipe bombs and have recovered computers, electronic files and cellphones at the home rented by the two suspects.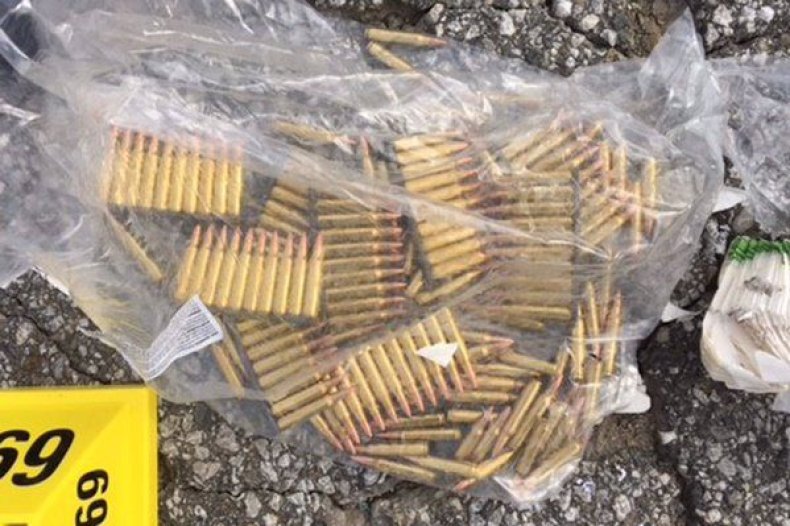 "Clearly they were equipped, and they could've continued to do another attack," Burguan said. On Wednesday evening, the authorities entered the Redlands home and found the 12 pipe bombs.
The authorities still have not confirmed if the incident was an act of domestic terrorism or a case of workplace violence.
"This is not your average investigation," said David Bowdich, a special agent in charge of the FBI's Los Angeles bureau, at a press conference Thursday afternoon.
"The amount of pre-planning that went in...there was obviously a mission here. We don't know why," Bowdich added.
He reiterated several times that it remains unclear if terrorism motivated the couple. The authorities have not found a manifesto of any kind, the police said at a Thursday evening press conference.
"It is possible this was terrorist-related, but we don't know," President Barack Obama told reporters Thursday morning. "It's also possible this was workplace-related."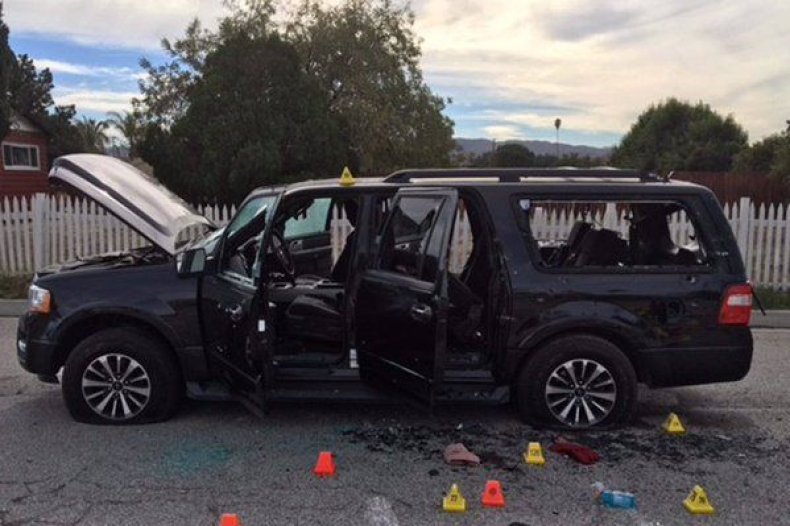 Congressman Adam Schiff, a ranking member of the House Select Committee on Intelligence, said on Thursday morning that it is impossible to rule anything out at this point.
"It's possible there were connection to terror or there was a self-radicalization going on," he said. "It's also possible it was a workplace motivation or some combination of the two."
"We are looking at the social media," Schiff added. "We're looking at any selectors we're able to take from either of the suspects, chasing down a number of leads both foreign and domestic to see what connection there might be, if any, to terror. But at this point it's still too early to tell what the motivation was."
At a press conference late Thursday, San Bernardino Police Department Commander Mike Madden described the scene following the shooting. "It was unspeakable the carnage we were seeing and the fear and panic on people's faces," he said.
Madden added that many of those inside the hall during the shooting were afraid to come out in the aftermath and olice officers had to convince them to leave. "It just seems so senseless," he said of the shooting. "This is a tragedy I have never experienced in my career. But everyone who responded knew their job was to bring calm to chaos."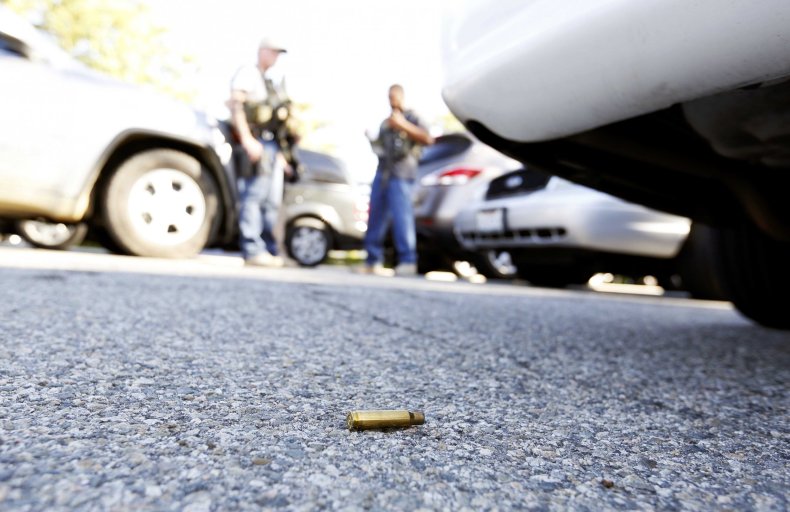 Malik and Farook were married in 2013, according to Hussam Ayloush, executive director of the Los Angeles office of the Council on American-Islamic Relations. He added that the couple had left their 6-month-old daughter with relatives Wednesday morning.
Farook is originally from Illinois, and Malik was born in Pakistan and later lived in Saudi Arabia. While Farook is an American citizen, Malik was in the United States on a K-1 visa.
"As far as the family knew, there were no strong political or religious views either way," Ayloush said.
Patrick Baccari, a co-worker of Farook's, told the Associated Press that he was seated at the same table as the gunman before he suddenly left Wednesday's event at the Inland Regional Center. He told the AP that Farook, who typically had a reserved manner, had traveled to Saudi Arabia earlier this year and returned with a wife. He later grew a beard, Baccari added.
Five gunshot victims are being treated at the Loma Linda University Medical Center. Two are in critical condition, and three are in fair condition.
"We are very guarded about giving details," Kerry Heinrich, CEO of the center in Loma Linda city, said at a press conference Thursday morning.
A bomb threat was called into the first-level trauma center on Wednesday afternoon but was later discredited.
The Arrowhead Regional Medical Center in Colton, California, has five patients, all of whom are in stable condition. None of the victims at either hospital have been identified.