Report on Sexual Assault in the Military Draws Criticism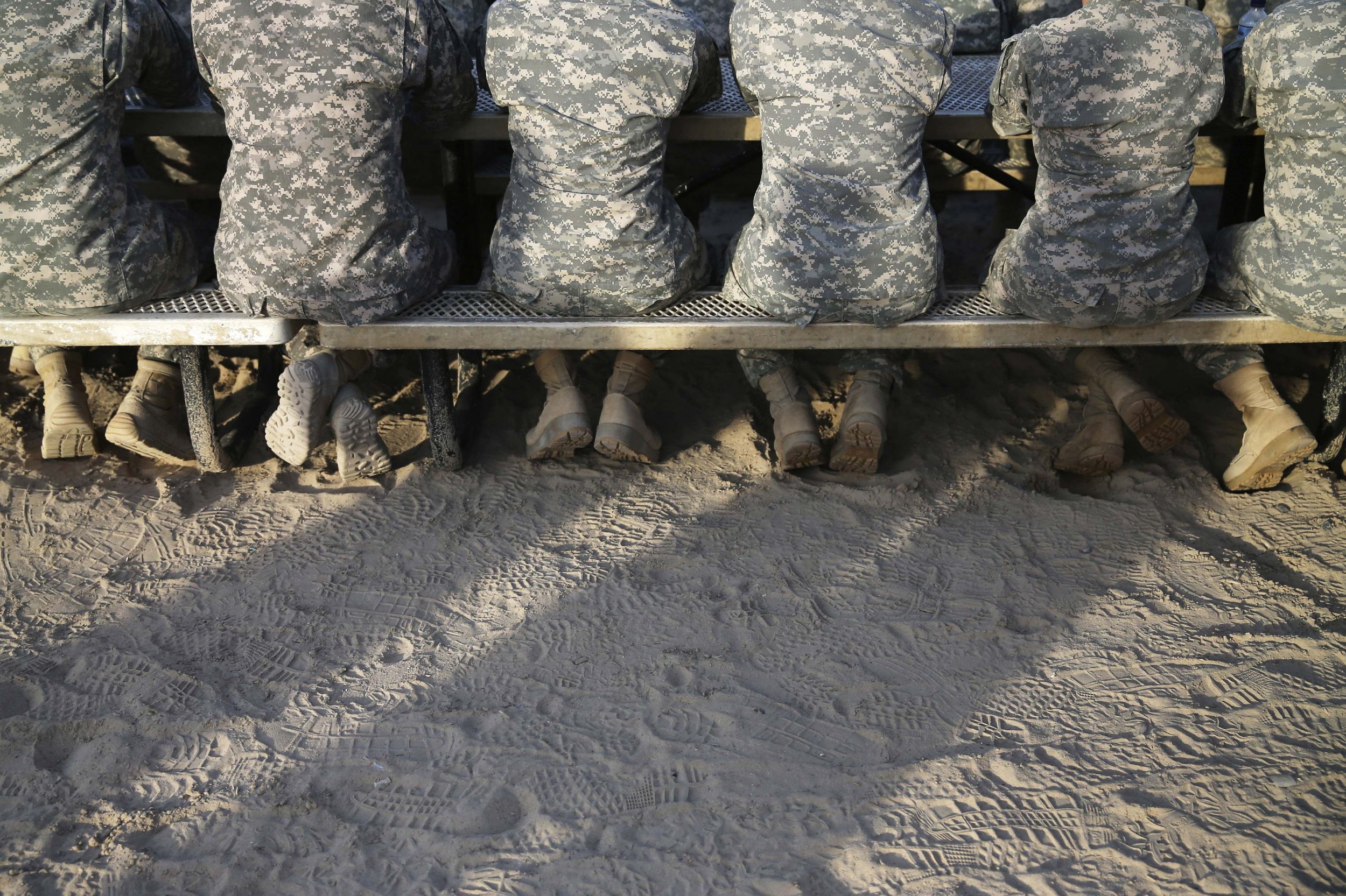 "We still have a long way to go," outgoing Secretary of Defense Chuck Hagel said last week at a press conference announcing a report about sexual assault in the military, compiled by the Department of Defense (DoD).
His statement was apt, considering the lukewarm response that followed the report's publication.
The DoD prepared the document in response to a December 2013 request from President Barack Obama for a comprehensive report outlining improvements in prevention of, and response to, sexual assault in the military and detailing reforms to the military justice system. The report comes at a time when national attention is focused on rape and sexual assault, particularly on college campuses.
"The surest measure of the scale of the problem of sexual assault in the military—and the failure of the Pentagon and Congress to deal with it—is that the Defense Department thinks it has really achieved something," says a Sunday New York Times Editorial Board opinion that followed the report's publication. "The total number of assaults is too high by orders of magnitude and the incidence of reporting is far too low."
During the press conference for the report's publication, Hagel highlighted "measurable progress over the last two years," including a decrease in the prevalence of sexual assaults. The Workplace and Gender Relations Survey of Active Duty Members for fiscal year 2014 estimated 19,000 cases, compared with 26,000 in FY 2012. To put that trend in context, the report estimated 19,300 cases in FY 2010 and 34,200 in 2006. In other words, the recent decrease is not part of a consistent downward trend, as the numbers have yo-yoed up and down over the past decade.
The report emphasized a promising increase in the number of cases that were reported. Whereas two years ago only 1 in 10 cases was reported, the most recent data show a jump to 1 in 4 cases.
"Sexual assault threatens the lives and the well-being of both the women and the men who serve our country in uniform," Hagel said at the press conference. "It destroys the bonds of trust and confidence which is at the heart of our military."
The report's publication is one of Hagel's last tasks as defense secretary; he resigned November 24 and will be replaced by Ashton Carter, should his nomination by Obama be approved.
Indeed, Hagel's resignation, said to have occurred under pressure from the White House, preoccupied most reporters in the first part of the press conference, with Hagel answering only three questions, all about his resignation.
As he thanked the crowd and wished everyone happy holidays before handing the conference over to Jeffrey Snow, director of the DoD's Sexual Assault Prevention and Response Office, a voice said, "One question on the—on the subject of this news conference?" But it didn't get asked. Snow later took questions on the topic of sexual assault.
Both Hagel and Snow pointed to measures of improvement while making it clear that "the department does not confuse progress with success," as Snow wrote in a weekend editorial in USA Today. "While reporting is up and incidents are down," Snow wrote, "the only acceptable number of sexual assaults is zero."
To that end, the DoD announced four new measures Thursday to continue the fight against sexual assault in its ranks, which Hagel had outlined in a December 3 memo.
The department plans to undertake a multiyear study to identify risk factors specific to certain military installations and communities, in order to customize prevention efforts. Augmented supervisor training will help those in roles of authority understand how to engage with subordinates about prevention and response and to recognize retaliation.
The DoD also plans to institute new procedures that will require installation commanders who serve as "Sexual Assault Prevention and Response Case Management Group Chairs" to assess reports of retaliation on a regular basis and refer them for corrective action. Finally, the findings of the report will be shared with all service members to demonstrate progress and encourage reporting of sexual assaults.
Advocates, politicians and journalists agree that there is more work left to be done. Some praised the DoD's headway, while others have questioned just how much progress the military has made.
"There are high levels of satisfaction with command climate, high levels of satisfaction with their special victims counsels and victim advocates," Senator Claire McCaskill, D-Missouri, told reporters Thursday. "And I think 73 percent of [reporting victims] saying that they would recommend that others report is a very important number."
One statistic in particular drew the attention of critics. Roughly 62 percent of women who made a report to the DoD about unwanted sexual contact said they experienced some form of social retaliation from peers or co-workers afterward.
"We've seen number of assaults increase and decrease over time—a little bump here, a little drop there—but the retaliation is a clear indication that the climate still isn't safe for victims," Anu Bhagwati, a Marine Corps veteran and executive director of the Service Women's Action Network, told the Military Times.
U.S. Senator Kirsten Gillibrand, D-New York, also homed in on the continuing retaliation against those who come forward to report cases of sexual assault. "The one measure about whether commanders take this seriously is whether they're allowing victims to be retaliated against for reporting," she told Public Radio International. "For that number to not budge, for that number to be exactly where it was last year, that shows complete failure."
Gillibrand has sponsored the Military Justice Improvement Act in the Senate, a bill that would take the decision on whether to prosecute sexual assault cases out of the hands of military commanders and put it instead within the purview of "independent, trained, professional military prosecutors."
The bill was defeated this past March, when it received only 55 votes instead of the 60 needed to avoid a filibuster. Gillibrand continues to push for the bill's passage, either as an amendment to the National Defense Authorization Act or on its own.
In his response to the criticism, the DoD's Snow wrote that critics were ignoring evidence that the department had implemented measures that were bringing about change on some fronts.
"We will continue to work as broadly and creatively as possible until we reach our goal of eliminating sexual assault in the military," he wrote.