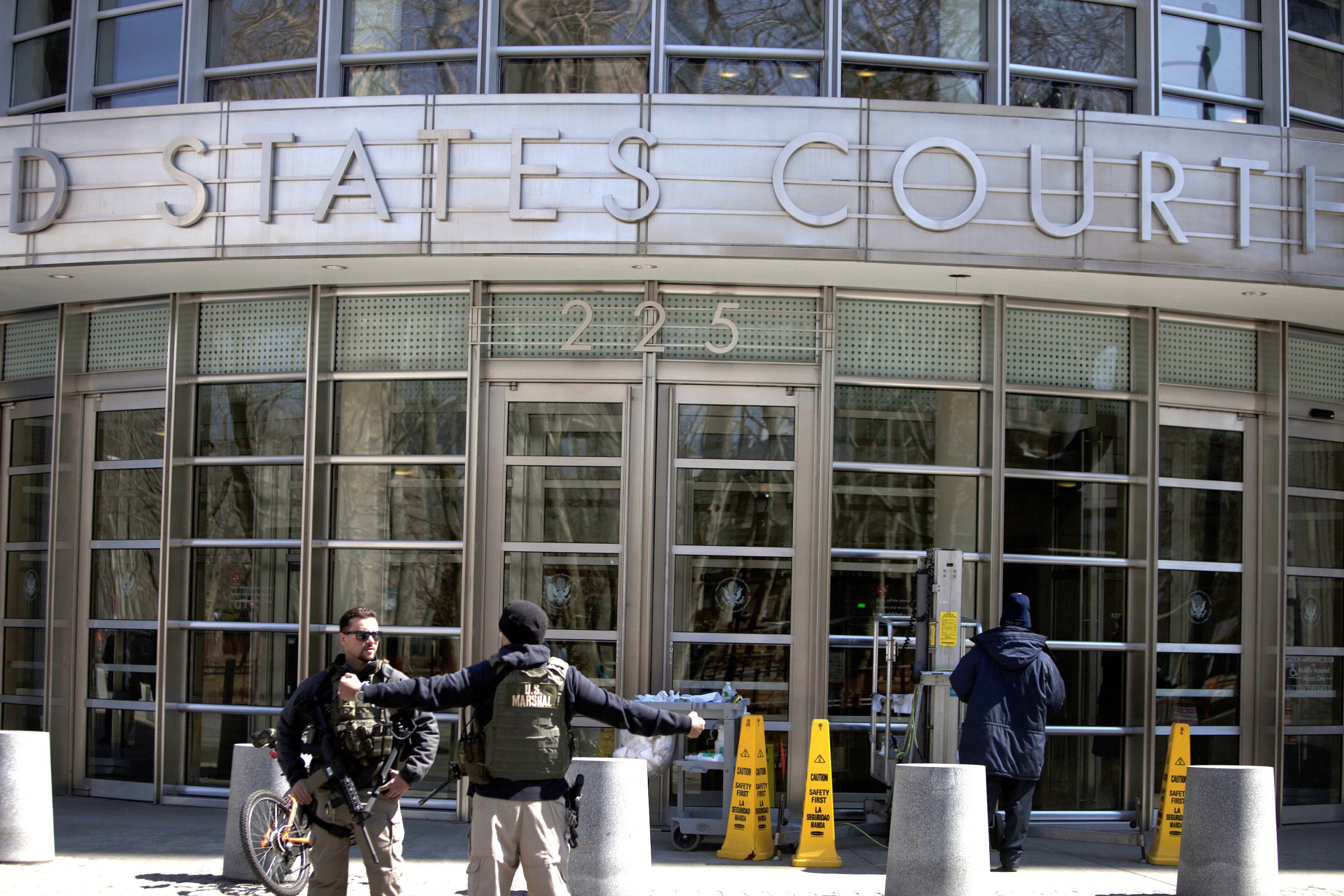 Updated | Two women were arrested in New York City and accused of planning a bomb attack, federal authorities told ABC News. The women were reportedly radicalized by ISIS and were suspected of targeting military and government entities rather than civilians. The funeral of slain police officer Rafael Ramos was considered a target location for a bombing.
The women were identified as Noelle Velentzas, 28, and Asia Siddiqui, 31, in a complaint released by the United States attorney's office for the Eastern District of New York. The two were roommates in Queens and are both U.S. citizens.
According to a neighbor, three NYPD officers were spotted outside Siddiqui's Queens home on Thursday morning around 7:30 AM. Shortly thereafter, the neighbor spotted several men in FBI jackets and an SUV with dark, tinted windows. "What's to say they wouldn't do that to us? They may come down here and throw a bomb into the house," the neighbor, Sandy, who declined to give her last name, told Newsweek. Another neighbor described the street as quiet. Neighbors said Siddiqui lived in a multifamily building.
Velentzas was briefly homeless and stayed at the ICNA Relief center in Queens for a short time between 2008 and 2009. ICNA provides social services for the Muslim community. While at ICNA, Velentzas studied to become a home health care provider, became employed and married. When she married, she left the shelter. In 2013, Velentzas held a banquet dinner with Imam Siraj Wahhaj organized by ICNA Relief, according to a Where Event invitation.
"Ms. Velentzas appeared to be a young woman who had experienced hardship in her life but was working towards self-development and long term stability," S. Malika Rushdan, the director of ICNA Relief USA's transitional housing division, said in a press release.
Moviz Siddiqui, who handles press for ICNA, said Velentzas was "living in trains and cars" before coming to the shelter. Velentzas had converted to Islam before her time at ICNA, he said, and had expressed interest in the faith at a young age. While at the shelter which, Siddiqui emphasized, is open to all faiths, Velentzas never expresed radical beliefs.
"If she crossed over, we had nothing to do with it," he said.
An undercover officer met with both women during the investigation. At one point in the probe, Velentzas said the undercover officer had found two "terroristic-ass friends" in the women.
The FBI had investigated the women's online presence, which included research into creating a homemade bomb and accessing ISIS propaganda. Siddiqui was "in possession of multiple propane gas tanks, as well as instructions for how to transform propane tanks into explosive devices," the complaint stated. Velentzas was "obsessed with pressure cookers since the Boston Marathon attacks." Those attacks killed several and injured dozens; one of the suspected attackers died, and the second is currently being tried in Boston.
Velentzas "repeatedly expressed an interest in terrorist attacks committed within the United States" and praised the September 11, 2001, attacks. She reportedly said her heroes were Osama bin Laden and Abdullah Azzam, his mentor.
In one instance, Velentzas "pulled a knife from her bra and demonstrated how to stab someone to show Siddiqui and the [undercover officer] what she should do if attacked. Velentzas said, "Why we can't be some real bad bitches?" Velentzas said she carried a knife in her bra and kept an ax and knife in her home.
After news broke about the three London schoolgirls traveling to Syria to join ISIS, Siddiqui said, "This could be us, but we old and [Velentzas is] married." Velentzas replied, "You never know, there is other ways.... There's other ways to do that."
In February, three New York City men were arrested on similar charges. They had watched ISIS propaganda material online, and one of the three considered an attack on Coney Island, according to authorities. Velentzas was Facebook friends with Tairod Pugh, an Air Force veteran arrested for trying to join ISIS in mid-March.
ISIS commonly recruits women online, particularly through Twitter and blog posts. One female ISIS recruiter wrote a manual training Western women on how to travel to Syria to join the terrorist group. The three British teenagers made their way to Syria after interacting with a recruiter through social media.