As U.S. President Donald Trump and his Finnish President Sauli Niinistö stood side-by-side during their joint press conference in the White House on Wednesday, one Finnish reporter asked the European leader whether his American counterpart had asked for any "favors" from him.
The question was sparked by the ongoing Ukraine scandal, which accuses Trump of soliciting foreign assistance in investigating his political opponent former Vice President Joe Biden. A whistleblower filed a formal complaint expressing concern over a July phone call made between Trump and Ukrainian President Volodymyr Zelensky, during which the U.S. leader asked the foreign leader for a "favor" and urged him to probe Biden's family. The controversial call resulted in House Speaker Nancy Pelosi launching an impeachment inquiry into Trump last week.
During a combative press conference earlier today, where Trump railed against his enemies⁠—the Democrats, the whistleblower and the mainstream media⁠—the U.S. president instructed his foreign counterpart to pick a "really nice" Finnish reporter to ask the next question.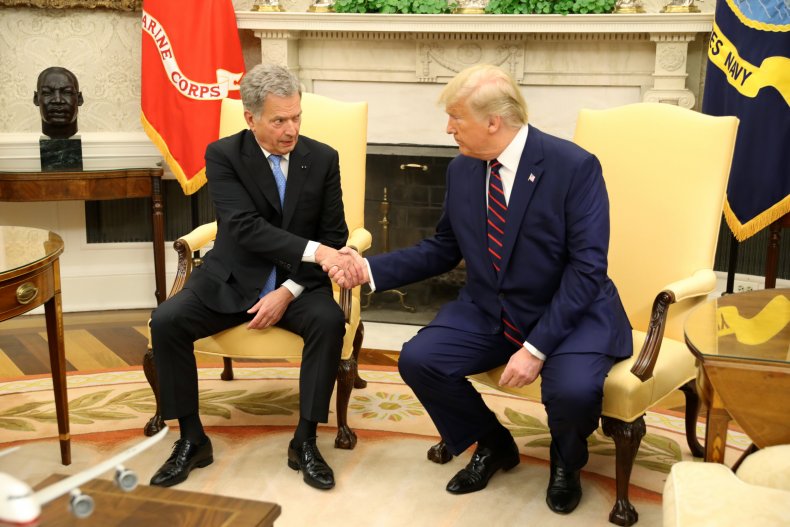 "I have one question for President Trump and one question for President Niinistö," the reporter began.
"First, Mr. Trump, how will this political storm affect U.S. foreign policy, especially its relationship with Finland and second for President Niinistö, because this is the biggest issue here at the moment, I have to ask, what kind of favors has Mr. Trump asked from you?" she asked, drawing uncomfortable silence and awkward laughter from the audience.
"I think you mean the other way around," Trump quickly responded.
"Yes, we had a conversation and discussion on a very equal basis," Niinistö responded. "I really appreciate that. I had one request, specifically I wanted the president to take more notice on transatlantic relations because I consider it's useful both for the USA and Europe. We also discussed trading."
Amid the press conference, Trump embarked on a lengthy rant criticizing Democrats for launching a probe into his conduct as president, during which he suggested that getting rid of Pelosi and House Intelligence Chairman Adam Schiff would make America as happy a nation as Finland. In recordings of the event, one reporter could be heard saying, "Finland is the happiest country in the world," to which Trump responded: "Finland is a very happy country."
Later, when asked what he can learn from the European country, Trump said: "Well, you got rid of Pelosi, and you got rid of shifty Schiff."
Thousands of Twitter users expressed sympathy for Niinistö for having to endure the uncomfortable press conference, while others condemned Trump for having a so-called "meltdown." As of Wednesday afternoon, the hashtag #TrumpMeltdown became the second most-trending topic in America.