Reporter Covering Ukraine-Russia Conflict in 6 Languages Viewed 10M Times
A viral online video of a journalist covering ongoing tensions between Russia and Ukraine using six different languages has been viewed over 10 million times.
Philip Crowther, an international affiliate correspondent for the Associated Press, spoke about the ongoing crisis while based in Kyiv, Ukraine, on Monday. Crowther gave his report for six different news channels, speaking effortlessly in English, Luxembourgish, Spanish, Portuguese, French, and German.
A video montage that Crowther shared of himself reporting in each language back-to-back has since been viewed at least 10.1 million times as of early Tuesday morning.
"Six-language coverage from #Kyivwith@AP_GMS. In this order: English, Luxembourgish, Spanish, Portuguese, French, and German," Crowther wrote along with his video.
In his English segment, Crowther spoke of the longstanding war between Russian-backed separatists and Ukrainian forces in Luhansk and Donetsk, also known as the Donbas region of eastern Ukraine.
On Monday, Russian President Vladimir Putin formally recognized the independence of those rebel-backed regions in a move that further escalated tensions and added to fears that a war in the region is imminent.
Members of President Joe Biden's administration for the first time on Tuesday called Russia's decision to back separatists in Donbas and send troops into the region "an invasion," amid preparations to impose severe economic sanctions against Moscow.
The U.S. has warned of a Russian invasion in the region for several weeks while Putin amassed as many as 190,000 troops along the border. On Monday, National Security Adviser Jake Sullivan told NBC that the U.S. believes Russia is planning to engage in an "extremely violent" operation to "repress, crush and harm" Ukrainians.
Meanwhile, Ukrainian Defense Minister, Oleksiy Reznikov on Tuesday noted that recent developments signify that "there will be losses," adding that the country will have to "go through pain and overcome fear and despondency," according to the New York Times.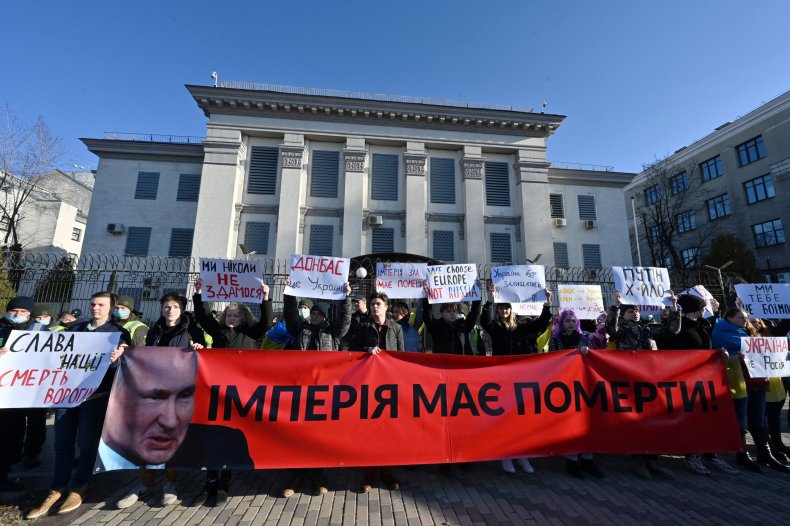 Both Republican and Democratic lawmakers on Tuesday urged Biden to impose strict action against Russia as other Western nations, including the U.K., France, and Germany work to condemn Putin's ongoing aggression.
"Vladimir Putin is attacking Ukraine to oppress the free people who live there and to take their country from them," Representative John Moolenaar (R-MI) wrote on Twitter. "The consequences for this invasion must be swift and I stand ready to support harsh sanctions on Putin and his officials for this attack."
Senator Bob Menendez (D-NJ), chair of the Senate Foreign Relations Committee, similarly issued a statement on Monday calling Putin's recognition of the separatist regions "an act of unprovoked aggression and a brazen violation of international law."
"To be clear, if any additional Russian troops or proxy forces cross into Donbas, the Biden administration and our European allies must not hesitate in imposing crushing sanctions. There must be tangible, far-reaching and substantial costs for Russia in response to this unjustified act," the senator added.
Vice President Kamala Harris this weekend also warned of "unprecedented economic costs" against Russia.
"We will impose far-reaching financial sanctions and export controls We will target Russia's financial institutions and key industries. And we will target those who are complicit and those who aid and abet this unprovoked invasion," she said in a statement on Saturday.
Biden is scheduled to give an update on U.S. sanctions against Russia at 2 p.m. (ET) on Tuesday.