Reporter Reminds Sarah Sanders That Donald Trump Never Condemned Steve King After She Slams Democrats' Response to Ilhan Omar
White House Press Secretary Sarah Sanders echoed President Donald Trump's declaration that Democrats are anti-Jewish on Monday afternoon by explaining that Republicans had called white nationalism defender Representative Steve King out by name, even though the president never directly condemned his actions.
Sanders was asked if President Trump really believed that Democrats hate Jewish people at a press briefing Monday afternoon, to which she responded by saying that Republicans had called Representative Steve King "out by name," for his white nationalist remarks, and that he lost his committee memberships as a result. She insinuated that no Democrats had done the same to Representative Ilhan Omar and should "follow suit."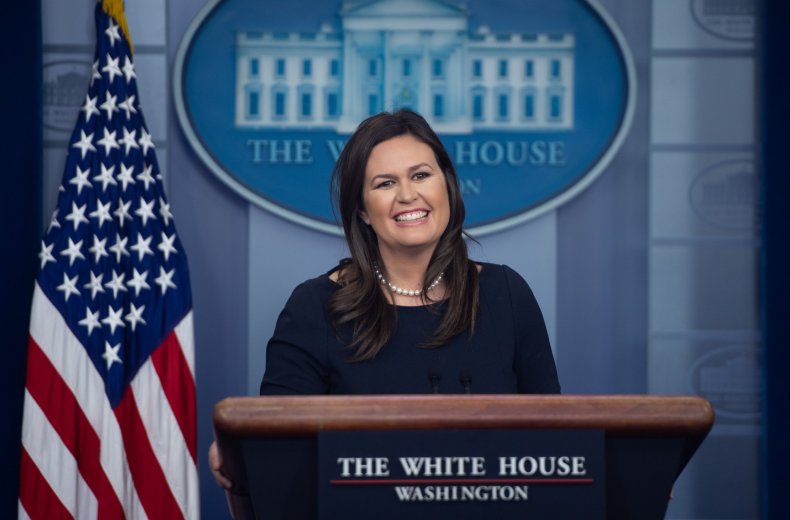 ABC's Jon Karl responded that "the president — correct me if I'm wrong, has not condemned Steve King." Sanders said that she speaks "on behalf of the president on a number of topics and I've talked about that a number of times, and I'd refer you back to those comments where I used words like abhorrent and unacceptable."
The president has spoken out about his belief that the Democratic party had become anti-Jewish while visiting Alabama's tornado victims (and signing bibles). The party, he said, has "become an anti-Jewish party, and that's too bad." Out of the 34 Jewish members of Congress, 32 are Democrats.
Jonathan Greenblatt, CEO of the Anti-Defamation League responded to the president's words on Twitter. "Those who truly care about the Jewish community shouldn't politicize anti-Antisemitism. No one should be grandstanding now," he wrote. "Elected leaders can best help us move forward by ending the blame game and genuinely committing to rebuild bonds and fight hate in all forms."
The president also directly addressed Omar, but not King. "Representative Ilhan Omar is again under fire for her terrible comments concerning Israel," he tweeted last week. "Jewish groups have just sent a petition to Speaker Pelosi asking her to remove Omar from Foreign Relations Committee. A dark day for Israel!"
King, an early supporter of Trump's, defended white supremacy in an interview with The New York Times this year. "White nationalist, white supremacist, Western civilization — how did that language become offensive?" he asked.
Representative Omar, meanwhile, has been scrutinized for tweeting about Israel and using language viewed as anti-Semitic after she said that American political support of Israel is "all about the Benjamins."
Democrats responded by drafting legislation that condemned anti-Antisemitism, but later broadened it to include racism and Islamophobia.
President Donald Trump has previously failed to condemn white nationalists who marched in Charlottesville chanting "Jews will not replace us." He instead said that there were good people "on both sides."