Sarah Huckabee Sanders Slammed by Reporter as She Cuts Press Briefing Short: 'Do Your Job, Sarah'
As Sarah Huckabee Sanders ended the first White House press briefing of December after only a few minutes, one reporter was heard yelling, "Do your job, Sarah!"
The exchange happened as Sanders left the podium and was exiting the room after one of the shortest press briefings of her tenure as White House press secretary. It was her first press briefing of the month, with her last formal meeting with reporters taking place more than 20 days ago.
The meeting got off to a rocky start, beginning nearly an hour later than originally scheduled. Then, when Sanders did allow members of the press to ask questions, she repeatedly cut off answers and signaled that they were "short on time."
The briefing came as lawmakers in Washington were preparing for a potential government shutdown later this week over border security, as Donald Trump refused to bend on his $5 billion request to fund his long-promised border wall.
Hours before the press briefing, the White House appeared to be splitting with Trump as Sanders expressed that they did not want to shut down the government. It was a break from the president's comments last week during a fraught meeting with top Democrats, when he said he would be "proud" to shut down the government over the border wall.
But when reporters followed up on the issue during Tuesday's briefing, Sanders didn't comment on any particular plan that would both keep the government open and pay for the border wall.
"At this point, we're disappointed in the fact they've yet to vote and pass something," Sanders said about the Senate's pending solution for avoiding a shutdown. "When they do that, we'll make a determination whether we're going to sign that."
Sanders also dodged questions about the president's charity, the Trump Foundation, after news broke early Tuesday that the nonprofit would be dissolved following a lawsuit and investigation by New York Attorney General Barbara Underwood, which alleged that Trump misused the charity for his own personal and political gain.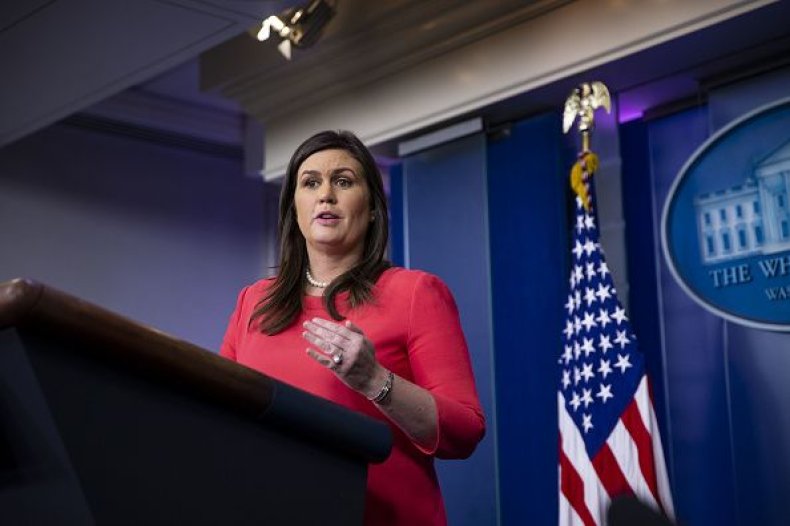 "Our petition detailed a shocking pattern of illegality involving the Trump Foundation– including unlawful coordination with the Trump presidential campaign, repeated and willful self-dealing, and much more. This amounted to the Trump Foundation functioning as little more than a checkbook to serve Mr. Trump's business and political interests," Underwood wrote in a statement on Tuesday.
Sanders declined to comment on the attorney general's findings and referred questions to the Trump Organization.
As she departed the briefing room, Sanders was criticized by reporters for the brevity of the meeting.
"This was a 10-minute briefing Sarah," one reporter can be heard yelling from across the room.