Reporters Who Forced Chicago to Fork Over Police Data Win Knight News Challenge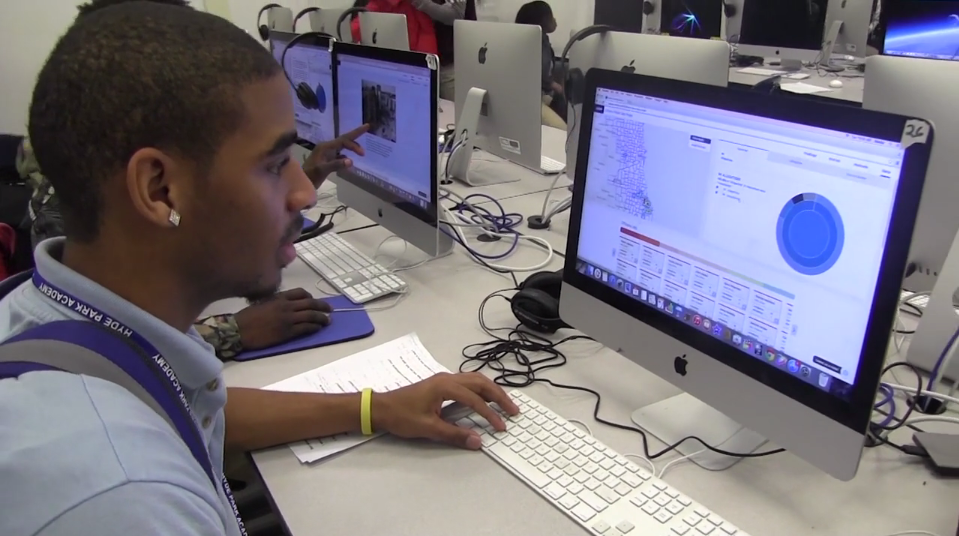 Updated | Until recently, the public couldn't get its hands on police misconduct complaints filed in Chicago. That information is still not made readily available by the city's police department, but citizens and reporters can now obtain it with a freedom of information request, as a result of years-long litigation and a 2014 court decision. In Kalven v. Chicago, the Illinois Court of Appeals ruled that records pertaining to allegations of police abuse are public information.
On Tuesday, the John S. and James L. Knight Foundation awarded Jamie Kalven, whose lawsuit led to the important ruling, and his team at the Invisible Institute, a Chicago-based journalistic production company, a $400,000 grant as part of its Knight News Challenge on Data. Their Citizens Police Data Project is one of eight proposals to win between $230,000 and $470,000, with nine additional projects receiving prototype grants in the amount of $35,000. The foundation awarded more than $3.2 million in total funding for the 17 winning ideas.
The challenge asked applicants to submit projects that grapple with the question, "How might we make data work for individuals and communities?"
The modern-day abundance of information can be empowering, says John Bracken, vice president for media innovation at the Knight Foundation. But it can also be daunting. Data often doesn't trickle down into the public's hands in a useful way, Bracken adds, and people are also concerned about how companies collect, share and use their personal data. "The overall goal," Bracken says of the challenge "is how do we enable our fellow citizens to have better information and to be able to act on that information effectively within their own communities."
The Knight News Challenge on Data received more than 1,000 submissions from journalists, academics, media organizations, businesses, nonprofits, governments and individuals, and often, collaborative teams that included more than one of the above.
The foundation announced the winners on Tuesday at an event in New York City at Civic Hall. The winning projects include "All the Places Personal Data Goes" from the Institute for Quantitative Social Science at Harvard University, which will document and help visualize how people's personal data is shared among companies; "Documents Empowerment Project" by mRelief, which will help low-income users prove eligibility for public benefits programs; "Weighing the Wisdom of the Crowd" by Orb Media, which will create online tools to help people create scientifically sound surveys; and "Law, Order and Algorithms: Making Sense of 100 Million Highway Patrol Stops" out of Stanford University, which will compile, analyze and release data on highway patrol stops to increase transparency and accountability in law enforcement.
At the Invisible Institute, located on Chicago's South Side, teens who participate in the Youth/Police Project interact with police much more frequently than teens growing up in some other parts of the city and the country. "They tell us when they encounter police, if something goes wrong, they're not going to be believed and the police have all the power," says Alison Flowers, an investigative journalist and part of the Citizens Police Data Project.
Flowers adds that the Knight funding will help the Citizens Police Data Project maintain a database of police abuse complaints. They currently have more than 56,000 of them and will continue to obtain and import new data as they receive it. They'll build out tools that allow users—from journalists to scholars to high schoolers—to analyze the data using factors like race, income, gender, geography and individual officers. They'll also create a Web app to help file and track the complaints.
"We're trying to create an experience that empowers citizens to take part in police reform," Flowers says. She and her colleagues hope that their work can "provide an example to other cities and counties of what transparency and accountability in law enforcement can look like."
This article has been updated with new information from Knight to clarify that mRelief was the winner for the Documents Empowerment Project rather than GoodCity Chicago, which is mRelief's fiscal sponsor.