Reports of Mail Theft in Pennsylvania County Trump Flipped and Won in 2016
Pennsylvania State Police officers have investigated "numerous" reports related to mailbox fishing theft over the past several weeks. Officers say those responsible are using a sticky substance to remove letters and parcels from United States Postal Service (USPS) collection boxes near Hazleton, located in northeast Pennsylvania.
On Monday state police shared information with the public about the thefts, along with guidance on how to minimize the risk of stolen mail. In a press release shared with Newsweek Tuesday morning, state police noted that individuals have removed "checks, cash and other valuable documents" from the Postal Service's blue mailboxes. In light of the recent thefts, police outlined a set of recommendations urging people to exercise caution when dispatching important items through the post.
Guidance warned against dropping mail into USPS collection boxes after postal workers' final pick-up of the day. "Avoid placing mail in the collection box that will remain overnight," it read. Individuals should look for a sticker attached to each mailbox with details about its final collection time, state police said. Monday's release also encouraged people to report any observable "sticky" substances on mailboxes to postal employees and refrain from using those boxes as well.
"Always follow up on payments made through the mail, verifying who cashes the check. Review images of negotiated checks to ensure the payee is the intended recipient," police guidance continued. As an alternative to freestanding collection boxes, it recommended that people "hand deliver" mail to postal employees to deposit parcels using mail slots at Post Office buildings.
With November's general election expected to prompt a record number of mail-in ballots sent through the USPS, ensuring the contents of nationwide collection boxes are secure is an increasingly critical priority. President Donald Trump's vocal opposition to widespread vote-by-mail procedures—and suspected influence over sweeping operational changes to the postal service over the summer—fueled public anxieties about whether ballots would arrive at election offices in time to be counted, and whether they would arrive at all.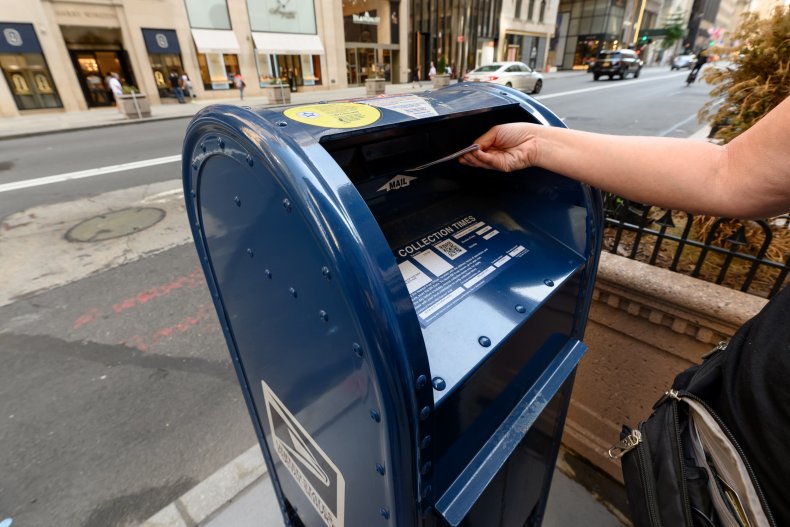 In Pennsylvania's Luzerne County, which encompasses Hazleton, Trump earned the majority of votes in 2016. The outcome was a surprise, given that Luzerne had voted for Democratic candidates for decades prior. Pennsylvania is considered a crucial swing state in 2020, with enough electoral votes to potentially sway the election's result.
News of Hazleton's mailbox thefts surfaced a few days after state police issued a detailed alert warning Pennsylvania residents about possible election scams. Although the October 1 announcement acknowledged state police are "not aware of any Pennsylvania-specific scams," it explained "scammers operate across state and international borders." It asked residents to be aware of fraudulent polls, websites and robocalls containing "false information about political candidates and their positions."
"These sites and calls are designed to influence your vote by manipulating your emotions," it stated.
Newsweek reached out to Pennsylvania's regional USPS representatives for comments but did not receive replies in time for publication.