Representative Brian Mast Compares Afghanistan to Vietnam as 'History Repeating Itself'
Republican Congressman Brian Mast on Tuesday condemned President Joe Biden's handling of the U.S. withdrawal from Afghanistan, likening it to the Vietnam War.
Like the Vietnam War, the conflict in Afghanistan was "lost because of Pennsylvania Avenue," Mast said, referencing the address of the White House. "That is history repeating itself right there."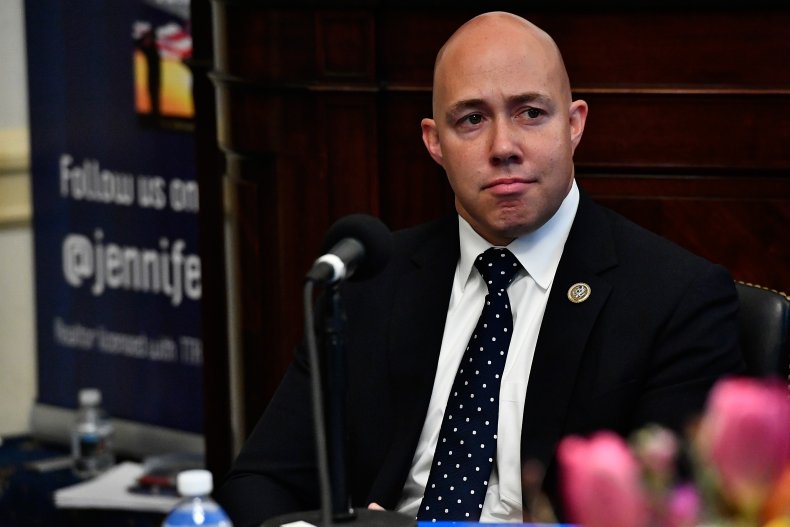 Mast was speaking at an outdoor press conference in Washington, D.C. held by House Minority Whip Steve Scalise. Mast is a member of the U.S. House of Representatives from Florida, and he was one of several war veterans in Congress who spoke Tuesday.
Mast served in the Afghanistan War as a bomb disposal expert in the Army and lost both of his legs to an improvised explosive device (IED) in 2010.
The Florida Representative's turn at the podium Tuesday came after remarks from Republican Representatives Scalise, Brad Wenstrup (Ohio), Jim Banks (Indiana) and Jake Ellzey (Texas).
Before he delivered his comments, he asked that Representative Jim Baird, an Indiana Republican, stand next to him. Baird was a member of the Army and served in Vietnam, where he was awarded the Bronze Star and two Purple Hearts.
"Vietnam wasn't lost because of guys like Jim Baird, and those that he walked through rice paddies and jungles with. It was lost because of Pennsylvania," Mast said.
"Afghanistan is not lost because of those that hiked up over the mountains, alongside so many of us standing here. It's lost because of Pennsylvania Avenue," Mast continued. "That is history repeating itself right there."
Scalise opened the press conference with a criticism on House Speaker Nancy Pelosi. He referenced the $3.5 trillion budget blueprint from Democratic leaders in the House, as well as the $1 trillion bipartisan infrastructure plan.
"It's really disgraceful that Speaker Pelosi this week brought us back to raise taxes on Americans here at home, rather than to help come up with a strategy to rescue Americans that President Biden abandoned in Afghanistan," Scalise said.
"That's what we should be doing here. In fact, some of my colleagues have legislation to help aid and expedite the ability to get Americans back. We've been asking President Biden how many Americans were abandoned behind enemy lines," he continued. "They won't even give us that basic answer."
Scalise also spoke during the Tuesday press conference of the importance of protecting the Southern border the U.S. shares with Mexico. He claimed border agents have said "it's a wide open border." He further stated that "the drug cartels in Mexico have more control of the Southern border right now than the Biden administration. We've seen people on the terrorist watchlists come across our Southern border and get into the United States."