Representative Cori Bush Calls Attempts to Overturn Election 'White Supremacy at its Finest'
Representative Cori Bush of Missouri called her colleagues' attempts to overturn the election "racist" during an interview on All In with host Chris Haynes on Tuesday.
"Let's be clear, this was a racist attempt to overturn an election," said Bush. "This was more about trying to disenfranchise the voices of black, brown, and indigenous people, trying to invalidate our votes, because we turned out in large numbers for this election."
"And to tell us that our votes don't count, that they don't matter, that's another form of voter suppression," the Missouri congresswoman added. "We won't stand for it, so I'm speaking up."
Bush continued: "We have to call it what it is. It's white supremacy at its finest."
Black voters were a driving national force that led to President-elect Joe Biden's victory, according to the Associated Press.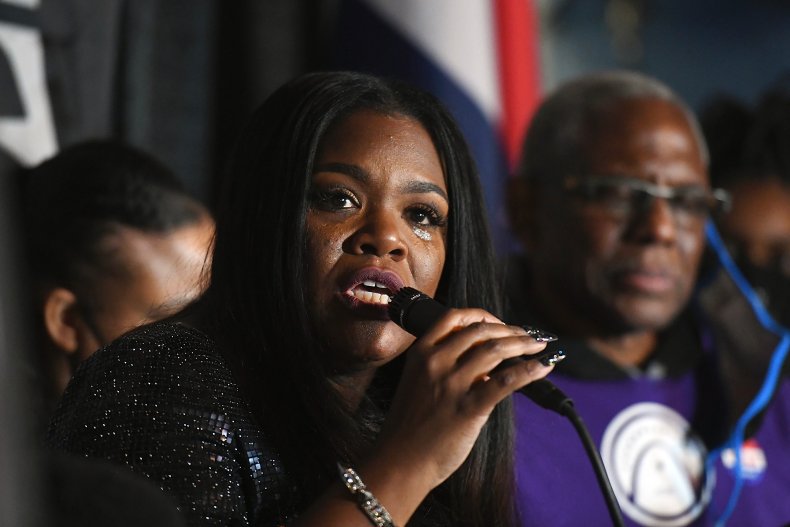 Bush also stated that her Republican colleagues needed to face consequences for their part in inciting the Capitol mob riot last week.
"There is no way that we can sit back and allow that to happen and just say 'oh, but those are colleagues, you know, we shouldn't do anything. Let's just work on Donald Trump,'" said Bush.
"Donald Trump is not the only problem," Bush added. "We have to work on getting Donald Trump out, but we cannot allow his minions, we cannot allow his friends, we cannot allow his cousins to stay in place. Those that are doing his bidding have to go as well."
Bush, a member of the House Judiciary Committee, previously called for the impeachment of Trump and the removal of every Republican member who was involved in the events at the Capitol in a tweet posted last Wednesday.
Her tweet linked to a petition that had been signed by more than 484,000 people as of Wednesday morning.
The congresswomen also sponsored legislation that would require the House Committee of Ethics to investigate whether actions by members of Congress seeking to overturn the 2020 Presidential election violated their oath of office.
The legislation is co-sponsored by 47 other members of the House of Representatives.
According to the U.S. Constitution, "each House may determine the rules of its proceedings, punishing its members for disorderly behavior, and, with the concurrence of two-thirds, expel a member." Expelling a member of Congress, however, is rare and has happened just a few times throughout U.S. history.
Newsweek reached out to Bush's office, but didn't hear back in time for publication.