Representative Jim Jordan Ridiculed for Calling on Ohio to Ban All Vaccine Mandates
GOP Representative Jim Jordan of Ohio tweeted on Tuesday that his state "should ban all vaccine mandates," which brought a swift backlash and mockery from social media users and some fellow members of Congress.
Many people interpreted the lawmaker's message as literally meaning "all vaccine mandates" and not just those related to COVID-19. Critics replied to Jordan's post by asking if he wanted to remove mandates for vaccinations that have been common for decades.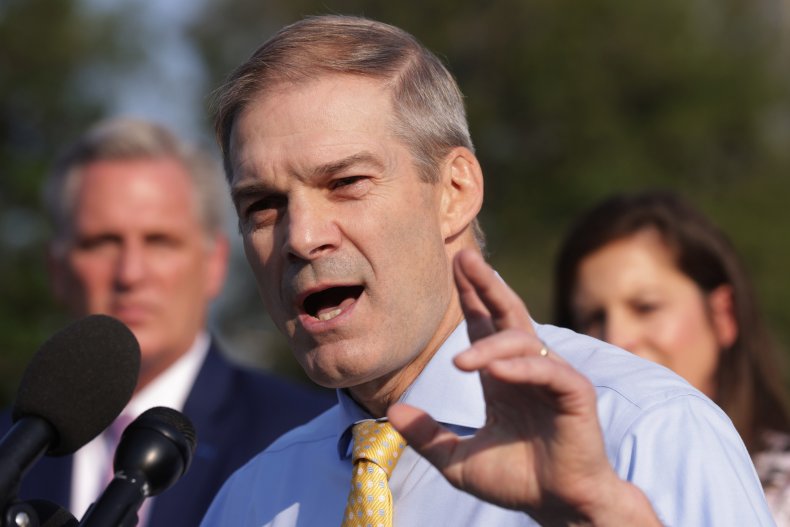 The Ohio Department of Health's website shows the immunizations required for children to attend school. The list of what kids in the state must be fully vaccinated against includes such diseases as polio, measles, mumps, hepatitis B, chickenpox, diphtheria, tetanus and pertussis.
Qasim Rashid, an activist and radio host on Sirius XM, pointed out the many conditions that Ohio has long required vaccinations against.
Some people on Twitter also had fun with Jordan's message, such as Nina Bina, who asked if he was going to "dust off the iron lungs for the kids that get Polio?" ("Iron lungs" were large tank ventilators commonly used to treat those suffering from polio.)
Fellow lawmakers also took Jordan to task, including Democratic Representative Ted Lieu of California, who asked if the Ohioan wanted to end the vaccine mandate on whooping cough. He joked that "my cousin's friend says that is overrated. Ohio can be the whooping cough capital of the world."
Another California congressman, Democrat Eric Swalwell, responded to Jordan by bringing up past allegations about the Republican during his time as a coach at Ohio State.
Jordan coached at the university from 1987 to 1995. During his time there, a team physician allegedly engaged in sexual misconduct against student wrestlers. Several former wrestlers have since alleged that Jordan knew of the abuse and chose to ignore it, a charge that Jordan has denied.
Emmy-nominated actress Yvette Nicole Brown also referenced the wrestling scandal:
Political commentator Keith Olbermann, meanwhile, noted that Jordan's message conflicted with the typical Republican stance of favoring less interference from big government. He said that Jordan is effectively "advocating government micromanaging of private business."
Jordan's tweet came after Texas Governor Greg Abbott issued an executive order on Monday that bans COVID-19 vaccine mandates in his state, including private businesses' requirements for vaccination of employees or customers.
If Jordan was declaring that all vaccine mandates should be dropped, he wouldn't be the first politician to recently make the suggestion. In September, Florida state Senator Manny Diaz, a Republican said he wanted to "review" other vaccine requirements in place for such illnesses as mumps and measles.
Newsweek contacted Jordan's office for comment but did not hear back in time for publication.