Representative Peter King Calls for Better Surveillance of Mosques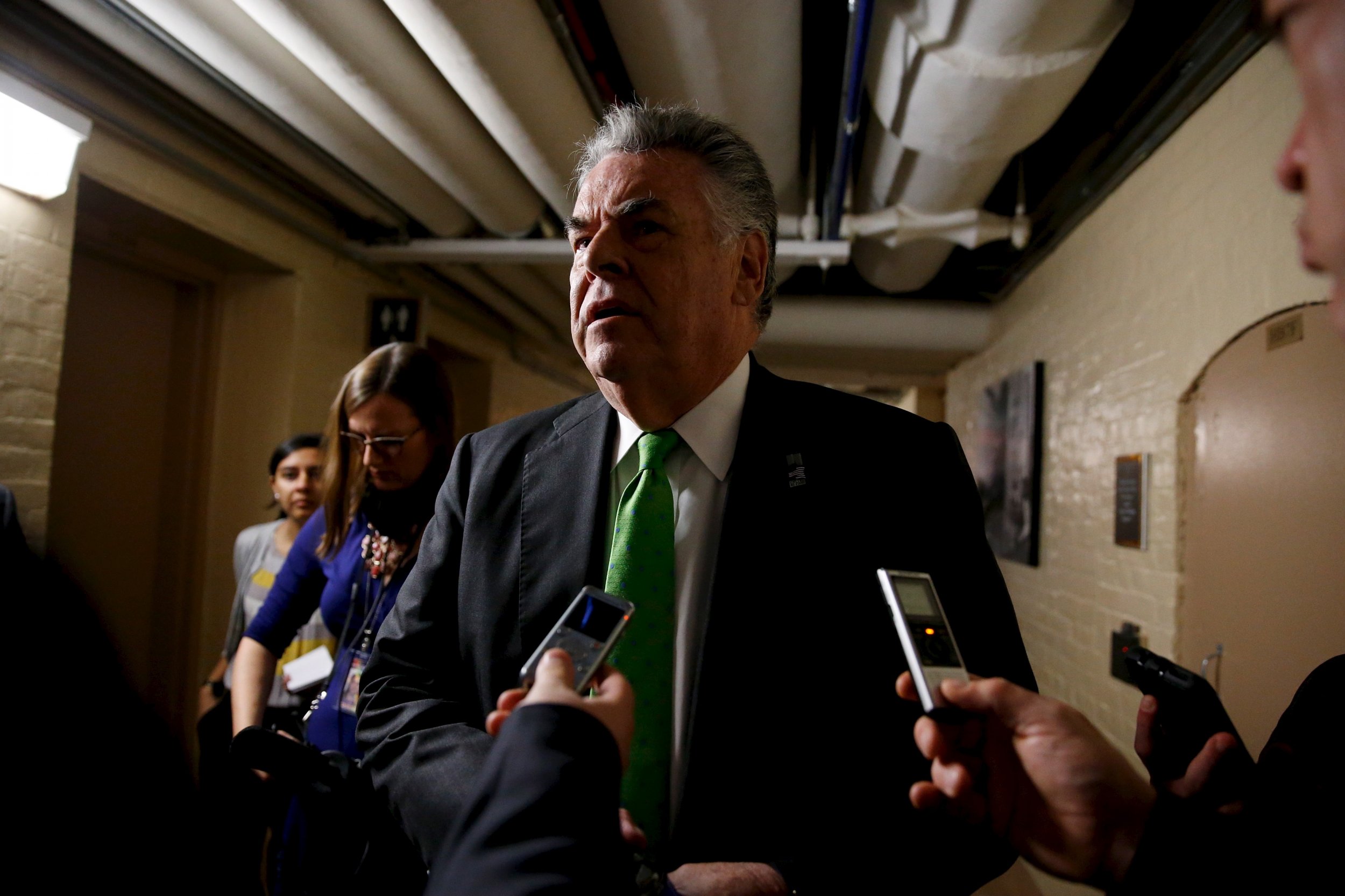 In the wake of the recent attacks in Paris and San Bernardino, California, U.S. Representative Peter King (R-N.Y.) is renewing his call for enhanced surveillance of mosques across the United States.
King, a member of the Homeland Security Committee, told Fox News on Sunday that "99 percent" of Muslims in the U.S. are good people but added that Islamic terrorists visit mosques.
"This is nothing against Muslims," he said during the interview, pointing out that he soon will swear into office the first elected Muslim on New York's Long Island, where he lives. "But the fact is, [mosques are] where the threat is coming from, and we're kidding ourselves. We have this blind political correctness which makes no sense."
Boston Marathon bomber Tamerlan Tsarnaev, who died in a shootout with police days after the April 2013 attacks at the finish line, was told to leave a local mosque because of his radical thoughts and statements, King said. But mosque members failed to inform authorities about the possibility that Tsarnaev posed a security threat.
"If they had known that in advance—you combine that with the fact that the Russians had already told us to be on the lookout for him, we could have prevented possibly the Boston Marathon bombing," King said. Tsarnaev and his brother, Dzhokhar, set off two homemade bombs near the finish line that killed three people and injured 264 others in April 2013.
Republican presidential front-runner Donald Trump recently called for similar efforts in the wake of the deadly series of coordinated attacks in Paris that killed 130 people in November, saying the U.S. should consider closing down some mosques.
"We're going to have no choice," Trump said, adding that he would order surveillance of certain mosques to combat terrorism.
Haim Saban, a top donor to Democratic presidential front-runner Hillary Clinton, also urged such surveillance after the Paris attacks. He later said he misspoke.
Following the September 11, 2001, attacks, the CIA helped the New York City Police Department create a secretive program that dedicated a squad to monitoring Muslim communities. According to The New York Times, authorities dispatched plainclothes detectives into Muslim neighborhoods to listen in on conversations and built files on where people ate, prayed and shopped. The department later shut down the program, but a rift between the Muslim community and law enforcement had developed.
President Barack Obama has been providing regular updates on national security to Americans since the Paris attacks and the deadly shooting in San Bernardino on December 2. Over the weekend, purported audio from the leader of the Islamic State militant group (ISIS) warned that airstrikes haven't deterred the organization.
"We've had some impact, but unfortunately, overall he's probably right," King said about Abu Bakr al-Baghdadi's supposed recording. But on Monday, local tribesmen and the U.S.-led coalition pushed ISIS militants out of Ramadi, a key Iraqi city. The takeover marked an important victory in the fight against ISIS.
Earlier this month, as Americans began to travel for the holiday season, Obama said there wasn't any "specific and credible information" about a possible terrorist attack on the country. The U.S.-led coalition has carried out nearly 9,000 airstrikes in total and in November dropped more bombs on the group's targets than in any other month. Since the spring, the coalition has removed some of ISIS's top leaders, including its second in command, top online recruiter, finance chief and weapons trafficker, Obama said.