Supreme Court Sides With Free Speech Over Abortion Rights in NIFLA V. Becerra
The Supreme Court sided with anti-abortion crisis pregnancy centers on Tuesday morning, in a decision written by Justice Clarence Thomas. The case pitted free speech and reproductive rights against one another in the state of California.
National Institute of Family and Life Advocates v. Xavier Becerra challenged a 2015 law that required crisis pregnancy centers to disclose all available medical options and services to pregnant women. The centers, which are nonprofit organizations often affiliated with Christian groups, immediately responded that the law violated their religious freedom and their First Amendment right to free speech.
Thomas, writing for a conservative 5-4 majority, found that requirements for licensed crisis pregnancy centers "likely" violate free speech claims, and that the requirement for unlicensed centers "unduly burdens protected speech."
The court also noted that the law in question was too narrowly limited in scope and only attempted to impose this speech on crisis pregnancy centers opposed to abortion rather than any health center that offers services like birth control or family planning.
The court will send the case back down to the Ninth Circuit of Appeals for further proceedings.
The Court heard arguments from the parties in March. James Bopp Jr., the general counsel to the National Right to Life Committee and longtime conservative lawyer, told Newsweek that the decision should be an obvious one.
"We should win," he said, ahead of the ruling. Bopp argued private organizations that believe women should not have abortions should not be forced to communicate a message that goes against their fundamental beliefs.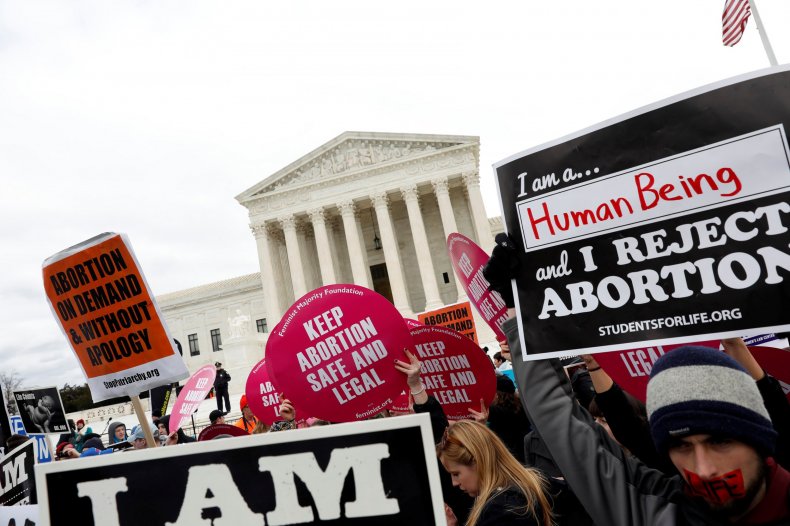 Any decision other than in favor of the centers, he said, would have the Supreme Court participating in "government coercion."
Those who support California's law argue that these crisis pregnancy centers, of which there are hundreds throughout the state, mislead pregnant women and stifle information about their options in order to promote a religious agenda.
But Bopp said the responsibility of keeping pregnant women medically informed about abortion should fall directly on the shoulders of pro-choice supporters who should "get out of their basement and go advocate their point of view."
Yet Dr. Willie Parker told Newsweek that a ruling for the National Institute of Family and Life Advocates would set a precedent for medical professionals that goes far beyond just abortion services.
Parker, a licensed OB/GYN specializing in abortion and a devout Christian, argued that if these pregnancy centers and their physicians are exempt from providing accurate information to their patients, there would be nothing to stop other doctors from doing the same.
"If that's the case, that means I have more protected rights when buying a car than a woman has when choosing what to do about an unwanted pregnancy," Parker said, pointing to the federal law that requires car dealers to provide accurate information about the mechanical condition of a vehicle.
Parker is the vice chairman of the Religious Coalition for Reproductive Rights, one of the religious organizations that supported California's law since it was first introduced as a bill in the state assembly. Parker is also the physician plaintiff in a federal lawsuit aiming to prevent the closure of Mississippi's only abortion clinic. The case is currently in request for hearing by the Supreme Court.
"It is consistent with my ethical duty as a physician and my moral and spiritual frame as a Christian to support women's reproductive rights," he said. "Women are moral agents, and they are entitled to make decision regarding their own health."